Jessie Singer, senior editor at Transportation Alternatives, has at least one idea about how America can "stop vehicular terrorism overnight — and save thousands of lives."
Simple. Ban all cars from U.S. cities.
In the wake of Tuesday's deadly truck terror attack in New York City, singer wrote in a BuzzFeed op-ed that "cars don't belong on the streets of big cities, and we should do everything in our power to get rid of them."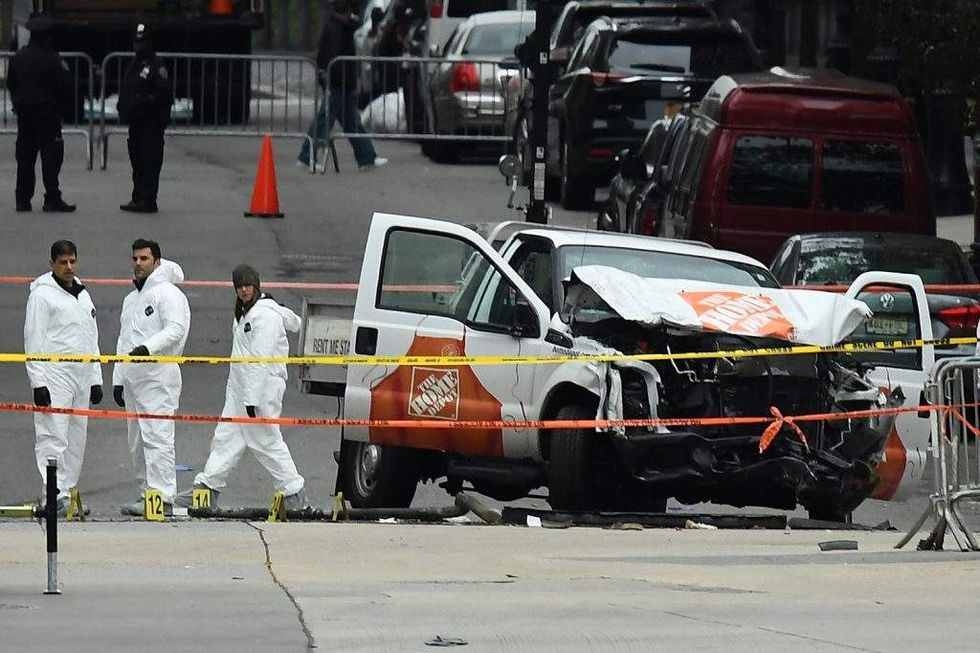 Suspected terrorist Sayfullo Habibullaevic Saipov plowed down a New York City bike path on Tuesday, killing eight people and injuring 11. Police shot the suspect and he was taken into custody. (Jewel Samad/AFP/Getty Images)
What else does Singer's op-ed say?
She argues that more Americans last year were killed by cars than by guns, half the vehicle deaths happened in urban areas and 6,000 of them were pedestrians.
Singer added that a drunk driver killed her best friend nearly 11 years ago in the "same Manhattan bike path that Sayfullo Saipov did this week."
She acknowledges that banning all cars in big cities immediately wouldn't be an option even if everybody wanted it.
But Singer notes we should look toward cities such as Olso, which "plans to ban all cars in its city center by 2019." Other major cities such as Madrid, Paris and Mexico City have enacted variations on car-free areas, she added.
"When London introduced a congestion fee that charged drivers a premium to travel into the city center," Singer added, "so many people took public transit instead that traffic crashes declined by 40%."
More from Singer's op-ed:
When a man shot and killed 58 people at a Las Vegas music festival last month, no one pointed to the lack of bulletproof vests worn by concertgoers, because the problem was clearly the stacks of automatic weapons stockpiled in his hotel room.

The truck that was used to kill eight people on Tuesday is no different, except unlike firearms, cars are still welcomed unconditionally in every city in the US. Gun ownership has its own constitutional guarantee — there's no equivalent for cars — but imagine if cities embraced guns the way they do vehicles: Free gun storage outside your apartment! A designated lane in the park for concealed carriers!
"You can't stop crazy," she added. "But you can reduce the number of people allowed to drive their 4,000 pound machines into city parks, along city beaches, past playgrounds, and alongside the sidewalks of the most pedestrian-packed places in the nation."
This writer's perspective
The thing about terrorism carried out with objects like knives and vehicles is that they'll never get banned, particularly since their primary use isn't to help exact mass murder.
Singer didn't provide statistics on how many Americans annually are killed via vehicular terror in U.S. cities, although she admitted it's a "minuscule part of the overall picture of pedestrians being killed by cars."
"But," she added, "it is a rising tide, with automobiles used as weapons this year alone in Charlottesville, Barcelona, London, and Stockholm."
Full stop. It would seem that when terrorists invent new ways of killing us — and using objects no one in their right mind would ban — the problem is that much more crystal clear: Banning the object used to kill won't solve anything; terrorists will figure out new ways to kill.
The problem is the terrorists. We have to work on ways of getting rid of them.