After a national atheist group said it "put an end to a Georgia high school coach's practice of praying with his players," prayer among students at games has exploded.
What's the background?
The Freedom From Religion Foundation said in a news release that a "concerned local community member" told the group that John Small — the football coach of East Coweta High School football in Sharpsburg — "had made it a habit to pray with his team, which was filmed at a recent game."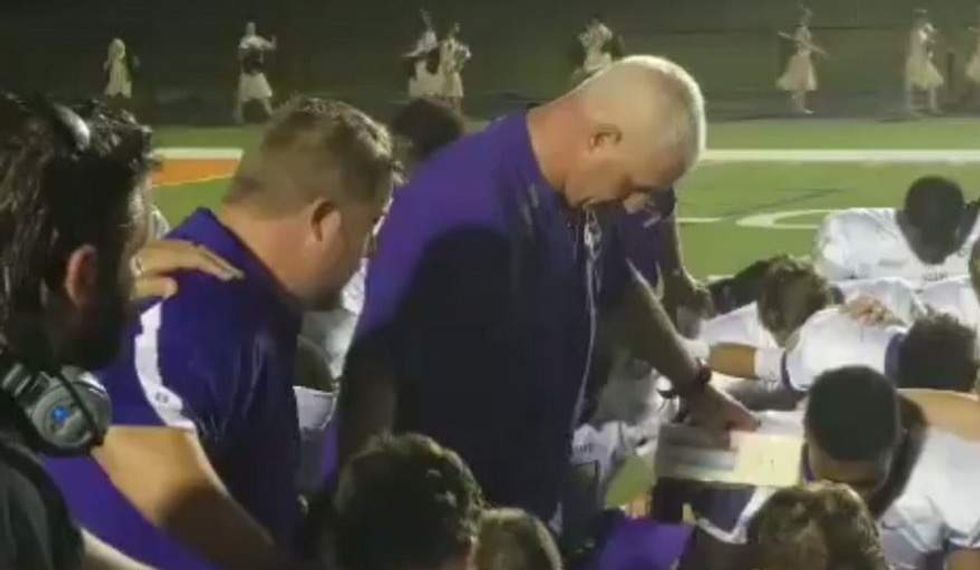 Image source: Facebook video screenshot
So the FFRF sent an Oct. 25 letter to the Coweta County School System warning that it's unconstitutional for public school coaches to "further personal religious beliefs by leading their teams in prayer."
The district responded with a memo to principals that "representatives of the school cannot participate in any student initiated/student-led prayer or other worship while acting in their official capacity. For instance, they cannot join hands, bow their heads, take a knee or commit another act that otherwise manifests approval with the students' religious exercise, at least where it would be perceived by a reasonable observer to display government endorsement of religion."
So how did students and players respond?
Prior to the first game after the memo was issued, East Coweta football players gathered near the bleachers to pray with the crowd.
"Instead of it being 100 players praying, it turned into 400 students praying," Small told the Christian Post. "That's their right, and we are going to support them in that."
Small added to the outlet that when "you tell teenagers they can't do something, surely they are going to do it. It has really turned into a positive because at the end of the day, we are trying to teach students about leadership, and they should be the ones taking the charge on it anyway."
How is the community responding?
The Fellowship of Christian Athletes is scheduled to host a community prayer rally Thursday night at East Coweta's Garland Shoemake Stadium.
Small told the Post that "a lot of people ... wanted to join up and have a community prayer. We are obviously under attack all the time. This battle is not a fleshly battle. This is a battle against 'principalities of darkness.' That is what the Word says."
Rob Brass, an FCA director in the southwest metro Atlanta region, told the outlet it was "a natural reaction for us as followers of Christ."
"As coach said, this is a spiritual war," Brass added to the Post, noting that the circumstances "forces, in some ways, our kids to step into that leadership role and take the movement of Christ and carry that banner forward themselves. Part of the beauty of this whole thing is that the kids are stepping up and leading."
"The rally really is not an end game," Brass noted to the outlet. "It's a launching pad into this next season of what we are entering into. We want to make sure that the kids know that they have the keys to drive this thing — full ownership."
(H/T: Faithwire)