A lunchtime Bible study for fifth-graders was shut down at a Michigan elementary school after complaints from a civil rights group that a teacher was leading the activity.
What happened?
Mitch Kahle — an atheist and spokesman for the Michigan Association of Civil Rights Activists, WOOD-TV reported — said two parents separately approached his group about the weekly Bible study at Alward Elementary School in Hudsonville, MLive reported.

Parents added that during lunch, fifth-grade teacher Christopher Karel read Bible verses, told a story or showed a video and led students in prayer, Kahle told MLive.

Once the district verified Kahle's claim, it said the teacher stopped holding the Bible studies, WOOD reported.

Karel, who has worked for the district since 1994, was not disciplined and instead was told of the legal issues, MLive said.
What else is going on?
The district added that the teacher thought the activity was appropriate because it was voluntary and held during lunch, the station said, citing the district's statement.

Assistant Superintendent Scott Smith also said the district was unaware of the Bible studies until Kahle's group informed them — but Kahle said Smith's claim "rings hollow," MLive reported.

Kahle told the outlet that the school's principal and teachers "were most certainly aware of the long-running transgression."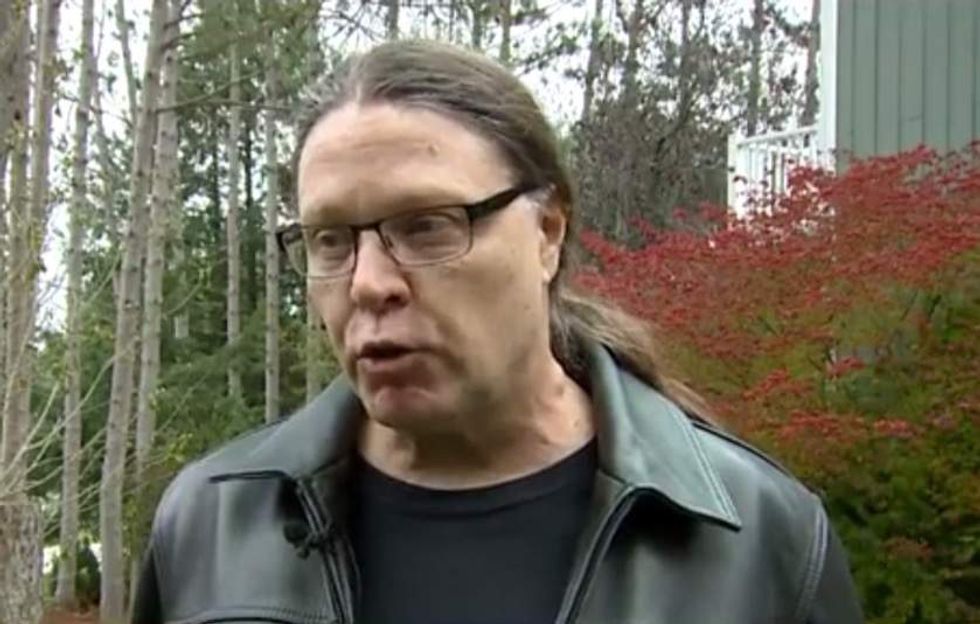 Mitch Kahle (Image source: WOOD-TV video screenshot)
How long have the Bible studies been held?
MACRA insisted the Bible studies had been held for years, WOOD reported, while the district said the group met only twice after students approached the teacher about holding Bible studies during lunch in his classroom.

Between 35 and 45 students attended one or both of the studies, the station said.

MACRA added in a statement that "this illegal and unconstitutional activity was being conducted without parental notification or consent. One parent told MACRA that their child, who is only 10 years old, was singled out and subjected to peer pressure for declining to attend the Bible studies," WOOD reported.

Smith told the station that the district received no complaints about the Bible studies other than the one from MACRA, and Kahle told MLive the parents want to remain anonymous over fear of community backlash.
Is there a history here?
Kahle told MLive that this was the district's second recent violation.

MACRA made the district aware in February 2015 that it was inappropriately allowing students at another elementary school to attend a Bible club in a recreational vehicle in the parking lot during lunch, the outlet reported.

The district stopped the activity, MLive said, and made Bible Club Ministries International-Western Michigan aware of the conflict.