Fox News host Greg Gutfeld and comedian Patton Oswalt got into an extensive, multi-round bout on Twitter Saturday evening that provided their followers — more than 5 million combined — with much entertainment.
What happened?
Oswalt is a very outspoken liberal and uses his Twitter account with its massive reach to participate in the American political discourse. On Saturday, Oswalt tweeted about his "despair" over the Senate GOP passing its tax reform bill. Oswalt wondered if there was any going back and claimed "there's no America now."
That's when Gutfeld, a comedian in his own right, decided to chime in, mocking Oswalt:
What happened next?
What ensued next was an hourslong Twitter bout where the two took turns taking pot shots at one another's comedic fortitude and grammar.
Oswalt said in reply to Gutfeld's "parody" tweet:
Then Gutfeld countered:
Oswalt hit back:
Gutfeld then instructed Oswalt to take a breath, further escalating the fued:
The battle continued:
Next, Oswalt took a swing at a spelling error Gutfeld made in his last tweet:
Gutfeld used the opportunity to give Oswalt a catchy title — "comedy sheriff":
Oswalt then retreated a bit:
But Gutfeld was ready to throw down:
Oswalt used the opportunity to rip Gutfeld's comedic chops:
Still, Gutfeld was clearly having fun — and continued to use the nickname he bestowed on Oswalt:
Oswalt shot back:
Gutfeld played out the "comedy sheriff" title a bit more — and even gave Oswalt another nickname:
Then, Oswalt tried to claim victory:
Gutfeld followed up by throwing down the gauntlet:
But apparently the blow didn't land:
Finally, hours after the exchange began, Gutfeld claimed victory: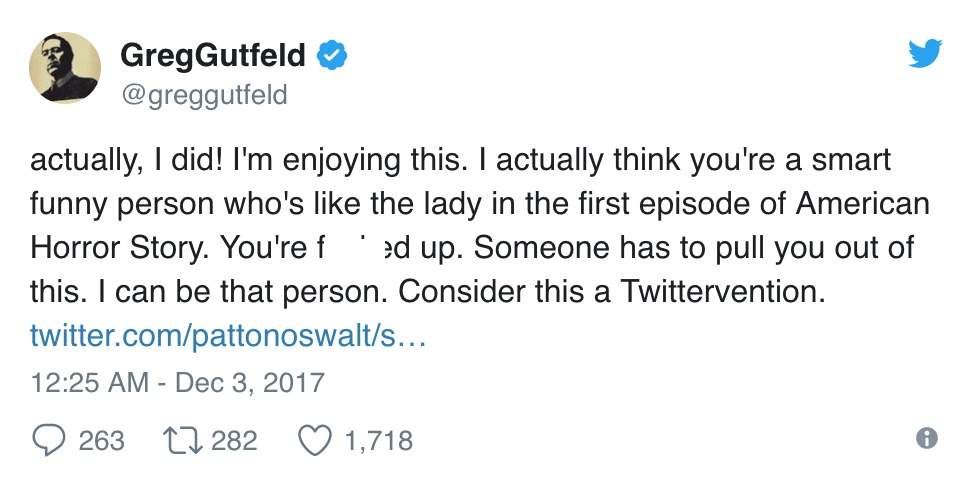 Image source: screenshot
Oswalt never replied to Gutfeld's final tweet.