A "Meeting of Healing" took place at the University of Connecticut in response to a conservative speaker's appearance at the school last week, the Daily Campus reported.
Come again?
Yup. The gathering — co-sponsored by Brothers Reaching Our Society (BROS) and the NAACP — aimed to "create a safe space for people to come and to discuss their feelings about [Tuesday] night's events," student Milcah Sajous told the paper.
What happened at the speech by the conservative speaker?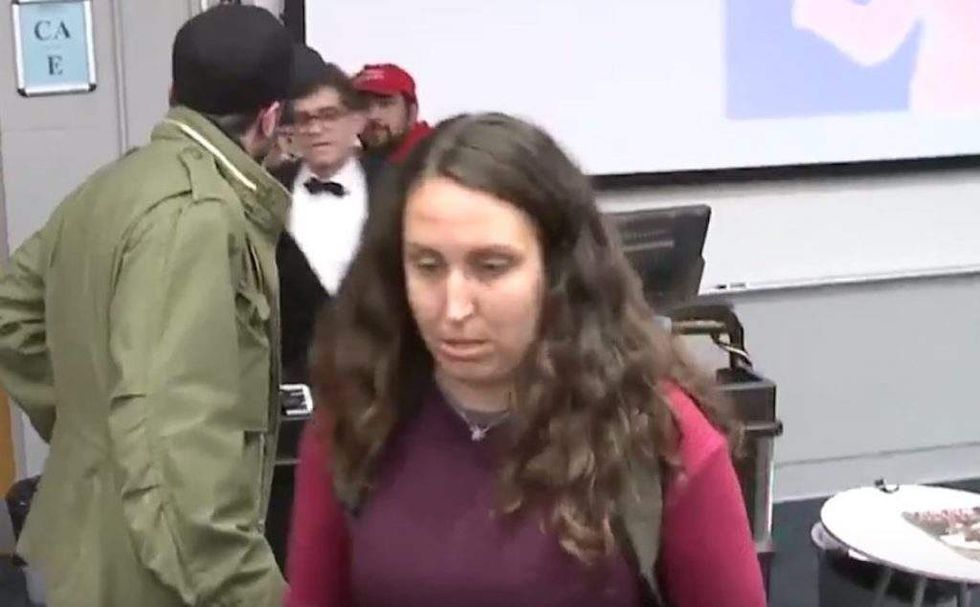 Image source: YouTube screenshot
What happened at the 'Meeting of Healing'?
Some students condemned the university for allowing Wintrich to speak.

"[Wintrich is] the prime example of the Trump administration," student Stephen Sam — who's also president of BROS, told the paper. "He likes to troll people on social media."

Wendy Marte, a first-semester student who protested outside the event, told the Daily Campus she wants police to apologize for prioritizing Wintrich's protection over protesters' protection.

"At the end of the day, they're here to keep us safe," Marte told the paper. "They're here to make sure we don't feel this kind of way."

Abby Katz, treasurer of the Black Students Association, told the Daily Campus: "As soon as I walked into the room and saw police officers and event staff ... that's when I started to feel threatened."

Nicole Hamilton, treasurer for the school's NAACP chapter, added to the paper that "this isn't just a UConn issue; this is an American issue."
(H/T: The College Fix)