The man who killed two students at Aztec High School in New Mexico on Thursday morning was a former student who entered the school with no intention of walking out alive.
The shooter was 21-year-old William Atchison, a local gas station employee. According to plans found on a thumb drive in his backpack, he planned to hold a class hostage and kill students before killing himself.
"If things go according to plan today, today would be when I die," the document said. "I wait until the school buses are detected, then head out on foot disguised as a student.
"Go somewhere and gear up, then hold a class hostage and go apes—, then blow my brains out."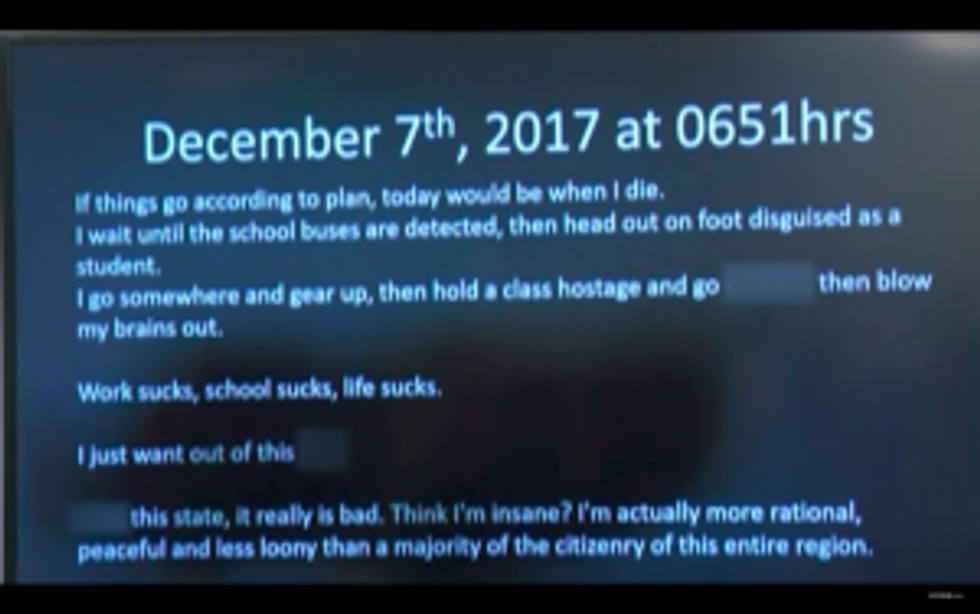 The letter revealed that Atchison was fed up with life, and ready to end his own, although it doesn't explain why he felt the need to kill students in the process.
"Work sucks, school sucks, life sucks," he wrote. "[Expletive] this state, it really is bad. Think I'm insane? I'm actually more rational, peaceful and less loony than a majority of the citizenry of this entire region."
How it happened
Atchison entered the school with students, and went to a second floor bathroom to prepare for the shooting.
A student, Francisco Fernandez, unknowingly walked in on him in the bathroom. That's when Atchison killed him.
Shortly after, he saw another student, Casey Marquez, in the hallway and killed her.
The gunshots alerted officials to put the school on lockdown. Atchison fired some shots at students hiding in a supply closet, but no one else was injured.
Atchison shot himself just as police were entering the school.
Warning signs
Atchison didn't have a criminal history, but he was the subject of an FBI investigation in 2016.
Someone reported Atchison for a message he wrote online asking about cheap assault rifles to use in a mass shooting. The FBI found no evidence of criminal activity, and Atchison claimed he wasn't being serious.
The gun he used to kill the two Aztec students was a legally-purchased Glock 9mm.
Police found a note in Atchison's home after the shooting which apparently scheduled out the day, including times for "work," "prep," "pack up," "walk," and finally, at 8 a.m., "die."