How can anyone forget "pussyhats"?
A sea of the pink knitted caps — shaped with feline-like ears — were atop the heads of scores of attendees at last year's Women's March in protest of newly inaugurated Republican President Donald Trump.
The reason for the pussyhat explosion was obvious: A month before last year's election, a leaked 2005 audio featured Trump saying he could "grab" women "by the pussy" if he wanted since he was a "star" — and outrage ensued.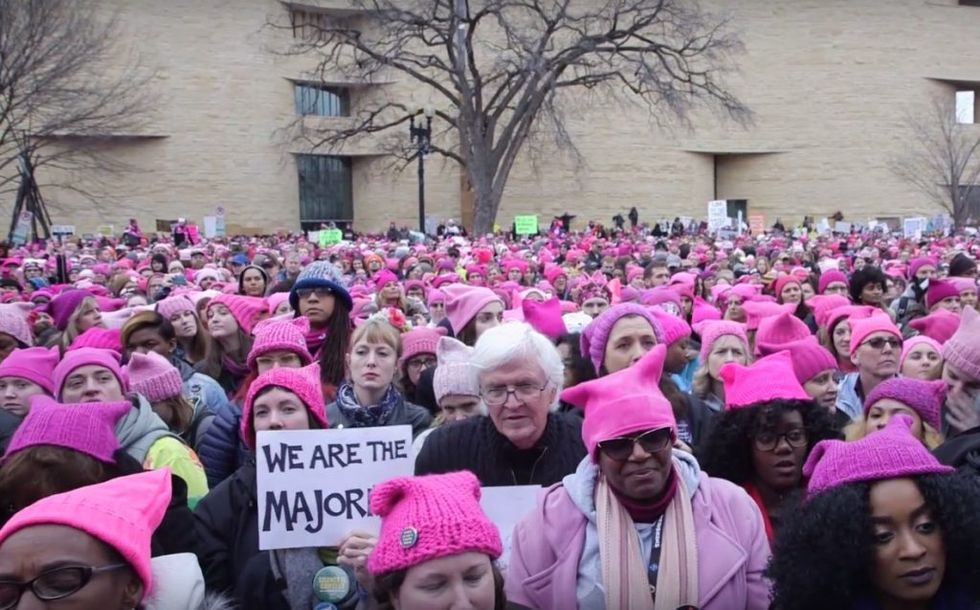 Image source: YouTube screenshot
But as the Women's March returns across the nation next weekend, the pink pussyhats are falling out of favor.
Why are the pink pussyhats on the outs?
The reason: Apart from the vulgarity of it all, the colorful head apparel excludes transgender women and gender nonbinary individuals who lack female genitalia — as well as women of color since their genitals are more likely to be darker colors than pink, the Detroit Free Press reported.
"I personally won't wear one because if it hurts even a few people's feelings, then I don't feel like it's unifying," Phoebe Hopps, founder and president of Women's March Michigan and organizer of anniversary marches Jan. 21 in Lansing and Marquette, told the Free Press.
Hopps added to the paper that state and national organizations have tried "to move away from the pussyhats for several months now, and are not making it the cornerstone of our messaging because ... there's a few things wrong with the message."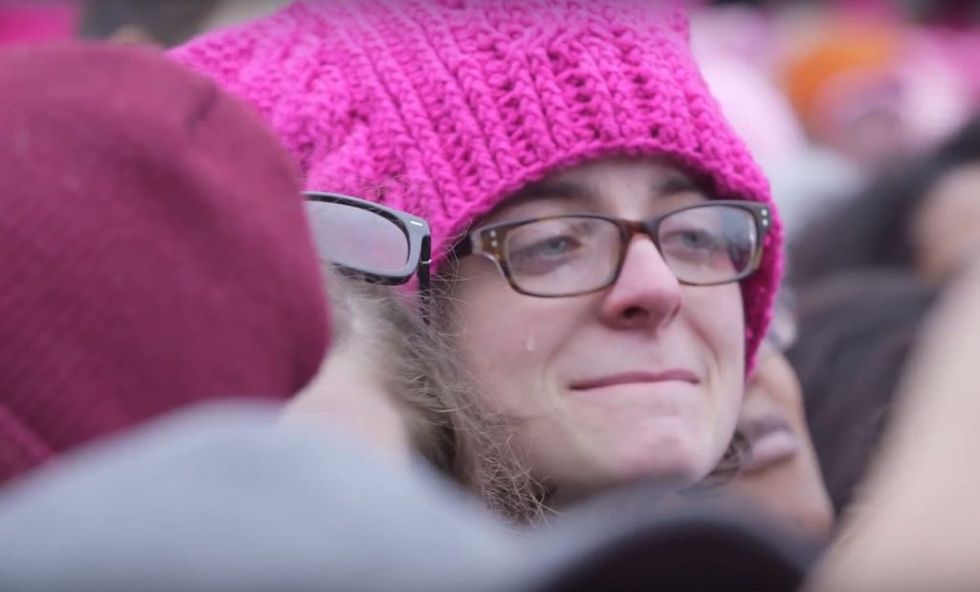 Image source: YouTube screenshot
"It doesn't sit well with a group of people that feel that the pink pussyhats are either vulgar or they are upset that they might not include trans women or nonbinary women or maybe women whose (genitals) are not pink," Hopps told the Free Press.
What does the Pussyhat Project have to say?
According to the Pussyhat Project website, the color pink was chosen "because pink is associated with femininity. We did not choose the color pink as a representation of some people's anatomy."
The site added that it matters not at all "if you have a vulva or what color your vulva may be" and that any participant is free to create a pussyhat "that reflects the color of her vulva."
The site adds that pink "is considered a very female color representing caring, compassion, and love — all qualities that have been derided as weak, but are actually strong. Wearing pink together is a powerful statement that we are unapologetically feminine and we unapologetically stand for women's rights!"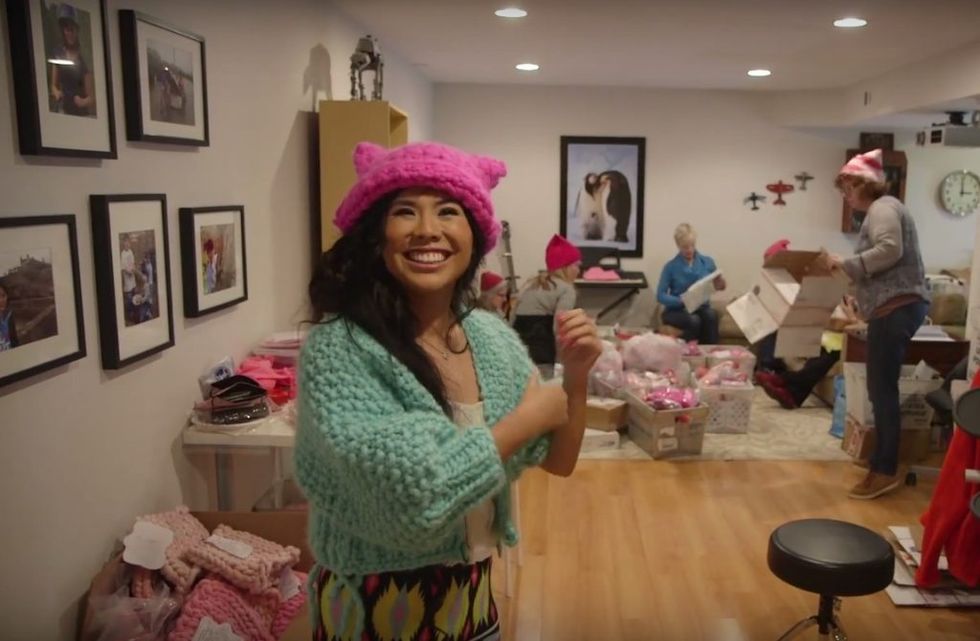 Image source: YouTube screenshot
But the state of the pussyhat has become such a charged issue for activist LaShawn Erby, co-chair of Black Lives Matter-Lansing, that she declined to discuss her pussyhat perspective with the Free Press.
Well, except for this tidbit: "I will say this one thing," Erby told the paper. "It is a problem."
"You know, nobody can speak for your experience but you, so it really is important that people that look like you, that have experiences like you to represent you," she added to the Free Press. "You often can look just about anywhere and see a white person leading black people. But rarely do you see it in reverse.
What does a transgender woman of color say?
But Lilianna Angel Reyes — a transgender woman of color and gender activitst — disagrees that the pink pussyhats are a problem. In fact, Reyes will wear one at the Lansing march if one can be found, the paper reported.
"I definitely understand that there are people that are concerned that the pussyhat, the pink cat hat, is very specific for people with vaginas," Reyes said to the Free Press. "But ... it was a very specific thing ... specific to when President Trump said 'Grab 'em by the pussy,' and so to me, it was a play on words that shows power. I also think for me, it's more symbolic. There are people who believe that because not only is it a pink pussy, which can mean only white women, that it could be a race and a gender thing. For me, it doesn't read that way."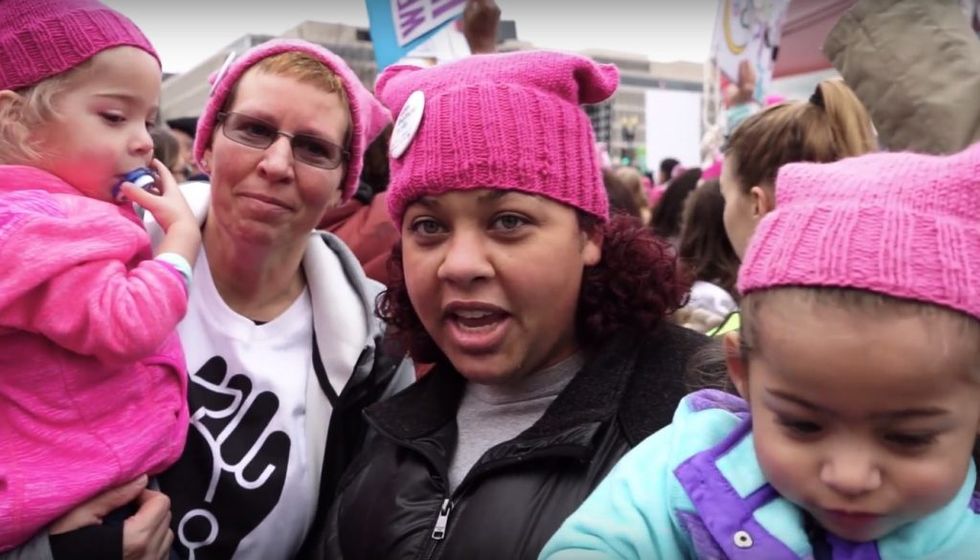 Image source: YouTube screenshot
Reyes "felt so included" at the D.C. Women's March last year and "felt embraced. It was a beautiful thing. I never once felt excluded for my trans-ness or my woman of color-ness," the paper reported the activist saying.
More pink pussyhat detractors
The Pensacola (Florida) Women's March chapter posted to its Facebook page last week that it's discouraging marchers from wearing the hats this year.
"The Pink P*ssy Hat reinforces the notion that woman = vagina and vagina = woman, and both of these are incorrect," the post reads. "Additionally, the Pink P*ssy Hat is white-focused and Eurocentric in that it assumes that all vaginas are pink; this is also an incorrect assertion."
The group added:
The Pensacola Women's March organizers understand that this idea was a knee-jerk reaction to the heinous, sexist, misogynistic Trump administration, but it is also just that: a knee-jerk reaction, not fully thought out. Therefore, we ask that marchgoers refrain from wearing this hat and instead, pick an alternative headwear that focuses on collective women's liberation for ALL women: transgender women, multinational women, disabled women, queer women — the most marginalized. It is only through the centering and leadership of these groups that women will be liberated — not through exclusionary white feminism, which the Pink P*ssy Hat is indicative of.