A "Pyramid of White Supremacy" is taught as part of a required course for elementary education majors at Salisbury University in Maryland, a public college funded with tax dollars.
The white supremacy pyramid — which places "Genocide" (i.e., mass murder) at the top — is part of a one-credit course titled, "Diversity and the Self," according to Campus Reform, which first reported the story.
"In a pyramid, every brick depends upon the one below it for support," the pyramid's accompanying caption reads. "If the bricks at the bottom are removed, the whole structure comes tumbling down."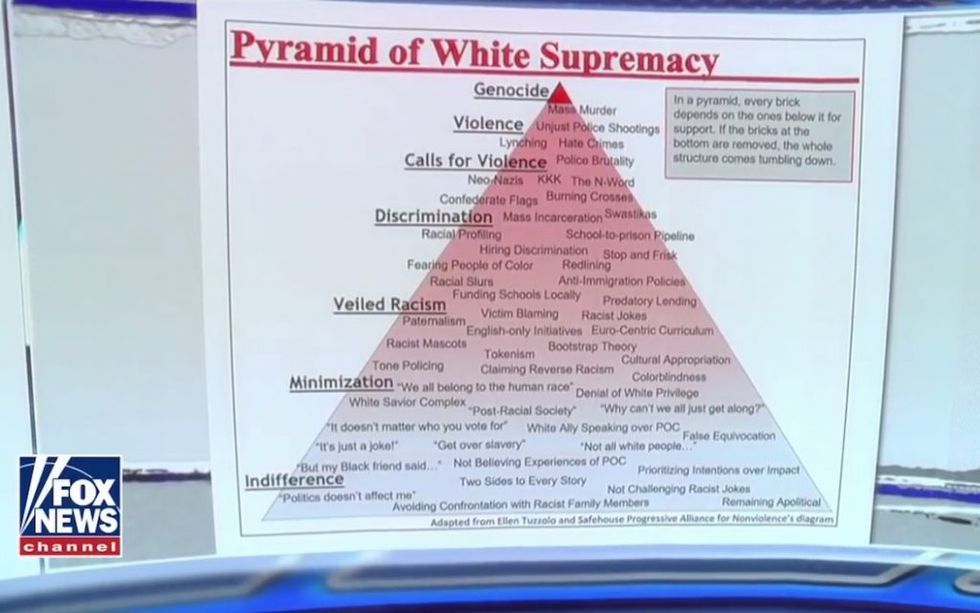 Image source: YouTube screenshot
After "Genocide," in descending order, are the following categories:
Violence (e.g., unjust police shootings, lynchings, hate crimes, police brutality)
Calls for violence (e.g., neo-Nazis, KKK, the N-word)
Discrimination (e.g., racial profiling, hiring discrimination, stop and frisk)
Veiled racism (e.g., racist jokes, racist mascots, cultural appropriation)
Minimization (e.g., "We all belong to the human race," denial of white privilege, white savior complex)
Indifference (e.g., not challenging racist jokes, avoiding confrontation with racist family members)
What did the teacher have to say?
Erin Stutelberg, who is teaching the course, didn't reply to Campus Reform's request for comment, the outlet reported.
What did the college have to say?
But the school told Fox News in a statement that "the white supremacy pyramid is just one of the tools Dr. Stutelberg said she used to teach her students to think critically about race, class and gender. Per University academic freedom policies, faculty are free to disseminate to their students information, even when controversial, so long as it is educationally relevant."
The school's statement added that Stutelberg "said she never received complaints from students about the pyramid when teaching the course."
What did a student who took the course have to say?
Well, one anonymous student complained to Campus Reform about the pyramid.
"We had to study the pyramid and also take a group quiz," the student from the course told the outlet, adding that the "pyramid was not only biased, the way they ranked the events did not make much sense."
"This class was extremely difficult to get through if you did not think like a liberal," the student added to Campus Reform. "Instead of teaching diversity, this class taught us that being white was a bad thing. We were told that we were only privileged because we are white and basically we did not actually work for what we have."
What did a former Salisbury student have to say?
Salisbury graduate and Campus Reform correspondent Shekinah Hollingsworth — who is biracial — criticized the course in an interview with Fox News.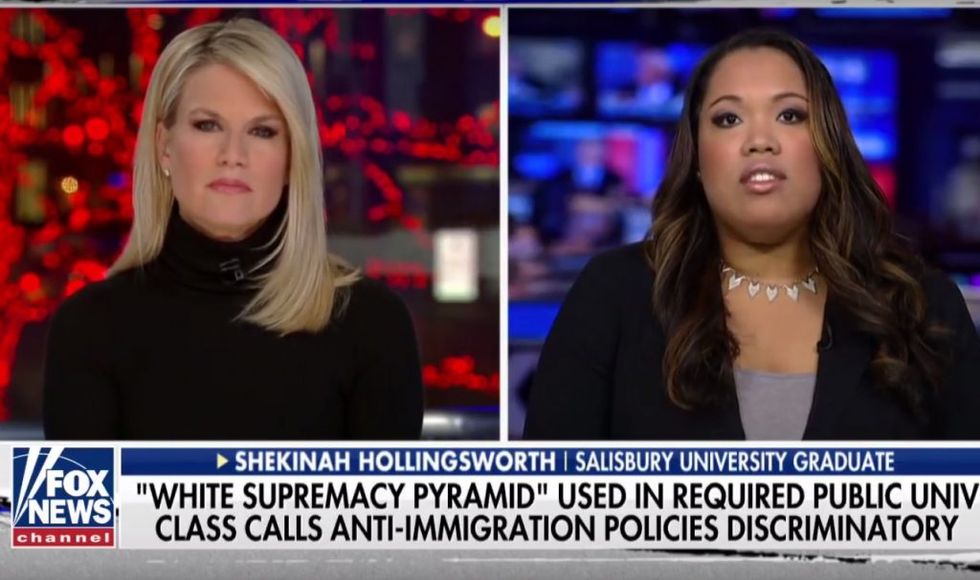 Image source: YouTube screenshot
"I do not see things in a prism of color, nor do I think that the cards were stacked against me because of some white supremacy," she told the network.
Here's the interview: