A Hollywood screenwriter couldn't have scripted the real-life action — or dialogue — any better.
Surveillance video captured the moment a pair of hooded 16-year-old males entered a 7-Eleven in Gardena, California, about 11:35 p.m. Dec. 30, and jumped over the counter.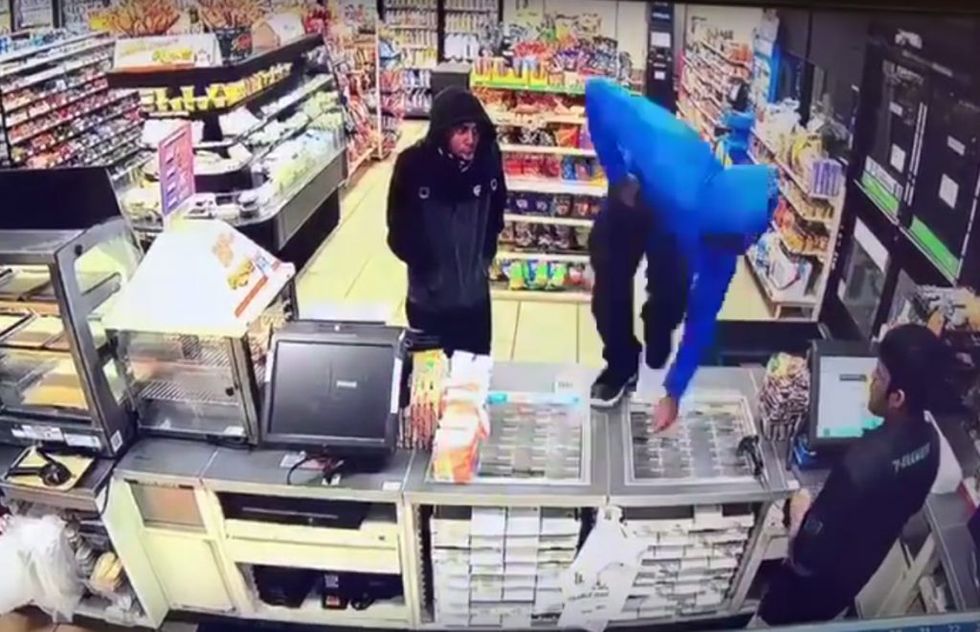 Image source: YouTube screenshot
They also pulled a handgun on the clerk and began reaching into the open cash drawer.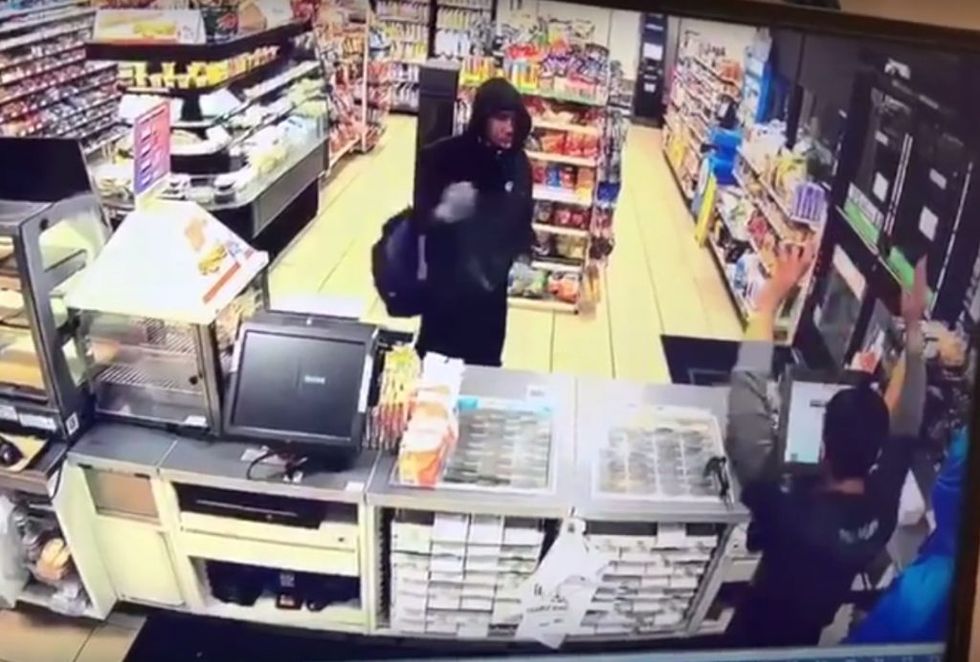 Image source: YouTube screenshot
The problem — for the crooks, at least — was that the store's armed security guard was sitting in his vehicle and saw the whole thing going down.
With that the guard entered the store and almost nonchalantly opened fire on the hooded teens, holding his gun in his left hand only and shooting three times.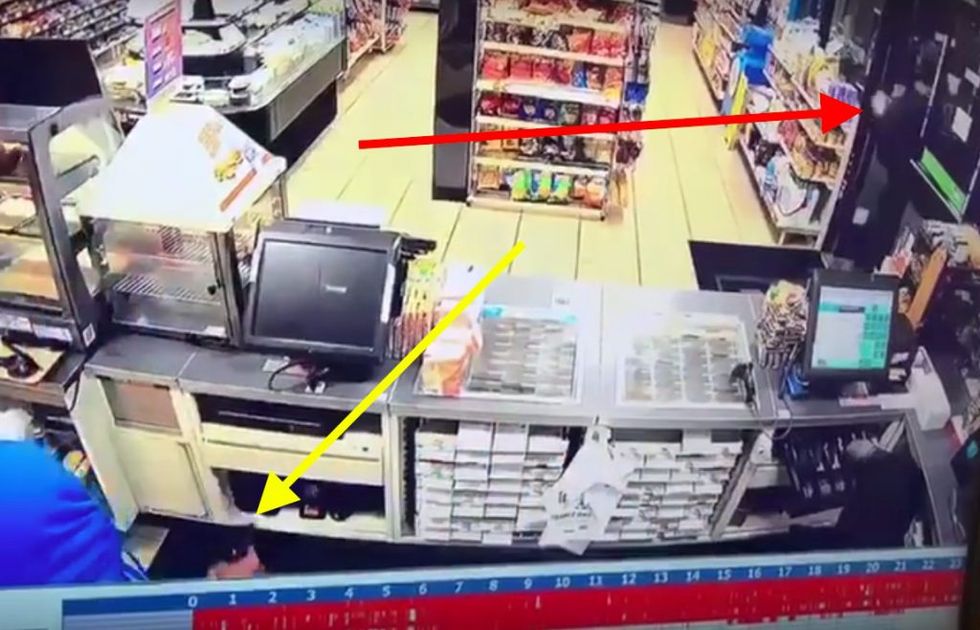 Image source: YouTube screenshot
When one of the wounded suspects pleaded with the security guard that their weapon was fake, the gun-toting guard uttered a retort for all time: "Oh well. Mine's real!"
Image source: YouTube screenshot
The guard began barking orders at the crooks when one of them meekly asked, "Am I shot?"
"Oh, f*** yeah!" the guard replied, unmoved.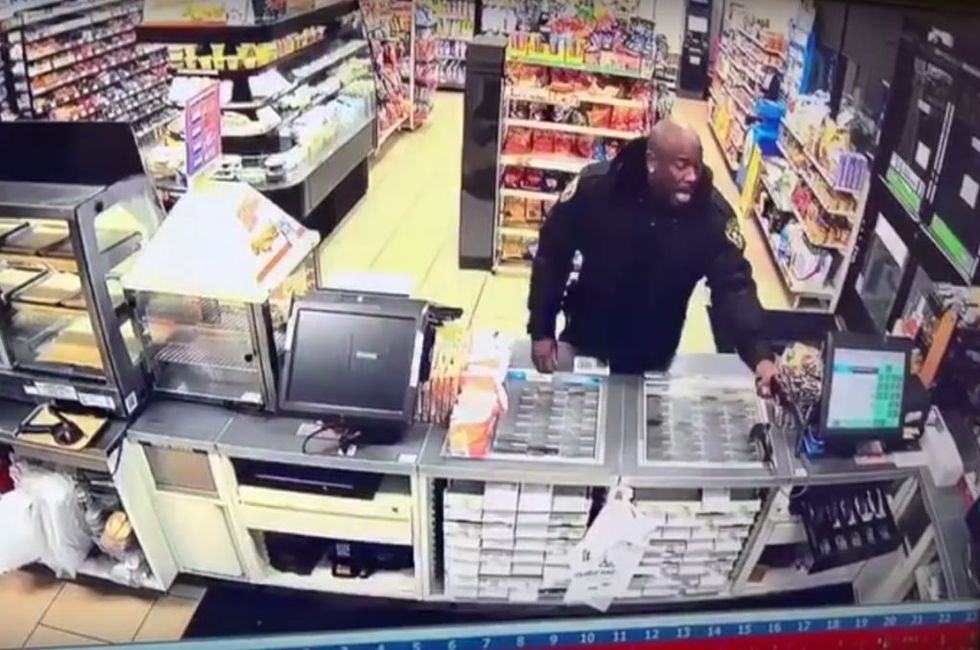 Image source: YouTube screenshot
After referring to one of the defeated suspects as "homie," the guard revealed to the downed teens the truth they already were painfully aware of: "You f***ed with the wrong one."
Here's the clip. (Content warning: Rough language):
Det. Gregory Stickley of the Los Angeles County Sheriff's Compton Station told KTTV-TV the guard saw one of the males point what appeared to be a black semiautomatic handgun at the cashier.
"Fearing for the cashier's life, the security guard took action by shooting the male that was pointing the gun at the cashier," Stickley added to the station. "Believing the other male also had a weapon, he also fired at him, as a result striking both."
Deputies responded to a silent alarm, KTTV reported, and the guard detained both males until deputies arrived.
The suspects were taken to a hospital, treated for non-life threatening injuries, Stickley told the station, adding they also were arrested, booked on suspicion of robbery and were being held without bail.
A replica semiautomatic handgun was recovered at the scene, Stickley told KTTV.
The station added that the security guard isn't facing any charges.
Numerous reports last week noted a YouTube user's incorrect claim in a viral video of the incident that it occurred in a Hamilton, New Jersey, convenience store.
(H/T: Blue Lives Matter)