Philadelphia Eagles quarterback Nick Foles — the Most Valuable Player of Super Bowl 52 — highlighted his faith in God before and after his underdog squad's championship victory over the New England Patriots.
Foles continued that trend Monday with an appearance on "Ellen" that got deep pretty quickly as the backup quarterback discussed the challenge of facing his fears and failures — and how the Bible, prayer, and his faith helped him do so.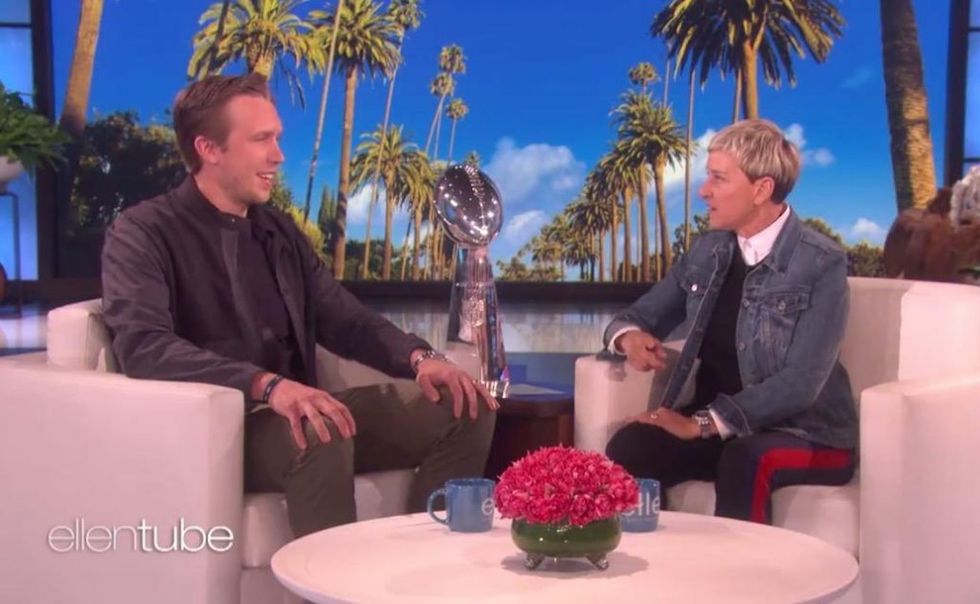 Image source: Facebook video screenshot
After a 2013 Eagles season when he led the league in passing and tied the NFL record for touchdown passes in a game, Foles failed to repeat the magic for other teams.
Why did Foles almost quit football?
"I was going to stop playing the game two years ago," Foles explained, adding that he had "lost the joy" in lining up behind center and calling signals and "didn't touch a football for a long time."
What turned him around?
But after Foles' wife encouraged him to give the game another chance, the quarterback said "I had to face my fear" even though "it was almost paralyzing to go back and play." And after he said he "prayed about it," Foles strapped on the shoulder pads once again.
When I took a step in that faith ... I still was like, "This is gonna be tough. I don't know if this is the right decision." But I did it. And it was the fourth day of training camp with the Kansas City Chiefs where all of sudden a veil was lifted and the joy came back in my heart ... I was reading the Bible in the morning and journaling, I remember just crying because I was like, "I love the game of football again." But it was a different feel. It was a totally different feel because of what I had gone through. ... I feel like athletes, we try to be perfect. And we're not. We fail just like anyone else. We have issues like everyone else. We have life. Life happens. And it's OK to share those things because I think that's what makes us strong is overcoming those failures.
What's the rest of the story?
Last year, Foles signed a two-year deal to return to the Eagles as the backup to superstar quarterback Carson Wentz. But when Wentz suffered a season-ending knee injury in December, Foles was suddenly back in the spotlight.
While the Eagles had already made the playoffs, no one gave them much of a chance to advance very far with a second-string quarterback on the field. But Foles — who had already been through so much adversity — had a different outcome in mind.