Atheists and LGBT activists complained in a letter that the body of the late Rev. Billy Graham should not lie in honor at the U.S. Capitol because it "would needlessly alienate non-religious people, religious minorities, and those communities whose civil rights he opposed ..."
Graham — an iconic Christian evangelist known the world over — died last week at the age of 99. His lying in honor period began Wednesday and ended Thursday morning.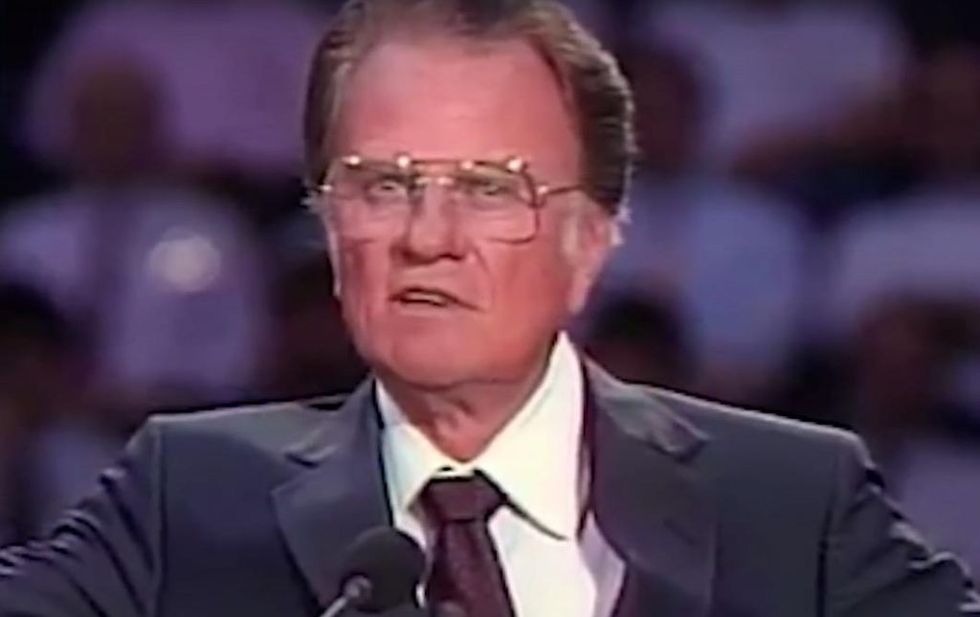 Rev. Billy Graham (Image source: YouTube screenshot)
The complaint letter also said allowing Graham to lie in honor "would set a dangerous precedent for government entanglement with religious matters."
Nine groups — including American Atheists, American Humanist Association, National LGBTQ Task Force Action Fund and Pride at Work — signed Monday's letter addressed to Senate Majority Leader Mitch McConnell (R-Ky.) and House Speaker Paul Ryan (R-Wis.).
What else does the letter say?
Calling Graham a "controversial and divisive figure," the letter also noted that "we have never given state honors to religious leaders for the advancement or pursuit of their religious vocations. Indeed, to do so would conflict with the very spirit of our Constitution, which prohibits both the establishment of religion and religious requirements for any US office or public trust."
More from the letter:
While some honor Reverend Graham as an important figure in the civil rights movement, others point to his conflictual relationship with leaders like Dr. Martin Luther King, Jr. and his failure to consistently stand against segregation. Moreover, Reverend Graham is known for his stance against equal rights for women, admonishing women to be wives, mothers, and homemakers rather than taking a broader role in society. Reverend Graham strongly opposed equal rights for gay, lesbian, bisexual, and transgender people, taking a leadership role in supporting constitutional amendments to ban same-sex marriage. Finally, Reverend Graham made a number of troubling statements about members of the Jewish faith and denigrated atheists and other non-religious Americans.
Graham was only the fourth person to lie in honor at the U.S. Capitol. The other three were civil rights icon Rosa Parks in 2005 and two slain Capitol Police officers in 1998, CNN said, adding that private citizens lying in honor is similar to government and military figures lying in state.
(H/T: Washington Times)