Droves of millennial women are leaving the Republican Party and less than one-quarter of younger women identify as Republican, according to a new study by the Pew Research Center.
How have the figures changed?
Between 2002 and 2017, the share of millennial women who identify as Democrats grew from 54 percent to 70 percent, Pew reported. In contrast, 23 percent of younger women now say they are Republican, compared to 36 percent in 2002.
Meanwhile, more millennial men are identifying as Republican. For the same time period, the share of millennial men identifying as Democrat went from 52 percent to 49 percent, according to the study. About 41 percent of millennial men currently identify as Republican, compared to 39 percent in 2002.
Across all age groups, women over the past two decades have been leaving the Republican Party and joining the Democrats. Currently, about 56 percent of women align with the Democratic Party, compared to 44 percent of men.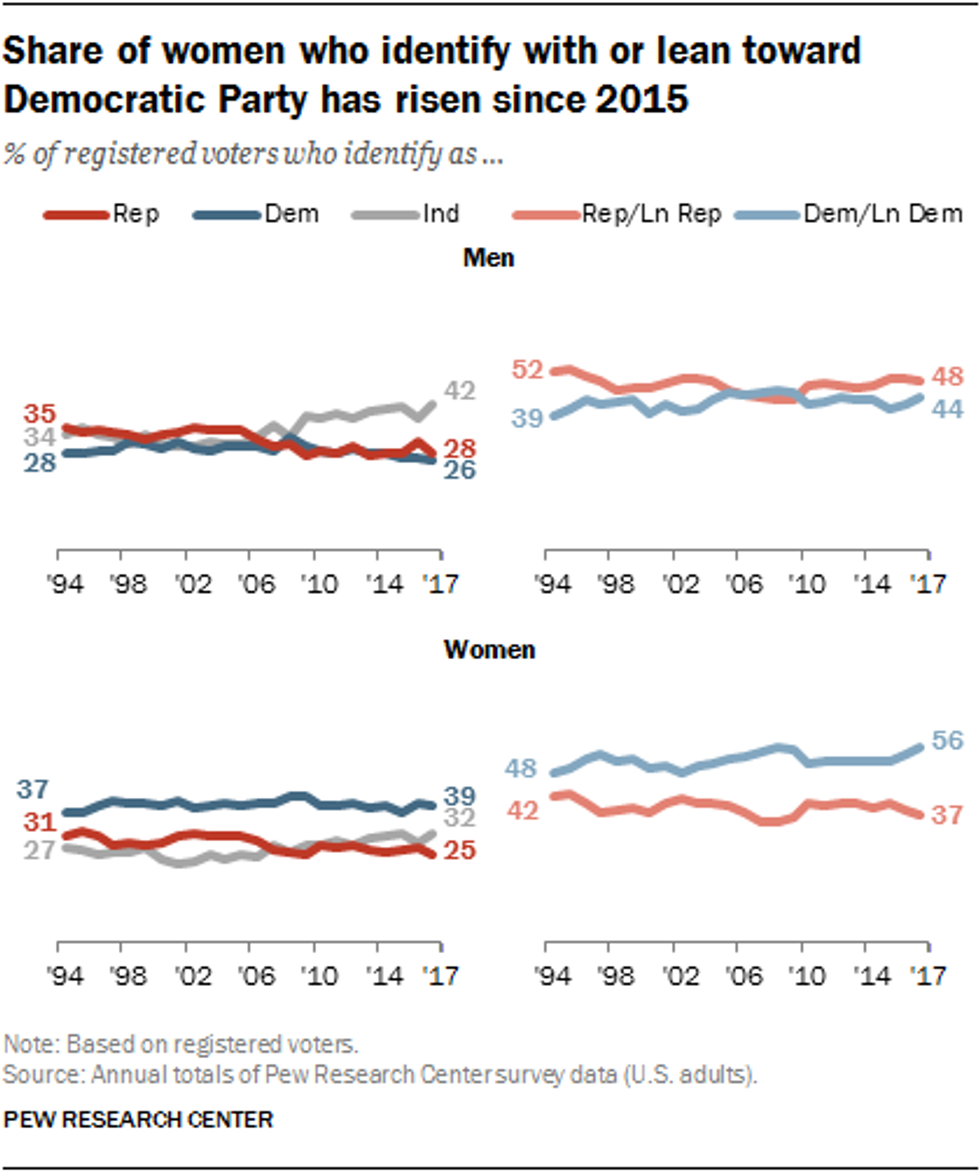 What about education levels?
The study also showed a shift in education levels associated with Democrats versus Republicans.
Higher educational attainment is "increasingly associated with Democratic Party affiliation and leaning," according to the study. People with zero college education are about evenly divided in their partisan orientation — 47 percent identify with the GOP, while 45 percent lean Democratic.
In 1994, about 39 percent of people with four-year college degrees identified with or leaned toward the Democratic Party and 54 percent affiliated with the Republican Party, the study states. In 2017, the numbers were "exactly reversed."
The greatest change has occurred among people with postgraduate experience. Some of this took place more than a decade ago, but the share of postgraduate voters leaning toward the Democratic Party grew from 55 percent in 2015 to 63 percent in 2017. In 1994, those with at least some postgraduate experience were evenly split between the parties.