YETI Coolers, known for its popular coolers and cups, is one of the most popular outdoor brands in America. But the company seemingly stepped on its customer base last week when it severed ties with the National Rifle Association.
And now the free market is responding in a big way.
What happened?
The NRA announced on Friday that YETI had cut ties with the NRA Foundation, the pro-Second Amendment organization's charitable arm. YETI had been a longtime partner of the NRA and its products were routinely raffled at NRA charity events, which raise money for youth programs nationwide.
In a letter, the NRA-ILA — the NRA's lobbying arm — said YETI should be "ashamed" of its decision, which came suddenly and without explanation.
"That certainly isn't sportsmanlike. In fact, YETI should be ashamed. They have declined to continue helping America's young people enjoy outdoor recreational activities," the letter said. "These activities enable them to appreciate America and enjoy our natural resources with wholesome and healthy outdoor recreational and educational programs."
While YETI failed to offer an explanation, the move may be related to the national boycott of the NRA, which began in February. That boycott, which followed the tragic mass killing in Parkland, Florida, forced numerous longtime NRA supporters to end their relationships with the NRA. At the time, the left was pressuring NRA supporters to bail under the threat of boycott.
Still, the announcement bewildered many NRA supporters. After all, YETI's consumer base overlaps with the demographic of NRA members and those who support what the NRA stands for. And unfortunately for YETI, its decision to move away from the NRA sparked a massive free market response.
What was the response?
The response from NRA members, supporters and generally anyone who loves the outdoors and supports what the NRA stands for was immediate.
By Sunday, a full-scale boycott of YETI was underway and the hashtag #BoycottYETI trended on social media.
Some people said YETI's decision prompted them to sell their YETI products:
So I hear @YETICoolers decided to boycott the #NRA. Bold move considering most of the folks that buy your products… https://t.co/UBSCtNWnBK

— Always on my hustle (@Always on my hustle)1524364206.0
Other people vowed to never purchase YETI products again while encouraging the boycott: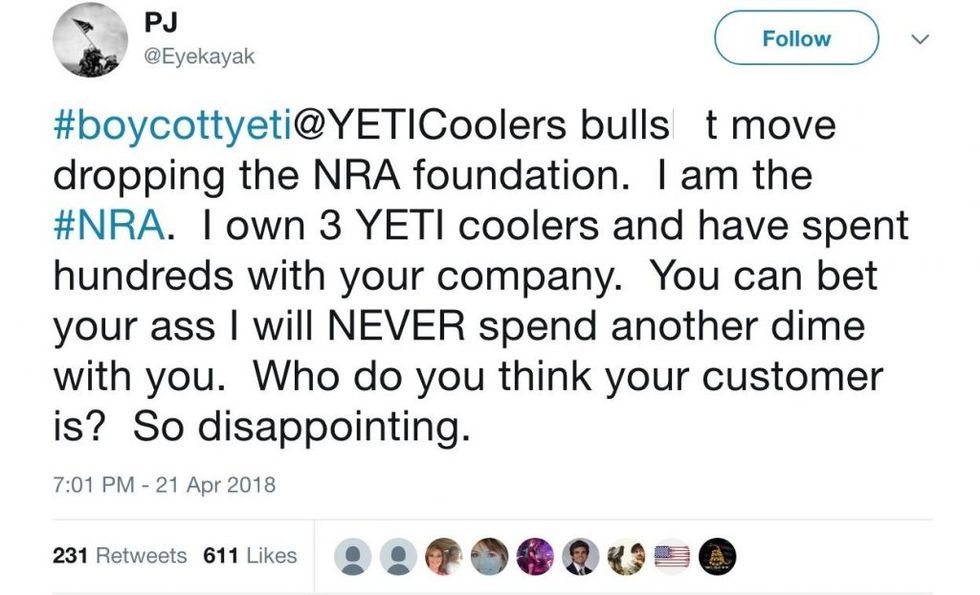 Image source: screenshot
Hey @YETICoolers you just lost this @NRA instructor's business. #DitchingMyYeti #BoycottYeti

— Terry Skinner (@Terry Skinner)1524354277.0
Still, others encouraged people to buy coolers from YETI's competitors, such as Grizzly Coolers:
Please follow & spend some money with American Made @GrizzlyCoolers They support hunters, sportsmen & 2nd Amendment. @NRA #BoycottYeti

— Jeff Ward (@Jeff Ward)1524415217.0
One person even advertised a window decal remover, so people with YETI decals on their vehicles could safely remove them:
@YETICoolers window decal removal tools are available for only $1.99 #BoycottYetiCoolers #BoycottYeti https://t.co/E2ksoCYnJK

— Johnny Rook (@JohnnyRook5) April 22, 2018
What did YETI say?
YETI provided the following statement to TheBlaze:
A few weeks ago, YETI® notified the NRA Foundation, as well as a number of other organizations, that we were eliminating a group of outdated discounting programs. When we notified the NRA Foundation and the other organizations of this change, YETI explained that we were offering them an alternative customization program broadly available to consumers and organizations, including the NRA Foundation. These facts directly contradict the inaccurate statement the NRA-ILA distributed on April 20.

Further, the NRA-ILA stated in that same public communication that "[YETI has] declined to continue helping America's young people enjoy outdoor recreational activities." Nothing is further from the truth. YETI was founded more than 10 years ago with a passion for the outdoors, and over the course of our history we have actively and enthusiastically supported hunters, anglers and the broader outdoor community. We have been devoted to and will continue to directly support causes tied to our passion for the outdoors, including by working with many organizations that promote conservation and management of wildlife resources and habitat restoration. From our website to our film footage and from our social media posts to our ambassadors, YETI has always prominently featured hunters pursuing their passions. Moreover, YETI is unwavering in our belief in and commitment to the Constitution of the United States and its Second Amendment.
The writer's perspective: How is this boycott different from the left's boycott of the NRA?
There is one major difference that distinguishes this boycott with the earlier boycott of the NRA: the NRA boycott was orchestrated by the far-left — including big money donors — while the YETI boycott developed organically.
Indeed, one of the best features of a capitalistic economy is that consumers are somewhat freely able to choose which businesses they give their hard-earned money to. When businesses make decisions consumers do not agree with, they are free to react with their dollars.
However, what is so bad about boycotts orchestrated by the far-left is they are anything but organic. As TheBlaze recently explored, they almost always come from a place of manipulation — which has absolutely no connection to freedom or liberty.
Editor's note: This story was updated to add a statement from YETI.