The far-left has become notorious for orchestrating boycotts of companies that hold positions or make decisions contrary to its agenda.
In 2012, it was Chick-fil-A, but more recently, the boycotts have honed in on right-wing media hosts, the National Rifle Association and anything dealing with the Second Amendment.
Yet each boycott always seems to have a "backfire" moment, where the pressure asserted on groups and companies swings the pendulum back to the left — literally — and ends up benefitting the boycotted group. It's become a tiresomely predictable process.
So, how do they happen? Lets examine the two most recent boycotts that went mainstream.
The NRA boycott
Following the tragic shooting in February at Marjory Stoneman Douglas High School in Parkland, Florida, the left concentrated its outrage on the NRA, alleging the "gun lobby" — a term the left uses to describe the pro-Second Amendment organization — was partially responsible for the shooting because it advocates against gun control and for firearm freedoms.
In just hours, the left organized and begin zeroing in on companies that do business with the NRA. ThinkProgress, a liberal news outlet a part of the Center for American Progress — an organization founded by Clinton ally John Podesta and funded in part by George Soros — published a list of companies that aligned themselves with the NRA, either directly or by offering discounted services to NRA members.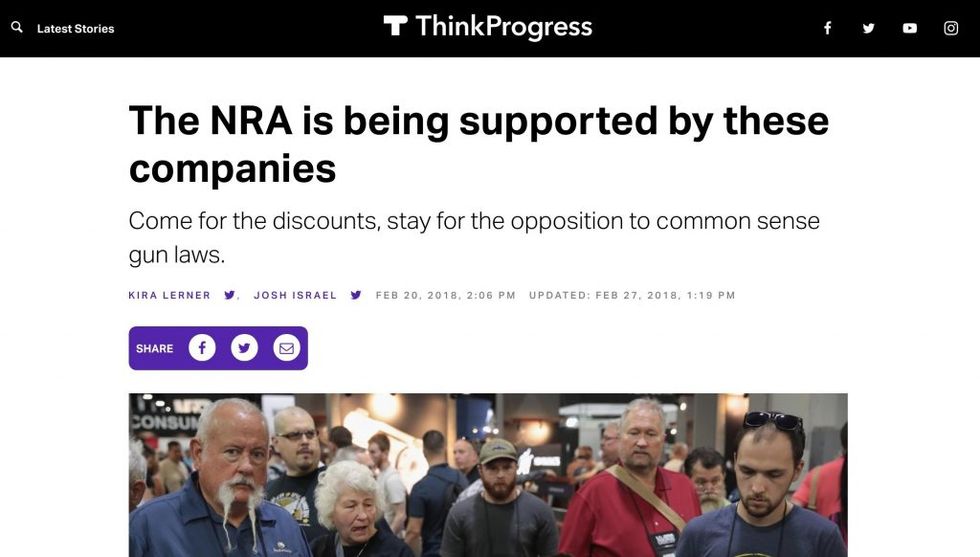 Image source: screenshot
Liberal activists also circulated lists online. Their purpose, of course, was to apply pressure to the companies. Money speaks, so it's easy to see how pressure from tens of thousands of people moved the needle and forced companies to make a decision about the NRA — whether they wanted to be a part of the conservation or not.
The first company to fold was First National Bank of Omaha — and it didn't take long for more than a dozen companies to follow suit, including: MetLife, Delta Air Lines, United Airlines, Enterprise Holdings, Avis, Hertz, Wyndam Hotel groups and many others.
But the NRA has millions of members, and millions more supporters. The group felt like the boycott was an attack on their Second Amendment rights, so just as quickly as the left initiated its boycott, mainstream Americans initiated a counterboycott.
No only did those opposed to the NRA boycott counterboycott companies that had folded to the liberal mob, but thousands of people joined the NRA, while thousands of others donated to the pro-gun organization.
In the end, the boycott only helped the NRA, in both messaging and physically with new members and more revenue.
The Laura Ingraham boycott
In March, Fox News host Laura Ingraham came under fire for tweeting a story about high school senior David Hogg, one of the most recognizable figures in the anti-gun movement post-Parkland. The story was about a few colleges that had rejected Hogg. Many people found the tweet distasteful.
Ingraham published her tweet on a Wednesday. By the following day, Media Matters, a far-left media watchdog also funded in part by George Soros, published a list of companies that had advertised on Ingraham's show in the preceding week. Other liberal activists circulated lists online, while Hogg himself pointed people to Media Matters' list and encouraged them to apply pressure.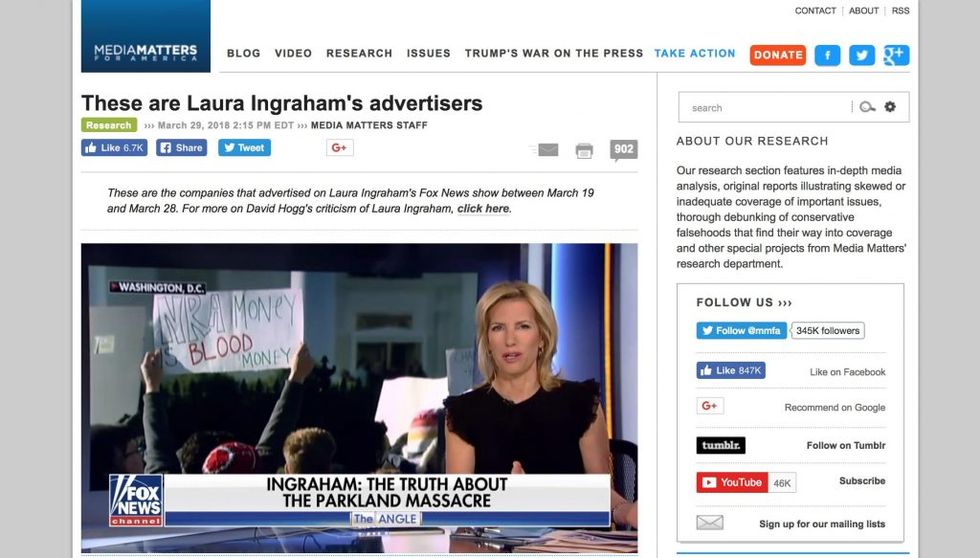 Image source: screenshot
And just that quickly, companies whose ads had appeared during Ingraham's show were either distancing themselves from the Fox News host or severing ties with her altogether.
Ingraham apologized, but it was too late — the left's grassroots coalition had already applied enough pressure to force more than a dozen companies to drop Ingraham or distance themselves from her, including Liberty Mutual and Bayer, Ingraham's two leading sponsors.
But a counterboycott quickly arose, just as it had during the NRA boycott. Loyal Fox News views, conservatives, Ingraham's fans and those disgusted with the left's tactics began tweeting their support for Ingraham and pledged to stop doing business with companies who cowered to the liberal outrage mob.
Rinse. Repeat. Rinse. Repeat.
What you should do about it
Boycotts have become the left's most useful tool to bully people into complying with its agenda. It's a powerful tactic driven by emotion and outrage, yet always short on fact.
However, make no mistake: the boycotts are designed in such a way to stifle any idea counter to the left's agenda of more government and less freedom. Those who organize them believe they know better than mainstream Americans who want lower taxes, less government intrusion and more freedom.
So when the far-left orchestrates the next boycott against the Second Amendment or Fox News, take their lists and initiate a counterboycott. But not with the same tactics the left employs; let those companies know you support them and are thankful for supporting causes you believe are important.
This pulls the rug right out from under the left's boycott — and sets it up for that "backfire" moment that every far-left boycott ends with.