Pop star Katy Perry was a special guest speaker at a Vatican conference late last month and endorsed Transcendental Meditation to her audience.
At the conference called "Unite to Cure — How Science, Technology and the 21st Century Will Impact Culture and Society," Perry sat down with her meditation mentor Bob Roth — CEO of the David Lynch Foundation and TM mentor also to Oprah Winfrey and Dr. Mehmet Oz — to discuss "Impacting Children's Health Through Meditation Globally," LifeSiteNews said.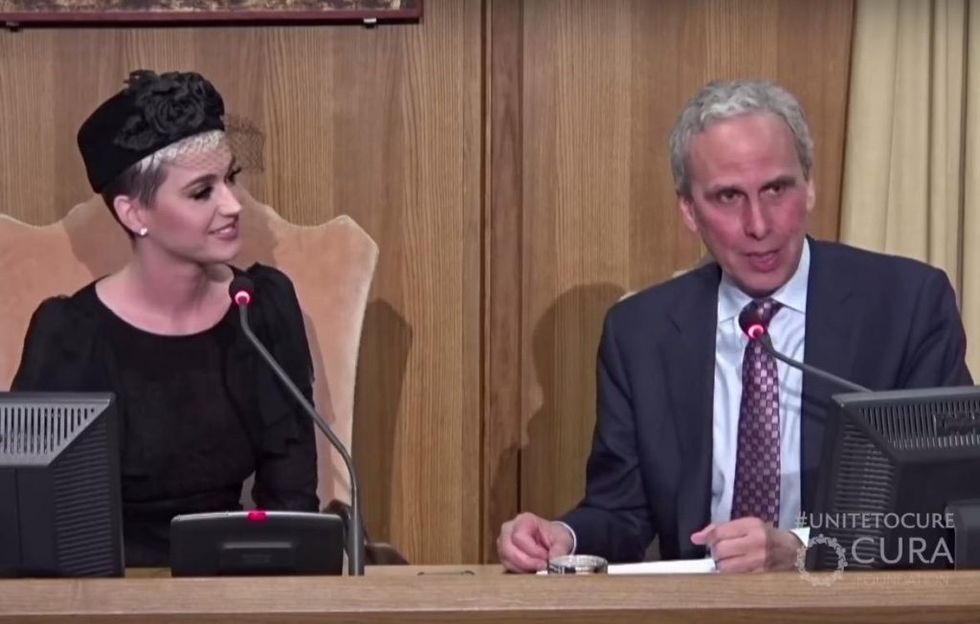 Pop star Katy Perry and Bob Roth speaking at the Vatican conference (Image source: YouTube screenshot)
Perry told the crowd that Roth taught her Transcendental Meditation in India "and the stillness that I found is beyond anything I've ever experienced."
Is TM a religion?
Both Perry and Roth argued that Transcendental Meditation is not a religion.
"I think it's about as religious as eating good foods," Perry added, noting that she "was raised in a Christian household" and was taught that "our body is a temple" and that we should "take care of it."
"I notice when I meditate that my whole brain kind of opens up," she shared, adding that "it feels like a halo has ignited around my head" and that TM has brought her "some of the most incredible stillness" and some of her "best, most creative ideas to the surface."
Perry added, "Meditation is the key to really finding your true authentic self."
She also noted that she simply wants "to be a messenger" and that Transcendental Meditation "is one of the greatest messages I was able to receive."
Here's a clip of Perry's appearance. The relevant portion begins just after the 18-minute mark:

LifeSiteNews said it contacted the Pontifical Council for Culture to ask why Perry was an invited speaker but didn't receive an immediate reply.
Perry also met Pope Francis during her time at the Vatican, along with actor Orlando Bloom — her on-again-off-again boyfriend — as well as Perry's mother, LifeSiteNews reported. The pop star praised "His Holiness" for his "compassionate heart and inclusivity":
Honored to be in the presence of His Holiness @Pontifex's compassionate heart and inclusivity. Thank you to… https://t.co/qJXQFSZqaj

— KATY PERRY (@KATY PERRY) 1524984039.0
What did those opposed to Perry's appearance have to say?
"For Katy Perry to speak about Transcendental Meditation from the same seat used by the Pope during major Church meetings is symbolic of the chaos, disorientation and scandal that marks this pontificate," a source close to the Vatican told LifeSiteNews. "It would be one thing to have her presence moderated by a Church leader, but to have the podium given over to celebrity TM proponents with no Church voice to counter them is unconscionable."
The source added to the outlet that "it's tragically emblematic of today's culture: when the Church chooses to be absent, the world steps in to fill the vacuum."
More from LifeSiteNews:
An official in the Pontifical Council for Culture told LifeSitenews the plan was for the guests promoting transcendental meditation to be able to air their ideas which would then be "robustly challenged" — an exercise, he said, that would educate Catholic participants attending the Conference about the nature of some of the current challenges to the Faith in healthcare settings.

Despite these aims, the ideas were not robustly challenged during or after the panel discussion.

In a letter to bishops issued by the Congregation for the Doctrine of the Faith, Cardinal Joseph Ratzinger warned against Transcendental Meditation, saying "it can degenerate into a cult of the body and can lead surreptitiously to considering all bodily sensations as spiritual experiences."

And in 2003, the Pontifical Council for Culture issued a Christian reflection on the "New Age" in which its authors stated: "Many people are convinced that there is no harm in 'borrowing' from the wisdom of the East, but the example of Transcendental Meditation (TM) should make Christians cautious about the prospect of committing themselves unknowingly to another religion (in this case, Hinduism), despite what TM's promoters claim about its religious neutrality."
Who else spoke at the conference?
Other speakers included New Age guru Deepak Chopra, self-help icon Tony Robbins, legendary golfer Jack Nicklaus, singer-songwriter Peter Gabriel. Broadcast moderators included CNN medical correspondent Dr. Sanjay Gupta, TV news personality Meredith Viera and Dr. Oz.