Rapper and entertainer Kanye West began an online conflagration after he began tweeting support of President Trump, but a new poll shows how many Americans believed the campaign was authentic.
Here's what the poll said
While more than half of Americans believe West made his comments simply to seek publicity, only 39 percent say that they think he believes in what he's saying.
The CNN poll showed that many more Republicans had faith in his authenticity, 56 percent, than did Democrats, of which only 30 percent think be believed in what he's saying.
We are both dragon energy
West angered many on the left and thrilled many Trump supporters after he began posting videos of online personalities who were supporters of the president.
"You don't have to agree with trump but the mob can't make me not love him," West tweeted. "We are both dragon energy. He is my brother. I love everyone."
"I don't agree with everything anyone does," he added. "That's what makes us individuals. And we have the right to independent thought."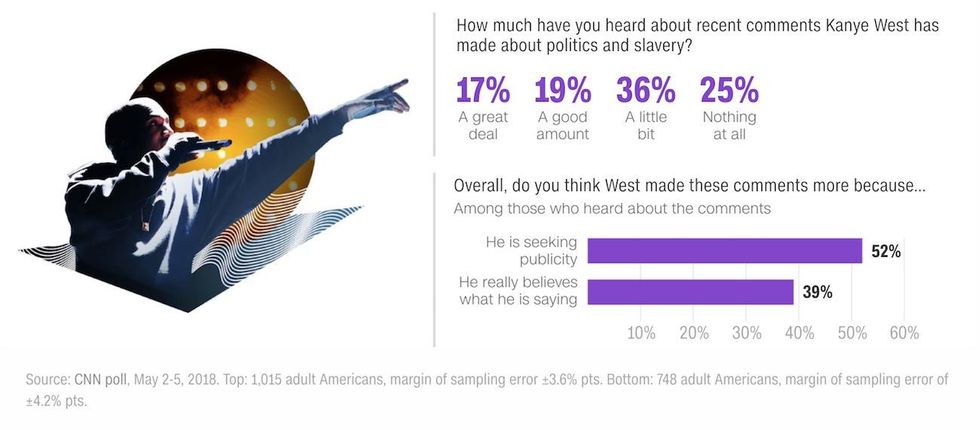 CNN Kanye poll (Image Source: CNN website screenshot)
In the CNN poll, more African Americans said that they heard about the comments than in the general public.
Overall, only 23 percent saw Kanye West favorably, while more than twice as many, 53 percent, saw him unfavorably. However, it must be noted that there is no baseline of favorability to compare those numbers against.
That favorability rating drops even lower among African Americans, with 15 percent saying they approve of him. West scores higher among White Americans, 24 percent of which view him favorably, while 50 percent view him unfavorably.
"Enslaved by monolithic thought"
West made it clear that he didn't support all of Trump's policies, he merely wanted many in the black community to think freely about who they support politically.
"I'm just refusing to be enslaved by monolithic thought," he tweeted.
Here's Condoleezza Rice's response to Kanye West on Fox News Business: