The headlines raced across the internet today, spreading like an uncontrollable wildfire: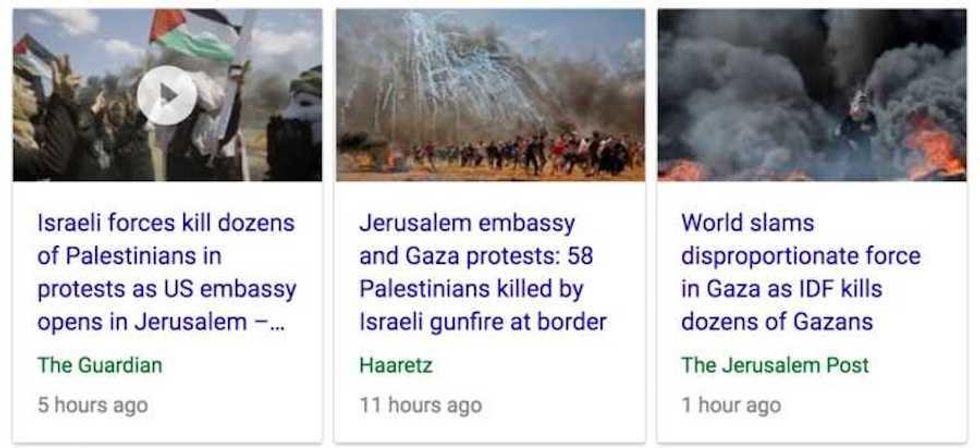 Dan Andros/Google screenshot
If you saw the story about the mass casualties at the Gaza border Monday, odds are high you saw some version that slammed Israel for using excessive force and needlessly murdering peaceful Palestinian protesters.
Most of these articles either skip entirely Israel's side of the story, or toss it in toward the very end, rendering their accounting as a feeble attempt to explain away their horrific actions.
There's one explanation the media fails to investigate or even seem to consider as the more plausible reason for Israel's use of force: Gaza is run by a terrorist organization (Hamas) and their ultimate goal is acts of violence against Israel, not peaceful protest.
TheBlaze's Jason Buttrill and Faithwire's Dan Andros were at the Gaza border today, where Buttrill interviewed the IDF Lt. Col. Jonathan Conricus, who explained how Hamas is using children, prisoners, and others to try and storm the fence with the expressed purpose of killing Israeli citizens.
A MUST SEE interview from the Gaza border if you'd like to understand what Israel is facing. WATCH:
And consider this quote from the Washington Post:
While some said they would abide by official calls to keep the demonstrations peaceful, others talked about their enthusiasm to break into Israel and wreak havoc.

"We are excited to storm and get inside," said 23-year-old Mohammed Mansoura. When asked what he would do inside Israel, he said, "Whatever is possible, to kill, throw stones."

Two other young men carried large knives and said they wanted to kill Jews on the other side of the fence.
That doesn't sound very peaceful.
The Jerusalem Post noted that the death toll numbers were reported by Hamas' Ministry of Health in Gaza, so we must take these numbers with some skepticism as there was "no independent corroboration."
The IDF has not disputed the death toll, and also confirms there were casualties.
Buttrill and Andros have been in Israel since Friday, covering a wide range of events happening in Israel – from the Embassy opening to protests in Bethlehem and Jerusalem, to the violence in Gaza.
Catch up on all their live updates below, and be sure to stay tuned for more updates tomorrow from the Gaza border as more protests are expected for "Nakba Day."
The updates are part of an hourlong special that will run in the coming days. You can find out more information at TheBlaze.com
Here are the LIVE updates from Israel so far: