Roseanne Barr fired back at the "Roseanne" co-stars who spoke out against the remarks that forced ABC to cancel the hit show and offered multiple excuses for why she tweeted what she did.
Despite the massive controversy, however, her Twitter following has exploded, and Disney shares have dropped 2.4 percent since news of Tuesday's cancellation broke.
What's a brief history?
Barr compared an aide of former President Barack Obama to an ape in a controversial series of tweets that are now deleted from the actress's Twitter page.
The tweet in question read, "[M]uslim brotherhood & planet of the apes had a baby=vj," and pointed to former Obama aide Valerie Jarrett, who is black.
As a result of the tweet, ABC announced that "Roseanne" would be cancelled, despite Barr's apology.
What did she say to her co-stars?
Sara Gilbert, one of the show's executive producers and co-stars, expressed her disappointment in Barr's remarks on Tuesday.
On Twitter, Gilbert wrote, "Roseanne's recent comments about Valerie Jarrett, and so much more, are abhorrent and do not reflect the beliefs of our cast and crew or anyone associated with our show. I am disappointed in her actions to say the least."
She added, "This is incredibly sad and difficult for all of us, as we've created a show that we believe in, are proud of, and that audiences love— one that is separate and apart from the opinions and words of one cast member."
Late Tuesday night, Barr responded to Gilbert's tweet.
In a tweet captured by CNN's Jake Tapper, Barr wrote, "Wow! Unreal."
Co-star Michael Fishman issued a lengthy statement Tuesday on Twitter, decrying Barr's remarks.
He wrote, "Today is one of the hardest days of my life. I feel devastated, not for the end of the 'Roseanne' show, but for all those who poured their hearts and souls into our jobs, and the audience that welcomed us into their homes."
"Our cast, crew, writers, and production staff strived for inclusiveness, with numerous storylines designed to reflect inclusiveness," Fishman continued. "The words of one person do not exemplify the thinking of all involved."
"I condemn these statements vehemently," he wrote. "They are reprehensible and intolerable, [contradicting] my beliefs and outlook on life and society. I have always lived and taught my children to be inclusive. I believe our show strived to embrace different backgrounds and opinions, through open dialogue."
"While I am going to miss being a part of the ABC family, I believe that to sit back, or remain silent in an attempt to distance myself from the actions/statements of others would unintentionally endorse or placate those statements which I find truly offensive," Fishman's post continued.
He concluded, "My character was designed to represent the inclusive nature of my views. To represent portions of [society] often marginalized. In this moment it is important to be clear. We must [stand up] against; bias, hatred, bigotry, and ignorance to make society a better place for all."
According to Tapper's screenshot, Barr responded, "[I] created the platform for inclusivity and you know it. ME. You throw me under the bus! [N]ice."
— Michael Fishman (@ReelMFishman) May 29, 2018
Tapper's capture of Barr's responses — which appear to be deleted at the time of this writing — can be seen below.
While you were sleeping, @therealroseanne was going after her co-stars for criticizing her bigoted tweets, and claiming she didn't know @ValerieJarrett was African-American. pic.twitter.com/STnLEPVbnU

— Jake Tapper (@jaketapper) May 30, 2018
What did she say about the tweet, anyway?
On Tuesday night, Barr tweeted several explanations behind her tweet.
One such explanation involved the prescription sleep aid, Ambien, according to Reuters.
She wrote, "It was 2 in the morning and I was Ambien tweeting — it was memorial day too — i went 2 far & do not want it defended-it was egregious Indefensible. Imade a mistake I wish I hadn't but ... don't defend it please."
Barr also wrote that she wasn't aware that Jarrett was black when she made the offending remarks, according to The Daily Mail.
According to the outlet, Barr tweeted, "I mistakenly thought [Jarrett] was white," and "I honestly thought [Jarrett] was Jewish and Persian."
According to Reuters, Jarrett is black and was born in Iran to two American parents.
And her social following?
According to internet web cache service, the Wayback Machine, Barr's Twitter followers as of Tuesday — right around the start of the controversy — hovered around 670,000.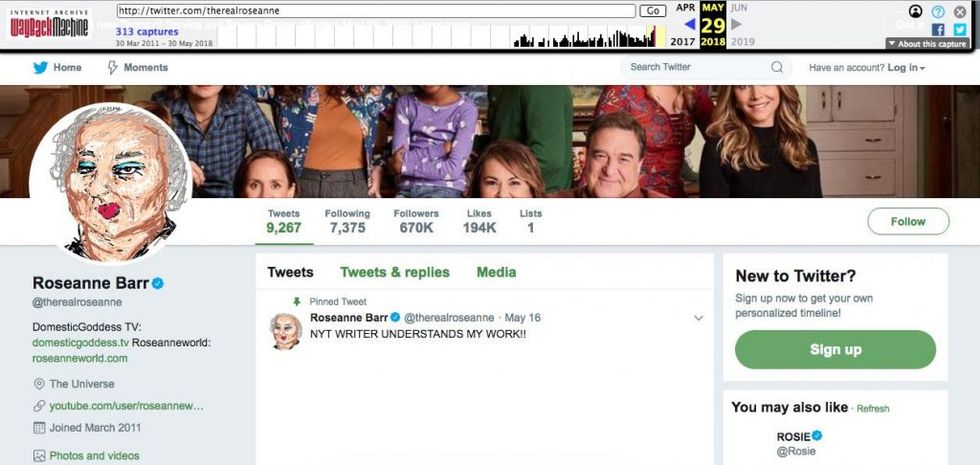 (Image source: archive.org/web screenshot)
As of the time of this writing, Barr's Twitter followers number 742,000 and that number appears to be climbing.
What about the Disney shares?
According to Trey Williams at The Wrap, "shares of the entertainment giant closed at $99.72, down 2.4 percent after a double-whammy of bad news."
Disney owns ABC Television Group, which pulled the plug on Barr's show Tuesday.
Williams went on to cite the "Roseanne" fiasco as part of the stock tumble as well as the film studio's latest project, "Solo: A Star Wars Story," which significantly underperformed during its opening weekend.
According to Williams, Disney shares "declined more than 3 percent" over the last five trading sessions, and "shares are down more than 7 percent so far this year."
Anything else?
Barr also reportedly hit back at ABC during a late Tuesday night tweet storm, calling them — and the media at large — out for a perceived double standard in punishing conservatives for missteps and letting liberals off the hook for those same mistakes.