The summer driving season is kicking into high gear, and Americans are facing rising gas prices as the cost of oil continues to remain relatively high.
The national average price of gasoline is currently $2.91 a gallon, the U.S. Energy Information Administration reported this week — a 25 percent increase over a year ago.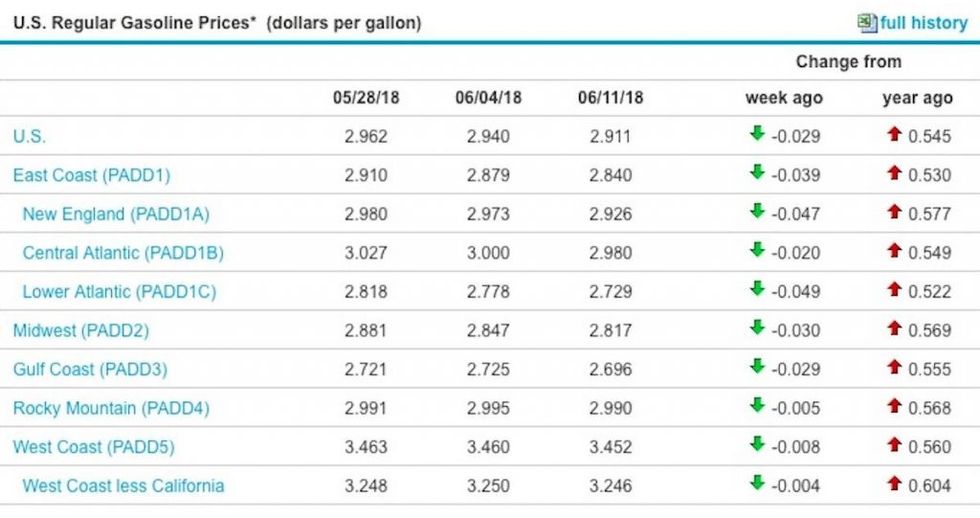 Image source: U.S. Energy Information Administration screenshot
And don't expect things to get better: AAA estimates the average will remain between $2.85 and $3.05 through Labor Day.
What happened?
The chief reason for the higher gas prices is the current cost of crude oil. Last month, U.S. oil was approximately $72 a barrel, according to EIA data. Though that price has dropped to about $67, gas prices remain high.
A year ago, a barrel of crude was between $42 and $46.
The increase in oil prices came as OPEC cut production last year, CNN Money noted. The organization sought to bring down the existing glut of crude and hike the price from the $26-per-barrel low it hit in early 2016 — and it worked.
What has President Trump said about OPEC and oil prices?
President Donald Trump has repeatedly criticized OPEC for rising oil prices, blasting the cartel for manipulating the market.
Knowing the negative impact rising gas prices can have on the currently expanding economy, Trump ripped OPEC again Wednesday on Twitter for the cost of oil, saying, "Oil prices are too high, OPEC is at it again. Not good!"
Oil prices are too high, OPEC is at it again. Not good!

— Donald J. Trump (@Donald J. Trump)1528890770.0
OPEC isn't the only culprit in the oil price surge, however. CNN reported that the president's Iran policies are also playing a role:
Last month, Trump vowed to exit the Iran nuclear deal and impose "powerful" sanctions on the world's fifth-biggest oil producer. The penalties will knock offline hundreds of thousands of barrels of Iranian crude — at a time when the strong global economy is devouring more oil.
What contributes to gas prices?
The cost of a gallon of gasoline is made up of four factors, according to the EIA: crude oil; refining costs and profits; distribution and marketing costs and profits; and taxes (state and federal).
The most recent data, which comes from April, show that crude oil currently makes up 56 percent of the price of a gallon of gas; refining 17 percent; distribution and marketing 10 percent; and taxes 17 percent.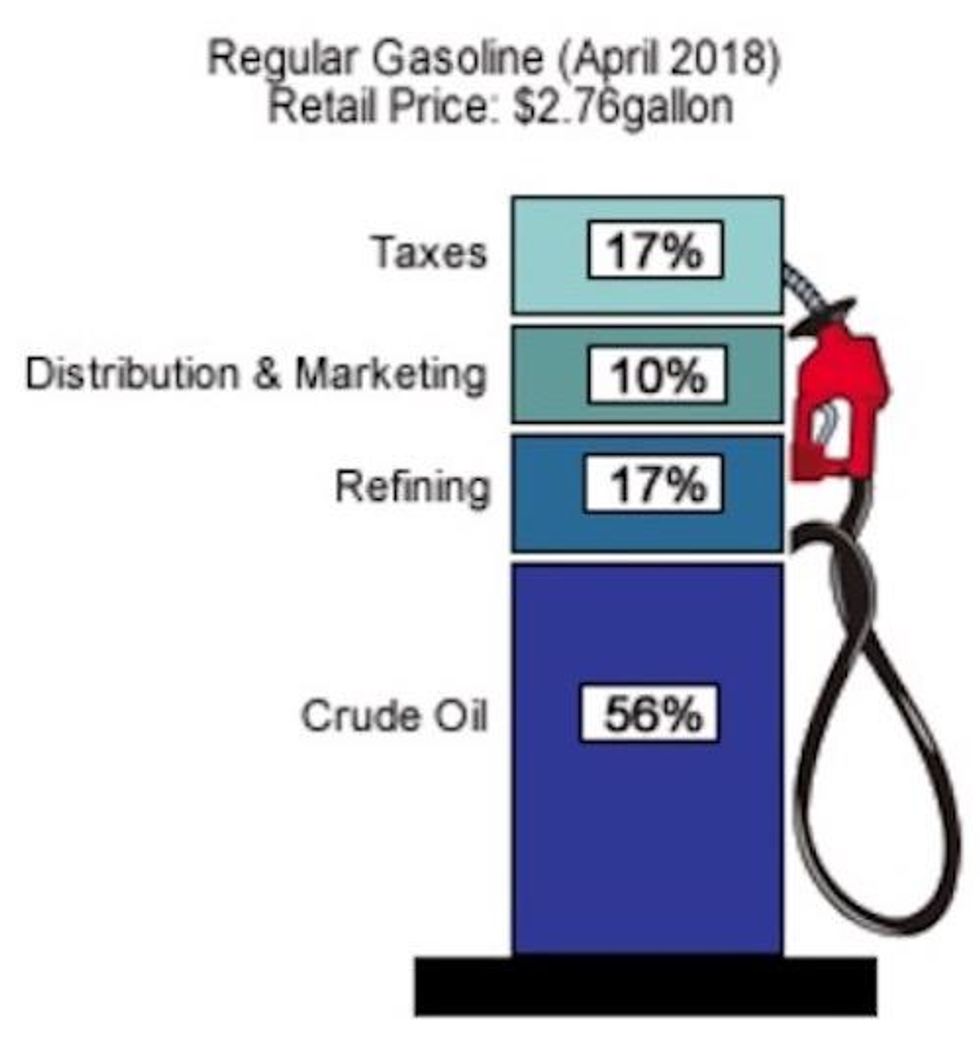 Image source: U.S. Energy Information Administration screenshot
The 10 most expensive states to fill up your tank
Here are the 10 states with the highest gas prices. The ranking is based on AAA information on statewide average prices for the cost of a gallon of regular unleaded gasoline:
No. 10: ARIZONA — $3.076
Other grades:
● Mid-Grade — $3.292
● Premium — $3.501
● Diesel — $3.178
No. 9: CONNECTICUT — $3.126
Other grades:
● Mid-Grade — $3.387
● Premium — $3.581
● Diesel — $3.348
No. 8: IDAHO — $3.191
Other grades:
● Mid-Grade — $3.338
● Premium — $3.505
● Diesel — $3.420
No. 7: UTAH — $3.202
Other grades:
● Mid-Grade — $3.342
● Premium — $3.492
● Diesel — $3.351
No. 6: NEVADA — $3.326
Other grades:
● Mid-Grade — $3.494
● Premium — $3.648
● Diesel — $3.392
No. 5: OREGON — $3.328
Other grades:
● Mid-Grade — $3.497
● Premium — $3.665
● Diesel — $3.433
No. 4: ALASKA — $3.424
Other grades:
● Mid-Grade — $3.497
● Premium — $3.614
● Diesel — $3.454
No. 3: WASHINGTON — $3.458
Other grades:
● Mid-Grade — $3.619
● Premium — $3.759
● Diesel — $3.599
No. 2: CALIFORNIA — $3.716
Other grades:
● Mid-Grade — $3.865
● Premium — $3.973
● Diesel — $3.974
No. 1: HAWAII — $3.727
Other grades:
● Mid-Grade — $3.856
● Premium — $3.992
● Diesel — $4.156