A northern Virginia school board voted overwhelmingly to adopt what WRC-TV called a "more inclusive sex education curriculum" for next year.
By a 10-1 vote Thursday night, the Fairfax County board approved a change to the Family Life Education Curriculum replacing "biological sex" with "sex assigned at birth" in order to recognize transgender students, the station said.
The present sex-ed curriculum for eighth-, ninth- and 10th-graders says "the development of individual identity occurs over a lifetime and includes the component of sexual orientation and gender identity" and that "biological sex" is one of four components of individual identity, WRC reported.
And the change went through despite what appears to have been overwhelming opposition to it. School district records show that between May 10 and June 8, the district got 192 emails supporting the terminology change — and 941 emails opposing the change, the station said.
Spirited public opinion
Groups ranging from the Fairfax County Republican Committee to the Catholic Diocese of Arlington opposed the change in terminology, the station said.
"A lot of the people who are opposed to the change are making the point that what we want the kids to learn is biology, not ideology," Father Thomas P. Ferguson of the Arlington diocese said, WRC reported.
A woman — her voice breaking at one point as she spoke to the board — said the proposed curriculum change will "imprison students in half truths and lies ... 'biological sex' is not a mistake, it's not a stigma, it's not a choice."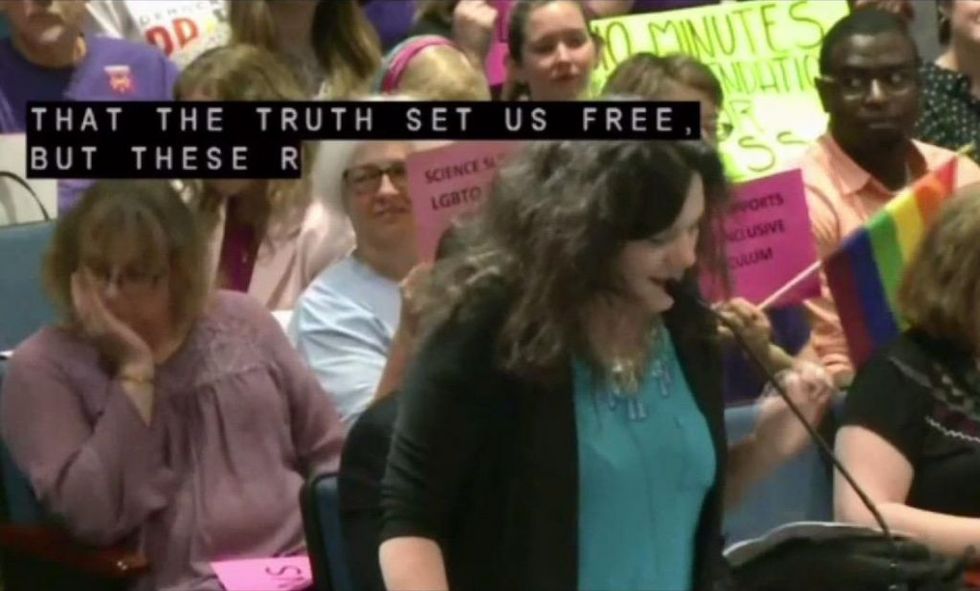 Image source: WRC-TV video screenshot
But another woman wearing a clerical collar said, "I applaud these recommendations. Sexuality education must benefit all young people, all of our young people."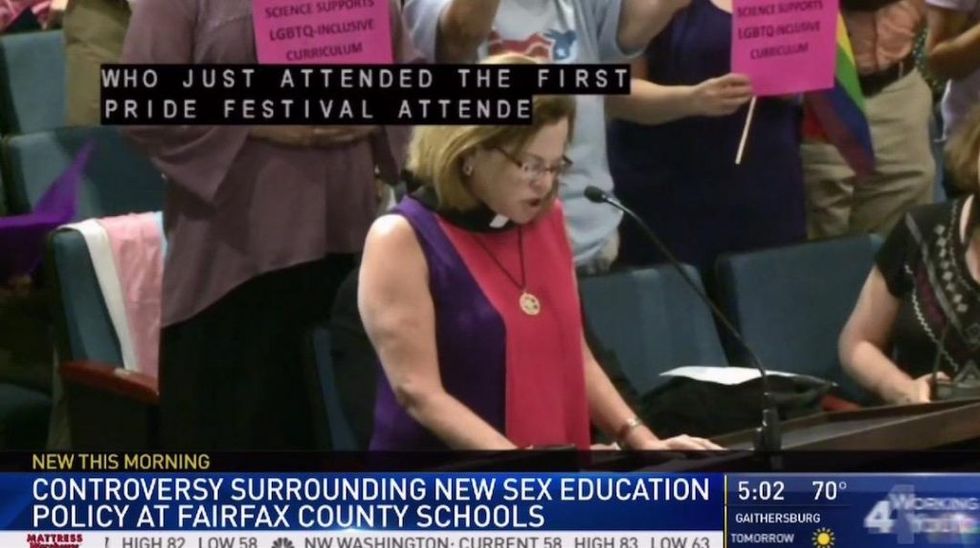 Image source: WRC-TV video screenshot
English teacher Mary Mathewson told the station she supports the curriculum change because it makes a clearer distinction between sex assigned at birth and gender identity: "I saw one too many kids struggle with not being accepted for who they are," Matthewson told WRC.
Religious groups also objected to the proposed removal of "clergy" from a list of adults students can go to with questions about sexual orientation or identity, the station said.
"To narrow rather than expand for young people who they might turn to as trusted adults is unfortunate," Ferguson said, WRC reported.
But Mathewson told the station she liked the proposed new language of "parent or trusted adult" since it "gives kids a broad range of choices for who to go to when they're questioning things."
What else did the board decide?
The board also removed phrases in the dress code that members said discriminated against girls and led to body shaming, WVEC-TV reported. So the phrase "low cut necklines that show cleavage" and clothing will be replaced with "otherwise sexually provocative."