A woman whose young nephew battled cancer said she was attacked online after she thanked Eric Trump for donating to St. Jude Children's Research Hospital.
Sherrie Hopper said she was on a fundraising site late last month, noticed President Donald Trump's son contributed to St. Jude — reportedly more than $16 million in donations over the past decade — and tweeted a thank you to him through her radio show.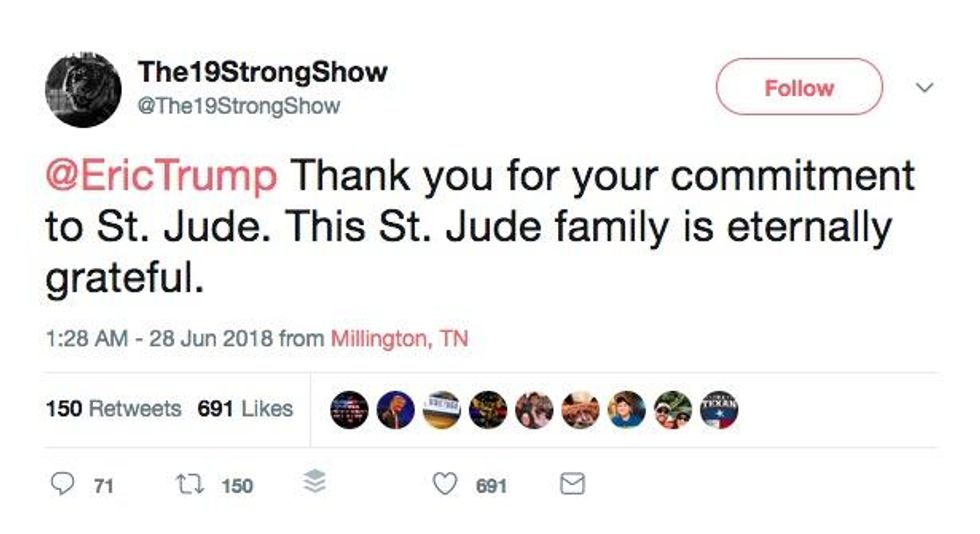 Image source: Twitter screenshot
But Hopper said after Eric Trump liked and retweeted her message, things got ugly.
"The hate that has come out is unreal," she said, adding that commenters attacked her as well as Trump and even St. Jude. Hopper added the attackers "don't care" and "have no conscience whatsoever."
Hopper's nephew Zachary was treated at St. Jude and had a "small basketball-sized" cancerous tumor removed from one of his kidneys in 2012, Fox News said.
She added that she had previously shared her "#WalkAway story" — denoting those who've departed the political left over its recent behavior and positions — but the attack over Trump's St. Jude donations "just solidifies why I walked away."
"I just don't understand how we've become so hateful in our society," Hopper added.
A 'Russian bot'?
Eric Trump appeared on Fox News' "Fox & Friends" Tuesday to discuss the issue — and got a chance to speak to Hopper remotely on the program. And she got a chance to share more of what happened to her.
Hopper told the hosts that after she thanked Trump, she was body-shamed, called a "Russian bot," and was accused of working "for Vladimir Putin," and "using" St. Jude to "rub elbows" with the first family.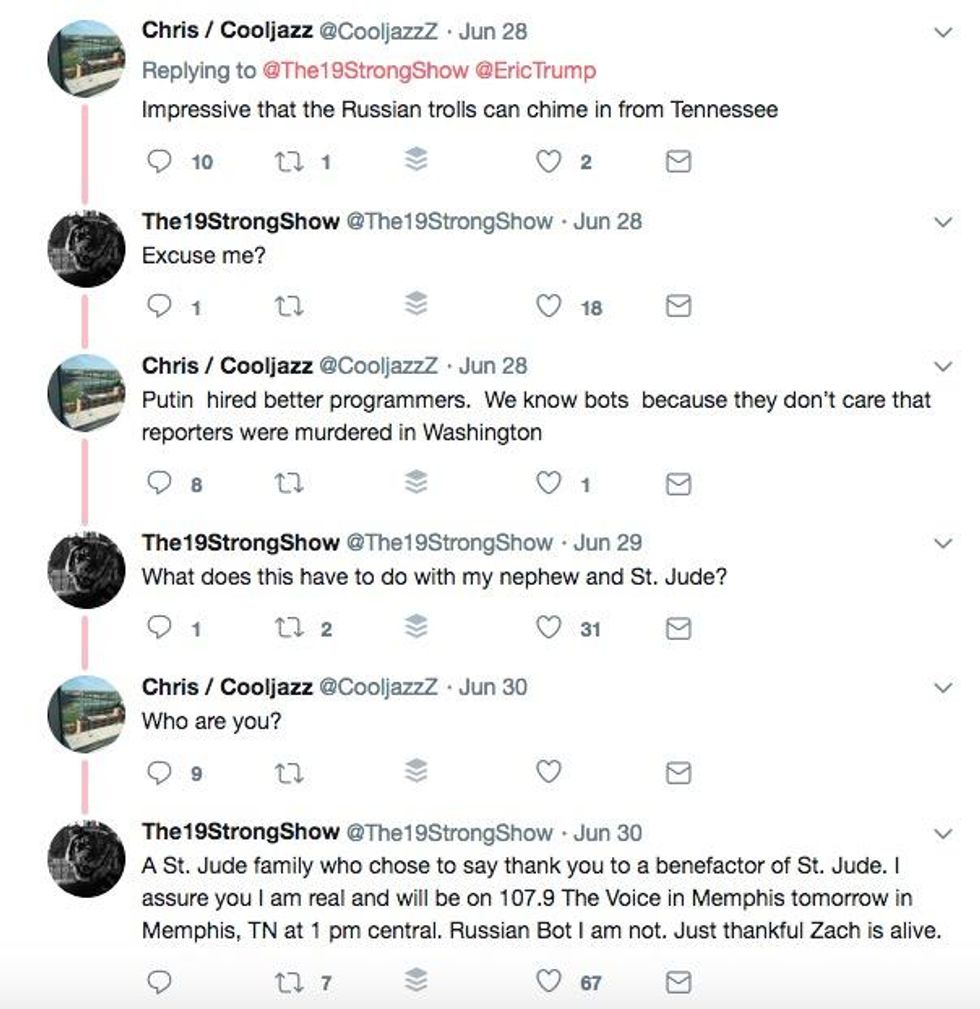 Image source: Twitter screenshot
"You have the best doctors in the world, and you get attacked for raising money for them?" Trump asked on the show, adding that "you would think it'd be the one item that would be sacred."
St. Jude's Twitter address was included on the hateful tweets, which especially bothered Hopper, Fox News said — but she wasted no time thanking Trump again.
"I don't think we should ever be ashamed to say thank you," she told him. "I can't even express to you how thankful I am."
Trump replied, "You are an amazing person. We are forever indebted."

(H/T: Louder With Crowder)