On the heels of actress Scarlett Johansson bowing to social media pressure and pulling out of a movie in which she was to play a transgender character, actor Dwayne "The Rock" Johnson has received similar treatment. But after the fact.
Johnson was criticized by an amputee actress for playing an amputee in his latest movie "Skyscraper" — because, after all, Johnson isn't an amputee, which also would seem to preclude him from such a role.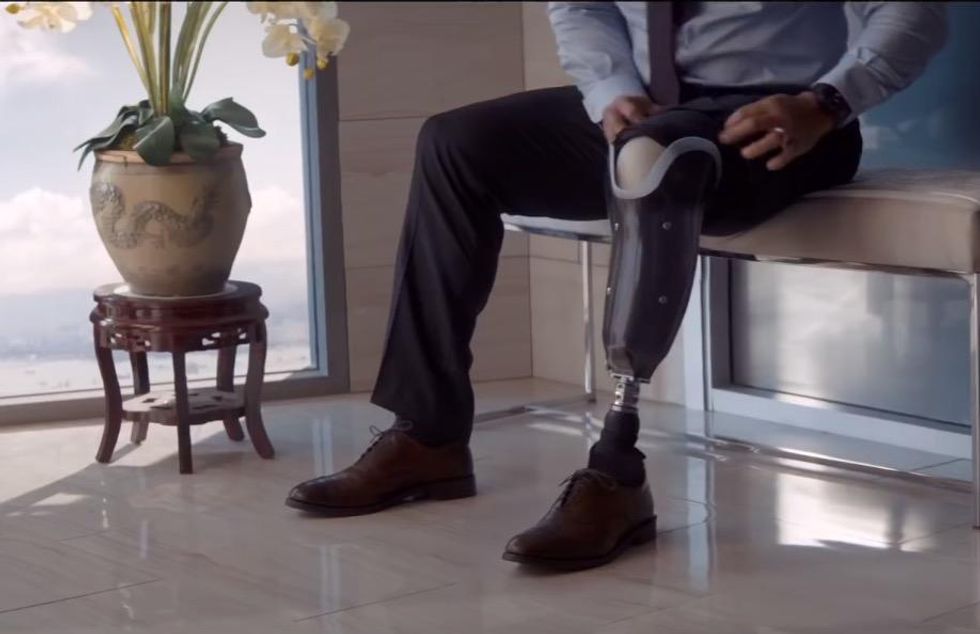 Image source: YouTube screenshot
Actress Katy Sullivan — who's a Paralympian and "a double above-the-knee amputee from birth" — put it to Johnson plainly in an open letter she penned to him for Deadline: "My request is for you to stop saying 'Yes' to roles like the one in that movie."
Why?
Sullivan cited a study which found that in last year's TV season, fewer than two percent of characters were written to have a disability — and of those characters, 95 percent of the roles "were filled with able-bodied actors."
"While I am thrilled that a film about a kick-ass veteran and father (who is a unilateral below-the-knee amputee) got greenlit in the first place, the problem is this perpetuates the fact that we're not given the agency to tell our own stories," Sullivan added.
She noted that Johansson "getting a lot of heat from the LGBTQ community for portraying a transgender character" was justified "as there are many talented trans actors out there who could be portraying that role instead of her. Actors that would bring beautiful and complicated authenticity to the project without having to reach outside themselves. The outcry is about inclusion. TRUE inclusion."
More from Sullivan's letter:
This is also the truth for performers with disabilities being sidelined so that able-bodied actors can "play at" what it's like to live life with a disability. What we lose in that is the genuine, authentic perspective. There is a bit of a misconception that a performer with a disability wouldn't be able to handle the grueling schedule of a feature film. This community of ours contains some of the strongest, most capable and tough individuals imaginable. And the amount of determination they need to just deal with a world that wasn't made with them in mind is staggering. Try navigating New York City in a wheelchair. Believe me, a movie set is a dream.

I've had conversations, recently, with some high-level development executives in Hollywood, and when I've challenged them on casting, the response I've often gotten is that "a movie won't get made without a name above the title." And I get it. That IS a concern: the bottom line. I work in this industry too.

However, a performer with a disability will never get to the point of being "a name above the line" unless they are given the opportunity to get on that path in the first place. By casting these roles with people who bring authenticity to them, (i.e., an actual amputee actor) you in turn change the talent pool over time. Because maybe there's a kid living with limb loss out there who hasn't taken an acting class, or gone to an audition before, because of the thought "Who's gonna cast ME?" If they can see it, they can be it, right? But they have to SEE IT. That's the difference.
'Lack of social outrage'
Sullivan pointed out what she surmised is "a lack of social outrage for able-bodied actors playing disabled characters. In fact, they are often celebrated ... from the Golden Globes to the Oscars, for taking on such 'difficult material.' Why wouldn't an actor want to tackle roles so rich? But it's that lack of authenticity that continues to make humans with disabilities feel invisible, me included."
She also called out iconic movie "Forrest Gump" — which Sullivan saw when she was very young — and its portrayal of double above-the-knee amputee by a non-disabled actor, Gary Sinise. Not to mention the fact that amputee character is male, she said.
"Then I found out that Gary was able-bodied, wearing long green socks on his lower legs, and they erased them out of the film," Sullivan wrote. "And in that instant, I felt erased too."
It should be noted that Lieutenant Dan, the character played by Sinise, wasn't an amputee for the entire movie, which — at that time, at least — would seem to require a non-amputee actor to fill the role.
'But the step in a better direction would be'
"I know you have expressed support of authentic casting recently. And that's a step in the right direction," Sullivan continued in her letter to Johnson. "But the step in a better direction would be, the next time you are presented with an opportunity to portray a character whose life experience includes some sort of disability, please consider saying 'No.'"
More from Sullivan's letter:
We need more A-list celebrities like you saying "no" to taking away roles from our community. And until that happens, I will have continue to consider taking that job as Miranda Otto cut in half just to try to make my health insurance for the year (spoilers to those who haven't seen Annabelle: Creation yet). And I'm not only picking on you specifically. This is a much larger problem than just The Rock and Skyscraper, but go big or go home, right?
What Sullivan's letter didn't say
There's an interesting twist to all of this, as People noted that Johnson's character was inspired by real-life amputee Jeff Glasbrenner — discovered by producer Beau Flynn via "Real Sports. And Flynn told the Hollywood Reporter that Glasbrenner "spent a lot of time" with Johnson on set to ensure a realistic portrayal, People noted.
Johnson also promoted "Skyscraper" with Glasbrenner last week on "Good Morning America" and shared an Instagram photo of them backstage on with the caption, "What a man," People said.
Representatives for Johnson didn't immediately respond to requests for comment, People reported.
Here's a trailer for "Skyscraper":
This story has been updated.
(H/T: Louder With Crowder)