South Africa's president said the ruling African National Congress will amend the nation's constitution to allow the seizure of land — owned mostly by whites — without compensation, Reuters reported.
President Cyril Ramaphosa said in a video address Tuesday that the constitution is a "mandate for radical transformation both of society and the economy" and that a "proper reading" of the document allows "the state to effect expropriation of land without compensation in the public interest."
What's the background?
The push for land seizure in South Africa has been fueled by "a mix of revenge and socialist ideology," Forbes noted.
Despite the nation's white minority, most land remains in white hands — a "potent symbol of lingering inequalities 25 years on from the end of apartheid," Reuters said. Indeed, black South Africans own less than 2 percent of rural land and less than 7 percent of urban land.
By the end of white minority rule in 1994, the ANC used a "willing-seller, willing-buyer" model in which the government bought white-owned farms for redistribution to blacks, Reuters reported, adding that progress has been slow.
Julius Malema — leader of the Economic Freedom Fighters Party — proposed an amendment for land seizure without compensation in February 2017, but it was defeated 261-33, Forbes reported. Earlier this year, however — with Ramaphosa newly elected as South Africa's president — Malema's motion was resoundingly approved, Forbes added.
"The ANC will through the parliamentary process finalize the proposed amendment to the constitution that outlines more clearly the conditions under which expropriation of land without compensation can be effected," Ramaphosa said in his address.
What else do we know about Malema?
Malema said in June that he hasn't called for the genocide of white people "at least for now."
"If things are going the way they are [in the future], there will be a revolution in this country," he added. "I can tell you now. There will be an unled revolution in this country, and an unled revolution is the highest form of anarchy."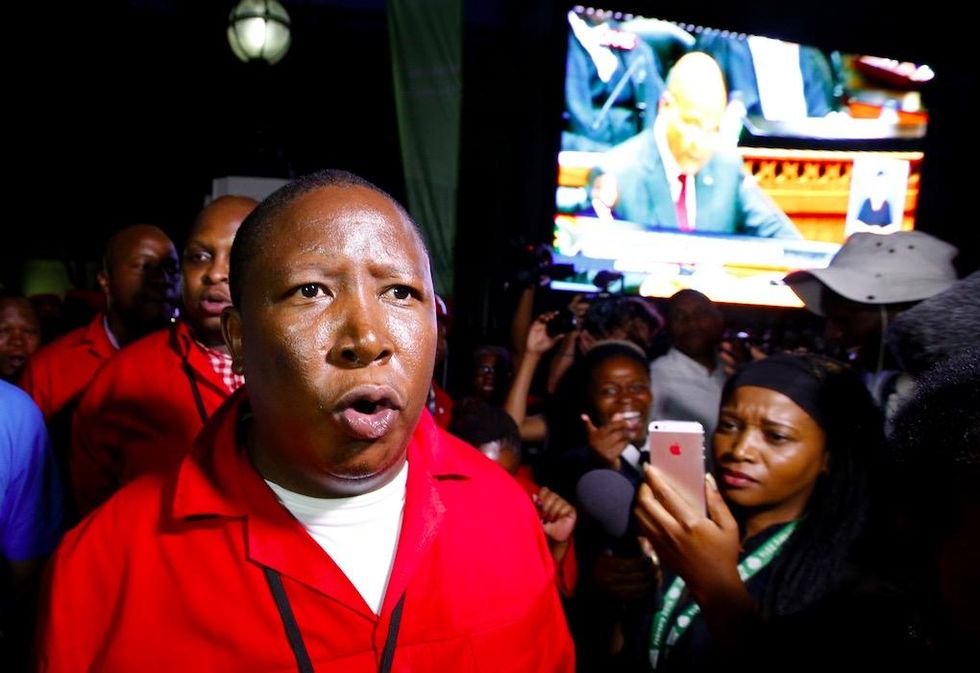 Julius Malema (MIKE HUTCHINGS/AFP/Getty Images)
How did Malema's Economic Freedom Fighters Party react to the land seizure news?
EFF spokesperson Mbuyiseni Ndlozi said "an absolute majority of black people agree with the [party's] position," News24 reported, and that "the ANC president Cyril Ramaphosa ... finally capitulated and submitted to the basic logic of amending" the constitution.
Ndlozi added that South Africans should "rest assured that with the EFF at the forefront, all South Africa's land [will] be returned to its rightful owners," News24 reported.
What else did Ramaphosa say?
Ramaphosa added in his address that the amendment to allow expropriation of land without compensation "will unlock economic growth" and "promote redress."
Critics, however, are concerned that expropriation could lead to land grabs, which occurred in neighboring Zimbabwe, BBC News reported. Ramaphosa has said repeatedly that any changes won't compromise food security or economic growth, Reuters added.
Here's Ramaphosa's video address: