The deadly police shooting Monday of armed Colorado homeowner Richard "Gary" Black — who had just fatally shot a man who broke into his Aurora home and tried to strangle and drown his grandson — was marred by apparent confusion and miscommunication.
And it's resulted in significantly conflicting accounts.
What happened?
Dajon Harper, 26, was reportedly naked when he kicked down the door of Black's home, grabbed an 11-year-old child, and tried strangling and drowning the child in the bathroom, KCNC-TV reported.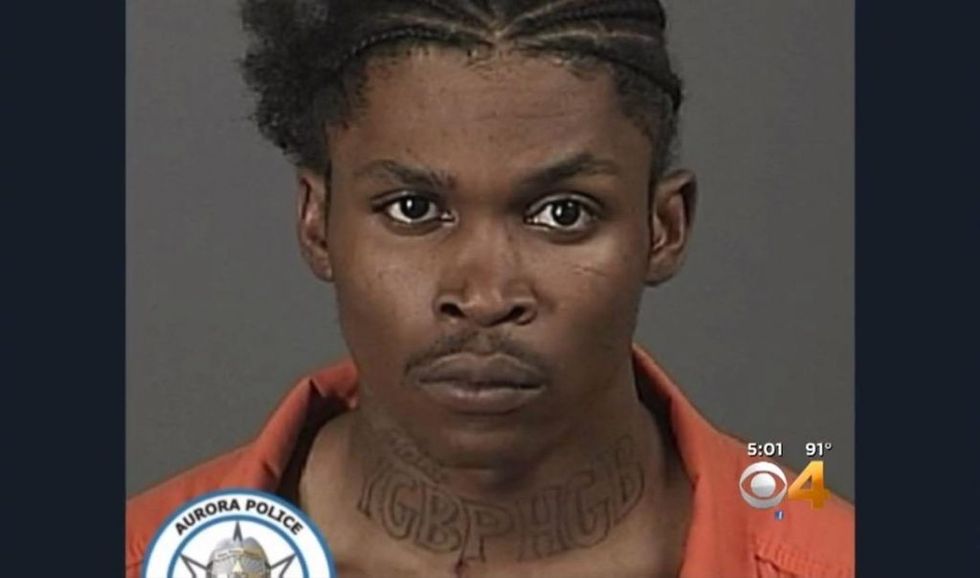 Dajon Harper (Image source: KCNC-TV video screenshot)
Black, 73, then fatally shot Harper twice in the chest, the station said.
Aurora Police Chief Nick Metz said bodycam video showed many agitated people outside the home when officers arrived, KCNC reported. Officers also said they heard gunfire upon approaching the residence, the station said.
Metz added that Black's wife was heard saying, "He has a gun," as officers approached the home, KCNC reported.
The chief said video showed Black with a gun in one hand and a flashlight in the other, the station reported, adding that Metz said officers commanded Black five times in 13 seconds to drop his weapon.
Metz said Black didn't drop his weapon and instead raised his flashlight, which is when police opened fire, KCNC said. Black was taken to a local hospital where he later died, the Denver Post reported.
But Black was hard of hearing, his family said, according to the station.
What else was said about the incident?
The family's attorney Siddhartha Rathod told KCNC that Black's wife Jeanette told police what her husband was wearing as well as what the intruder looked like— that "he was naked" — as well as that she repeated the same information when police arrived.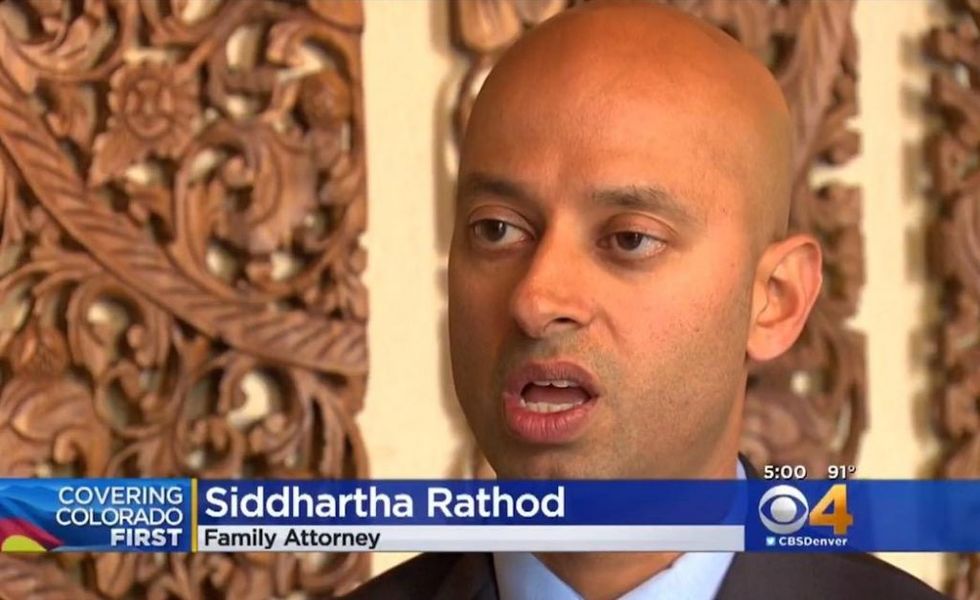 Image source: KCNC-TV video screenshot
But Metz told the station "there was no description given" on the 911 recording. He added to the station that when Black's wife was asked on the phone if there were weapons, she was heard repeating the question to someone else, and she came back and said "no."
Metz said Black's family has listened to the 911 call and watched police body camera footage of the incident, KCNC said.
After Black was shot, Metz said police followed screams into a bathroom where they found Harper naked and dead on the floor, the station reported. Metz added to KCNC that in the bathtub was a juvenile boy and his father, and that the "child was screaming" that Harper "had assaulted him and gave graphic details about what happened to him."
Black's stepson recalled the incident
The father of the attacked boy — Black's stepson Chad Hayashi — told KMGH-TV he was asleep in the house at time of the incident and woke up as a woman he never saw before stood in his bedroom doorway.
"And she starts saying to me, 'My son is on drugs, and he has your baby,'" Hayashi told KMGH.
"I immediately just shot into the bathroom to find this naked guy soaking wet … choking my son, biting his left ear, and there's blood coming out of my son's ear," Hayashi told the station, adding that he pressed his thumb against the attacker's throat so he'd release his jaw from his son's ear and then jammed his thumb "up to the first knuckle" into the attacker's eye socket.
"When he didn't squeal in pain or anything, I got even more worried," Hayashi told KMGH, adding that he flipped the intruder out of the tub after he let his son go.
Hayashi said Black also was in the bathroom and apparently woke up and confronted the intruder first, the station said. Hayashi said he and Black struggled with the intruder until Black shot him, KMGH noted. Hayahsi added to the station that Black had a concealed carry permit.
Hayashi — who was close enough to Black that he called him "Dad," KMGH said — then described what happened after Black exited the bathroom and went around the corner.
"I immediately heard multiple shots, which I thought was my dad engaging these other people in the house," Hayashi told KMGH. "There was a pause, and then I hear people start screaming, 'Police!' and I hear people enter the house. And my son starts screaming, 'I'm here with my dad. This crazy guy tried to attack me.'"

Hayashi told the station he handed his son to an officer and was then forced from the home.
"And as I turned the corner, my dad is face down … and he's handcuffed," Hayashi told KMGH, which reported that Black was "on the floor."
Hayashi added to KMGH that "I reached down and — I don't remember if I touched his shoulder or his face — but he looked at me, and I got pushed off by an officer out the door."
Hayashi added to the station he saw the same woman who was standing in his bedroom doorway screaming from across the street, "You shot my baby!"
"I was told that [Black] was told to drop the weapon and he didn't. … I was told that by the commander or the assistant chief," Hayashi recalled to KMGH. "They heard gunfire, but they shot the first thing they saw moving, in my opinion, although all the officers' spent cartridges were outside of the house. And judging by the line of fire, had they missed him, they could have shot me or my son through the wall."
Hayashi told the station he wants answers: "I want the truth. I want accountability."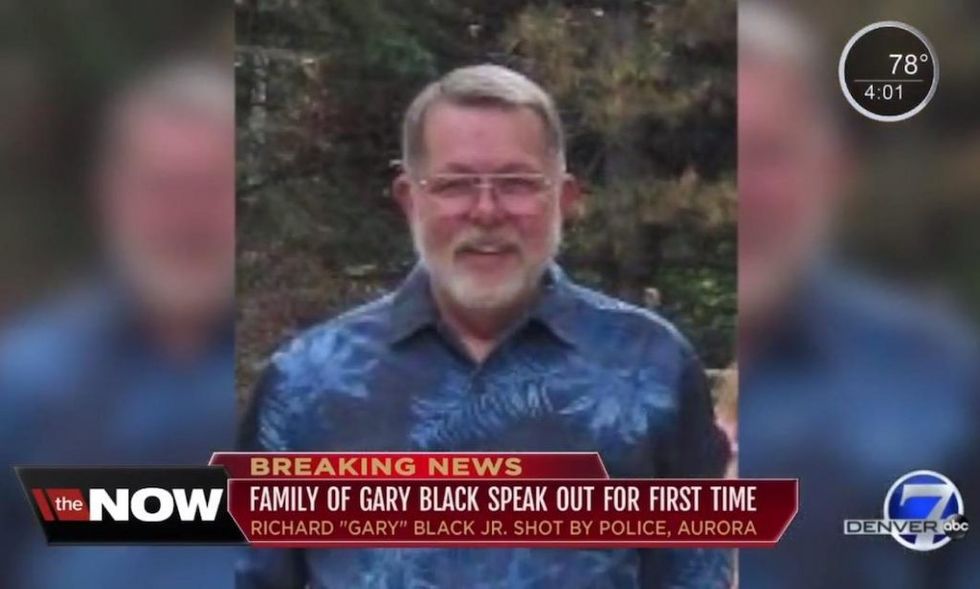 Image source: KMGH-TV video screenshot
What do we know about Black?
Black — a Vietnam war veteran and a winner of the Bronze Star — was a retired agent of the Internal Revenue Service, the station said, adding that neighbors described him as a family man.
"Mr. Black saved his family's life that night," Metz said, according to KCNC. "There is no doubt that he did everything he could to protect everything that was important to him — and that was his family."
Hayashi told KMGH that his stepfather "lived a hero; he died a hero. I'd be dead, my son would be dead. My mom, my daughter – we'd all be dead if it wasn't for him."
What do we know about the intruder?
Harper has a criminal record and spent time in prison, the station said.
One of the 911 callers told dispatch that Harper was on drugs, KCNC reported, adding that police said they're waiting for toxicology reports on the suspect.
Investigators told the station that the suspect and the Black family lived across the street from each other but didn't know each other.
What do we know about the officer who shot Black?
Metz said the officer who fatally shot Black was involved in a deadly shooting June 27 and was taken off the street after that incident but soon returned, KCNC said.
After the Black shooting, that officer was placed on administrative leave where he'll stay "for a while," Metz told the station.
Metz also told KCNC he disputes the idea that his officers acted recklessly and that he's ordered an independent forensic review of the 911 call and body camera footage.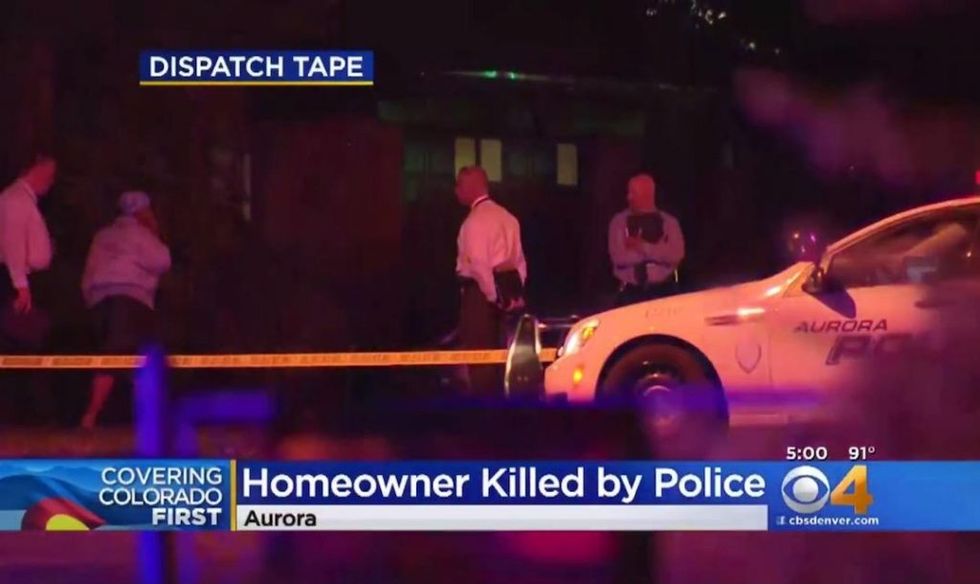 Image source: KCNC-TV video screenshot
What else did Black's stepson have to say?
"It's just disgust and shame. Sunday morning, had you asked my son what he thought about police officers, he would have told you they are the baddest dudes ever," Hayashi told KMGH, adding that his son was at a police camp a week earlier. "Now all he can think about is police shot his grandfather. And he saw his grandfather handcuffed, and he can't understand why they wouldn't help him. He's just traumatized."
Hayashi added to the station that he sees police in a different light right now, too.
"I've always respected police … I know what they do and what they have to go through," Hayashi told KMGH. "I'm a little less in favor of them at the moment. I want my dad, you know."