Police fatally shot an armed homeowner in Aurora, Colorado, just after the homeowner shot and killed an intruder early Monday morning, the Denver Post reported.
Dispatchers received a 911 call about an intruder at the home, and officers heard gunshots from inside the home when they arrived around 1:30 a.m., the paper said. An officer shot an armed man police encountered — and that man turned out to be a resident of the home, the Post added.
The armed homeowner — whose name hasn't been released — was taken to a hospital where he died, the paper said.
What did police find inside the home?
Officers entered the home after the resident was shot and found an injured juvenile and a dead man on a bathroom floor, the Post reported, adding that police described the dead man as an intruder.
"Our preliminary investigation has revealed the deceased intruder on the bathroom floor was fatally shot by the armed adult male resident," police said, according to the paper.
The juvenile was taken to a hospital with serious but not life-threatening injuries caused by the intruder, KDVR-TV reported. One report indicated the intruder allegedly tried to strangle the child.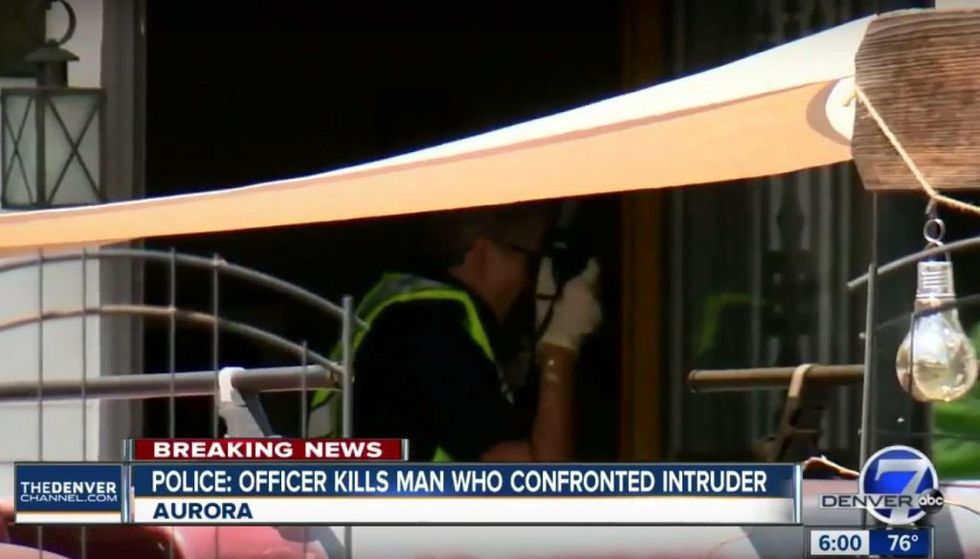 Image source: YouTube screenshot
Another report indicated the intruder — whose name hasn't been released — was armed. Aurora police on Tuesday told TheBlaze they couldn't comment further but hope to hold a press conference on the incident this week.
The officer involved in the shooting was placed on paid administrative reassignment, per department policy, the Post said.
What do we know about the deceased homeowner?
Neighbors told the paper that the deceased homeowner was a longtime resident, grandfather, and retired family man who often worked on his front gardens.
"It's sad and screwed up," neighbor Brad Maestas, who's known the homeowner's family for 34 years, told the Post.
Maestas added to the paper that after gunshots woke him up, he grabbed a gun himself thinking someone was trying to break into his home. But Maestas put the gun away when he saw police cars around his neighbor's residence, the Post said.
"He was a family man — a grandpa that was protecting his family," Maestas, who saw his neighbor being wheeled away on a gurney, told the paper. "It's messed up."
The deceased homeowner also sometimes took care of the yard of another neighbor, Susan Askoul, who told the Post he would call if he noticed something or someone out of place at her home.
"We all kind of look out for each other," Askoul added to the paper.
Neighbors wondered to the Post why the intruder broke into their neighbor's home instead of theirs. "He could have picked my house," Askoul noted to the paper.
"This is a very heartbreaking and tragic situation for everyone involved," Chief Nick Metz said in a statement, the Post reported.

This story has been updated.