Michigan State University announced Thursday that the NCAA has cleared its athletic department of any violations in connection with its handling of the Larry Nassar sexual abuse scandal.
The university received a letter Wednesday from Jonathon Duncan, NCAA's vice president of enforcement, which said it would discontinue the investigations into the school's response to sexual assaults committed by Nassar, its former athletic doctor.
During Nassar's sentencing hearings, former MSU athletes accused the university of ignoring their abuse complaints about Nassar's so-called treatments.
The NCAA contacted the university on Jan. 23 regarding the allegations, according to Michigan Live. An investigation was launched to determine whether school officials played a role in covering up his actions.
The letter also said the organization determined that the university did not violate NCAA legislation in its handling of separate allegations of sexual misconduct against members of the football and basketball teams.
Nassar is serving multiple sentences of up to 175 years for child pornography and multiple counts of sexual assault under the guise of medical treatment.
What did MSU say?
"We welcome closure in regards to the NCAA inquiry," MSU athletic director Bill Beekman said in a statement Thursday, Michigan Live reported. "MSU cooperated fully with the inquiry over the past several months and provided all requested documentation and access to key personnel."
"In regards to the crimes committed on our campus by Larry Nassar, the NCAA findings do not change a thing. NCAA member organizations have a specific set of rules to which we hold each other accountable, " Beekman said in the statement. "And while we agree with the NCAA that we did not commit a violation, that does not diminish our commitment to ensure the health, safety and wellness of our student athletes. That pledge permeates everything we do as part of a larger university commitment to making MSU a safer campus."
What else did the NCAA letter say?
"[T]he institution [Michigan State] worked with the NCAA enforcement staff to investigate whether violations of NCAA legislation occurred related to the institution's handling of student conduct allegations involving football and men's basketball student-athletes. This review has not substantiated violations of NCAA legislation," Duncan wrote.
"Based on available information, it does not appear there is need for further inquiry. Should additional information become available, the enforcement staff will review this information with the institution to determine whether further inquiry is necessary," the letter continued.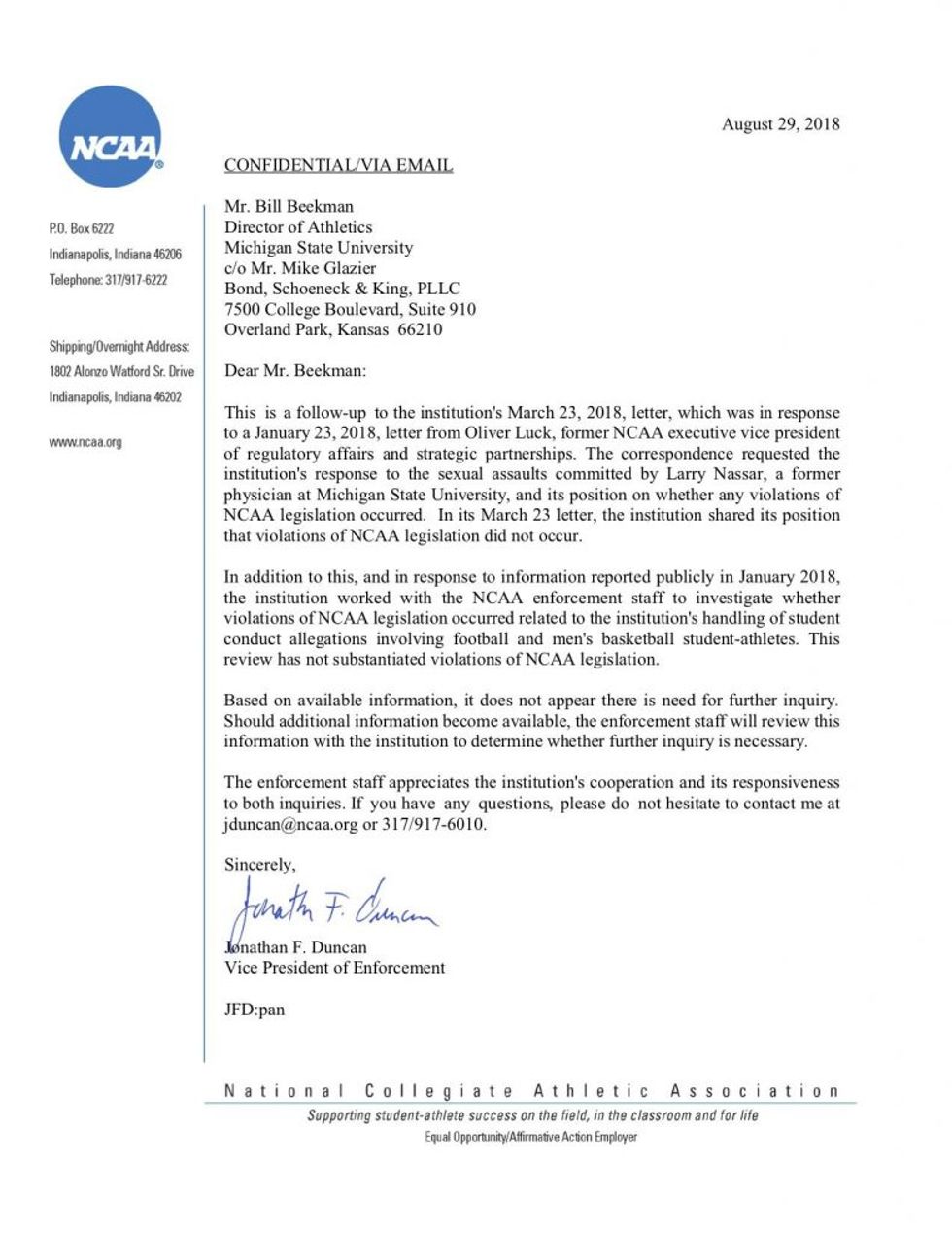 What did former athletes say?
A former captain of the Michigan State gymnastics team, Lindsey Lemke, told ESPN that former MSU gymnastics coach Kathie Klages ignored her complaints against Nassar in 2016.
"It's a good thing there are multiple other investigations going on other than [the] NCAA, where hopefully they will be able to reveal more truth of how this situation got to be as bad as it did," Lemke told ESPN on Thursday. "If the world's worst pedophile in history working at MSU and getting away with abuse for 20 years isn't considered a violation, then what is the point?"
What else?
Hours before the university's announcement, a Michigan judge arraigned Klages, on two counts of lying to police as part of the investigation into the sexual abuse cases against Nassar, CNN reported.
Klages was charged with one felony count and one misdemeanor count for what prosecutors said was her false denial to investigators about Nassar's sexual abuse.
"While investigating how Larry Nassar was able to get away with sexually assaulting hundreds of individuals on and off Michigan State's campus, Klages denied to Michigan State Police detectives having been told prior to 2016 of Nassar's sexual misconduct," the Michigan State Attorney General's office said in a statement, CNN reported.
"Witnesses have said that they reported Nassar's sexual abuse to Klages dating back more than 20 years," the statement said.
Klages retired last year.