Chuck Todd — the veteran moderator of NBC News' "Meet the Press" — wrote in an essay for The Atlantic that he's noticing something brand-new on the political landscape these days.
Todd called it the "campaign to destroy the legitimacy of the American news media," adding that hatred from the public and from politicians "has risen to a level I've never personally experienced before. The closest parallel in recent American history is the hostility to reporters in the segregated South in the 1950s and '60s."
Who's to blame?
He said individuals in search of "some combination of fame, wealth, and power" have "artificially stoked" such "hatred" — and then he named some names.
"Some of the wealthiest members of the media are not reporters from mainstream outlets," Todd charged. "Figures such as Rush Limbaugh, Matt Drudge, and the trio of Sean Hannity, Tucker Carlson, and Laura Ingraham have attained wealth and power by exploiting the fears of older white people. They are thriving financially by exploiting the very same free-press umbrella they seem determined to undermine."
'The godfather of the Trump presidency'
Surprisingly, Todd seemed to stop just shy of calling out President Donald Trump, noting that he "didn't start this fire; he's only spread it to a potentially more dangerous place."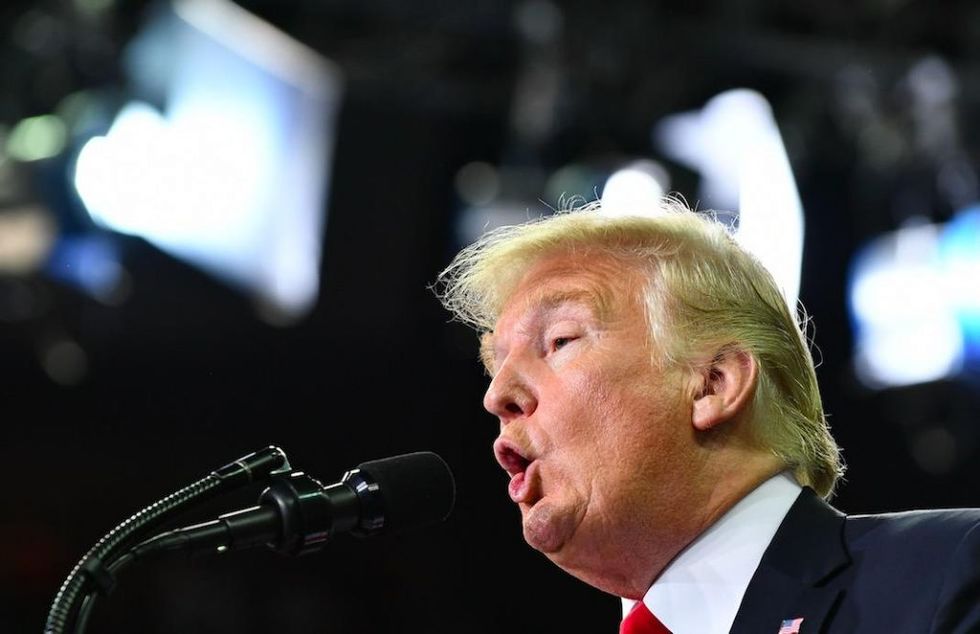 U.S. President Donald Trump speaks during a campaign rally Aug. 30 at Ford Center in Evansville, Indiana. (MANDEL NGAN/AFP/Getty Images)
Todd did, however, blast the late Roger Ailes of Fox News, calling him the "most important" foot soldier of former President Richard Nixon's fight with the media.
He added that after Ailes helped found Fox News, his "sustained assault on the press created the conditions that would allow a president to surround himself with aides who argue for 'alternative facts,' and announce that 'truth isn't truth.' Without Ailes, a man of Trump's background and character could never have won. Roger Ailes was the godfather of the Trump presidency."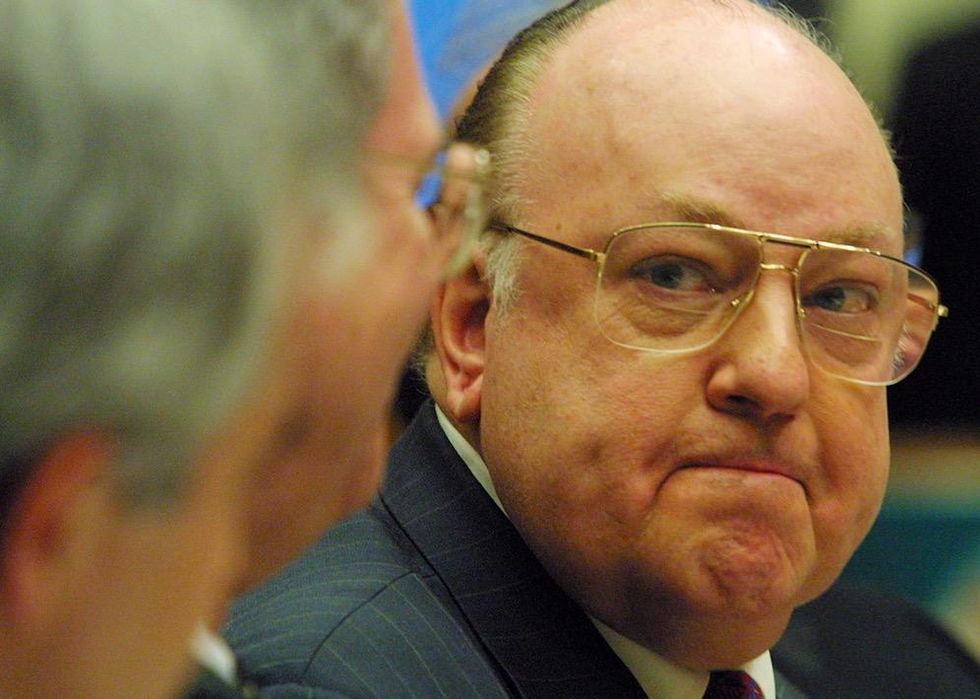 Roger Ailes (Photo by Alex Wong/Newsmakers)
Todd also said Ailes "wasn't building a reporting-driven news organization" at Fox News, and that the network's "fair and balanced" credo "was a coded pledge to offer alternative explanations, putting commentary ahead of reporting; it was an attack on the integrity of the rest of the media. Fox intended to build its brand the same way Ailes had built the brands of political candidates: by making the public hate the other choice more."
'Mythology of a biased press'
He noted that Ailes steered Fox News toward attacking the "liberal media" and that "almost any big story that was potentially devastating to a conservative was 'balanced' with some form of whataboutism" at the network. Interestingly, Todd defended the media's tireless digging for dirt on Trump as opposed to Hillary Clinton because he's the "leader of the free world" while she's "a retiree living in the suburbs of New York City." But Todd didn't address Clinton coverage, or lack thereof, when she was running for president.
Todd also deflected charges against the media of "championing" subjects such as same-sex marriage, noting that journalists are simply stating the facts and documenting the movement. But when it comes to media coverage of competing social movements — pro-life and pro-choice, for example — the anti-abortion crowd gets significantly less attention in newsrooms compared to the pro-abortion advocates. Yet Todd nevertheless charged Ailes with "creating the mythology of a biased press."
More from Todd's piece:
The charge of media bias can encompass a great many different problems. Critics, for example, may be pointing to the way that certain journalists pay more attention to some issues than to others, or complaining about the unquestioned assumptions reflected in journalists' work. These are real issues, and most journalists labor to correct them. At the other extreme, critics may be accusing journalists of having deliberately and consciously shaped their reporting to serve some political end. That sort of overt bias is far rarer. Ironically, the best example of this kind of bias airs regularly in prime time on Fox News.
Here's some more "whataboutism": Did Todd type the letters "MSNBC" anywhere in his piece for balance with regard to journalists who "deliberately and consciously" shape their reporting to "serve some political end"? Nope.
He even asks if "other cable-news networks should follow Fox News' lead and become advocates" as if Fox News is the only advocacy journalism game in town.
Todd scolds journalists for doing 'nothing' amid anti-media outrage
Todd also chided journalists for doing "nothing" to defend their work amid anti-media outrage and said "we're going to need to start fighting back."
"If you hear something over and over again, you start to believe it, particularly if the charge is unrebutted," he wrote. "The Trump team now keeps pounding this message, compounding the challenge. And the president faces little penalty with his voters, no matter how disparagingly he talks about the press corps; it's precisely what Ailes conditioned them to believe."
Todd, however, doesn't mention onscreen battle cries from the likes of Jim Acosta and Chris Cuomo — nor the countless opinion-laden Twitter posts from big-time journalists who ostensibly aren't supposed to let their left-wing biases show.
"I'm not advocating for a more activist press in the political sense, but for a more aggressive one," he wrote. "That means having a lower tolerance for talking points, and a greater willingness to speak plain truths. It means not allowing ourselves to be spun, and not giving guests or sources a platform to spin our readers and viewers, even if that angers them. Access isn't journalism's holy grail—facts are."
How did Trump react to Todd's piece?
As you might imagine, after Trump caught wind of Todd's piece, the president jumped on Twitter and gave him a little what for:
Sleepy Eyes Chuck Todd of Fake NBC News said it's time for the Press to stop complaining and to start fighting back… https://t.co/OLQH6KdE5B

— Donald J. Trump (@Donald J. Trump) 1536115819.0
(H/T: Washington Times)