Malcolm Jenkins, star safety for the reigning Super Bowl champion Philadelphia Eagles, said former NFL quarterback and activist Colin Kaepernick "will be looked at as somebody who not only changed the direction this sport but the dynamic of athletes in general and quite frankly our country."
Jenkins made his comments after the Eagles' 18-12 opening game win Thursday over the Atlanta Falcons — and specifically after a question about Nike's controversial 30th anniversary "Just Do It" ad campaign featuring Kaepernick's face along with the words, "Believe in something. Even if it means sacrificing everything."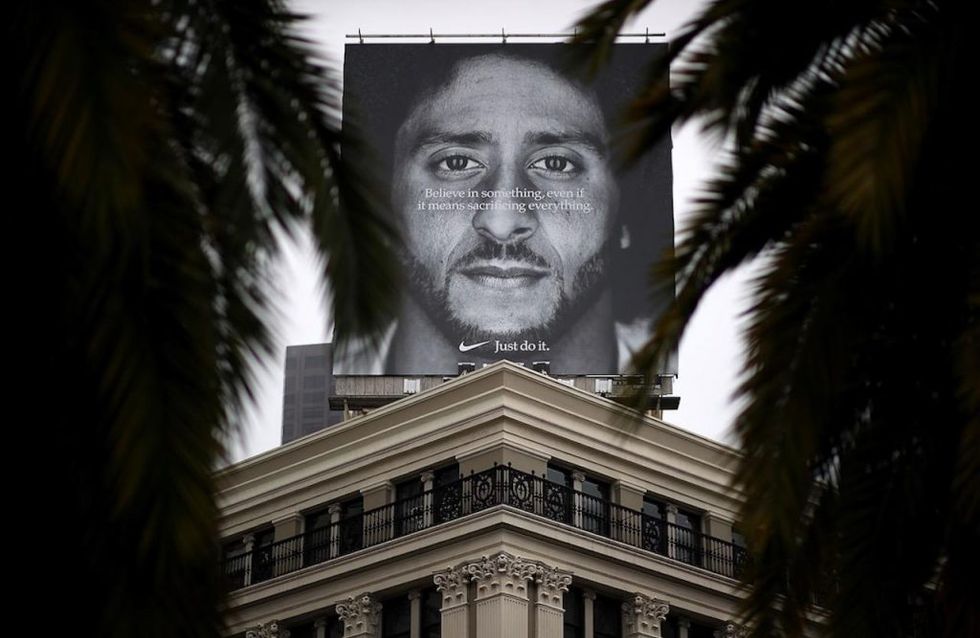 A billboard featuring former San Francisco 49ers quarterback Colin Kaepernick is displayed on the roof of the Nike Store on Wednesday in San Francisco. Nike launched an ad campaign to commemorate the 30th anniversary of its iconic "Just Do It" motto that features Kaepernick and a message that says "Believe in something. Even if it means sacrificing everything."     (Photo by Justin Sullivan/Getty Images)
Kaepernick took a knee for the national anthem during the 2016 season to protest police brutality against minorities. He didn't play during the 2017 season and claimed NFL owners conspired to keep him off team rosters. An arbitrator recently said his case can move forward.
What else did Jenkins say?
When Jenkins was asked about the Nike ad, PhillyVoice said he "grinned with delight."
"I loved it," Jenkins noted. "Nike did a good job of taking the context of what happening right now and taking someone who has been demonized and vilified by the media and holding him up on a pedestal."
Others haven't shared Jenkins' enthusiasm for the Nike ad, however:
Jenkins was among many players who adopted Kaepernick's national anthem stance, so to speak. He typically raised a fist during the playing of "The Star-Spangled Banner" last season: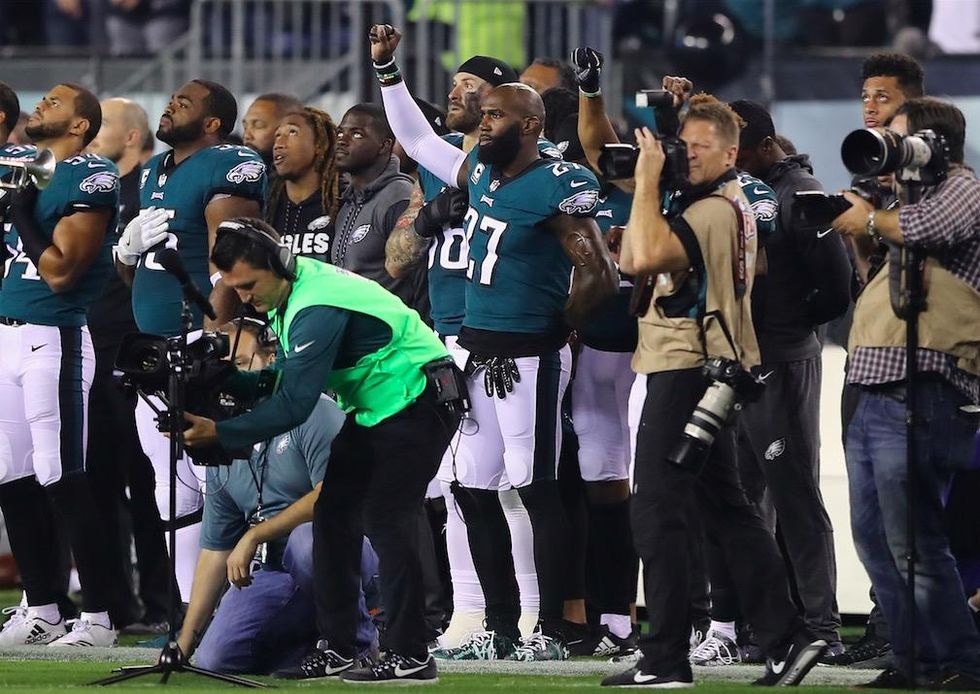 Malcolm Jenkins (27) of the Philadelphia Eagles raises his fist in the air during the national anthem before taking on the Washington Redskins at Lincoln Financial Field on Oct. 23, 2017, in Philadelphia. (Photo by Elsa/Getty Images)
A different approach this season?
Jenkins didn't raise a fist before the game against the Falcons, Sports Illustrated said. The NFL earlier this year adopted a policy that prohibits players from staging protests during the anthem, but the Washington Post reported that a compromise between players and the league on the matter may be in the works.
"At this point, I think it's important for us as a movement to continue to change and adapt to the context of the situation, and I think there's a huge need for us to turn the attention to the issues and what players are doing in their communities to affect change," Jenkins told the PhillyVoice. "We are focused on the systemic issues in our communities."