PETA plans to erect a second billboard railing against eating crabs — in Baltimore of all places — in response to a local restaurant's negative response to its latest "I'm Me, not meat" campaign.
What's the backstory?
In August, PETA erected a billboard near several Baltimore seafood restaurants that featured the state's delicious blue crab.
The organization's campaign billboard depicted the crab with a caption reading, "I'm ME, not MEAT. See the individual. Go vegan."
In a statement, PETA Executive Vice President Tracy Reiman said, "Just like humans, crabs feel pain and fear, have unique personalities, and value their own lives. PETA's billboard aims to give Charm City residents some food for thought about sparing sensitive marine animals the agony of being boiled alive or crushed to death in fishing nets simply by going vegan."
After the organization's first Maryland billboard was put up, local restaurant Jimmy's Seafood hit back at the notion and erected a billboard of their own.
The restaurant's billboard read "SteaMEd crabs. Here to stay. Get famous."
John Minadakis of Jimmy's Famous Seafood told Fox News, "Maryland's backbone is the crab industry, and we were not going to sit idly on the sidelines while [PETA] attempted to cripple the local economy. We rolled up our sleeves, got to work, saved up our money, and erected the billboard. We will not be bullied into submission by PETA.
"As small business owners, we felt compelled to defend our history and livelihood from this unprovoked attack. My father built this landmark with his bare hands. Our family was raised in this business, and literally grew up on the second floor of the building," Minadakis added.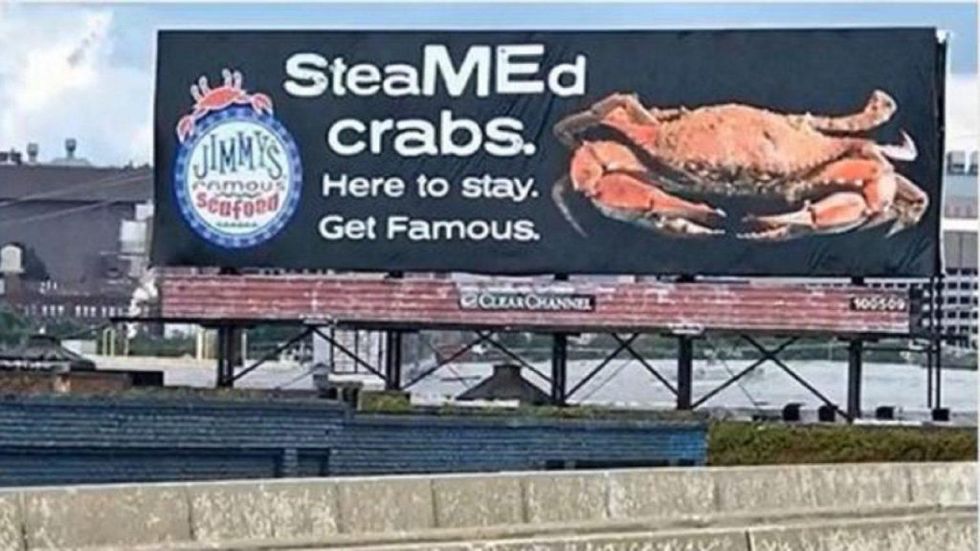 Image source: YouTube screenshot
What happened in Delaware?
This isn't the first time that the new PETA campaign ruffled some feathers.
In August, PETA erected a billboard on a highway in Middletown, Delaware, featuring the same campaign, but using chickens as their models.
The organization zeroed in on the chickens — one of Delaware's biggest products — after a June truck crash killed and/or injured chickens on a transport truck.
The organization announced that it had placed the billboard in order to "pay tribute to the chickens who were killed or grievously injured" according to a news release.
About the billboard, Reiman said, "If this message of compassion inspires just one driver to go vegan, the chickens who were killed won't have died in vain. PETA's billboard pays tribute to their brief lives and encourages motorists to help prevent future suffering by keeping chickens and all other animals off their plates."
What's happening now?
PETA is now planning to put up a second anti-crab-eating billboard up right in the middle of downtown Baltimore.
The new billboard reads, "Why so crabby? Letting others live might just save your life."
In a Monday press release, PETA discussed the brand-new ad.
A portion of the statement read, "In the latest volley in the Baltimore 'crab wars,' PETA's crustacean is returning to downtown Charm City to plead for her life on a new billboard proclaiming, 'Why So Crabby? Letting Others Live Might Just Save Your Life!'"
PETA noted that the ad is directly in response to those who responded negatively to its first billboard.
"Vegan foods contain none of the mercury, lead, arsenic, PCBs, and numerous other toxins found in the flesh of aquatic animals. The health benefits of going vegan also include a reduced risk of suffering from heart disease, diabetes, strokes, and cancer," the organization's statement added.
PETA President Ingrid Newkirk weighed in on the controversy.
"PETA's suggestion that crabs could be treated with kindness, not Old Bay seasoning, got some people all steamed up," Newkirk said. "With so many delicious fishless [filets] and crab-free cakes available these days, lots of diners are leaving sea animals off their plates and letting them live unmolested in their aquatic homes."