In the wake of the controversial Brett Kavanaugh hearings — during which the now-confirmed Supreme Court justice was accused of sexual assault — retired NASA astronaut Scott Kelly hopped on Twitter to bemoan the divisive state of America.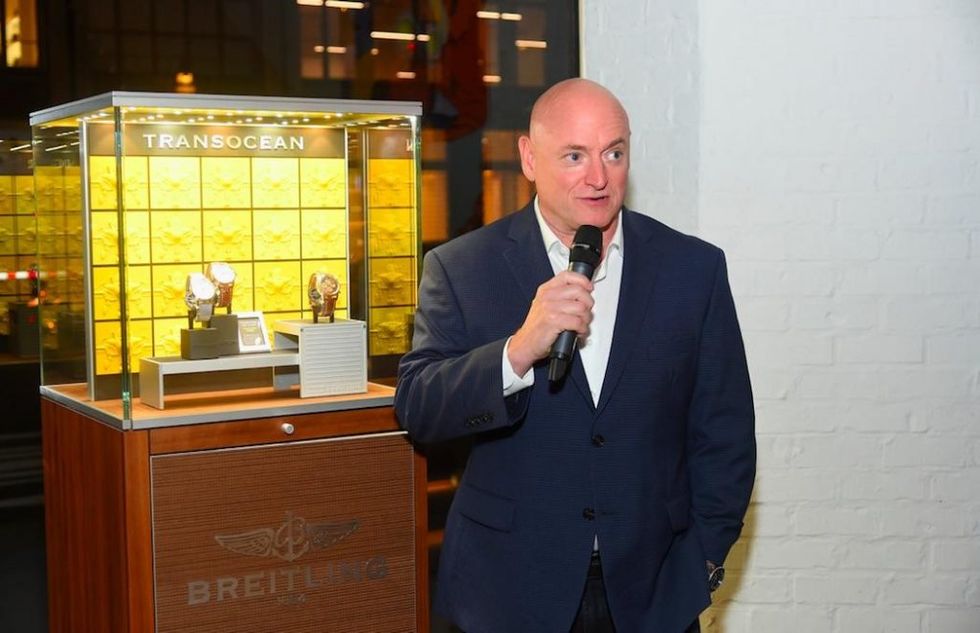 Retired Astronaut Scott Kelly gives a speech to celebrate the release of his memoir, "Endurance: A Year In Space. A Lifetime Of Discovery" at Breitling Boutique on Oct. 14, 2017, in New York City. (Photo by Ben Gabbe/Getty Images for Breitling)
Problem was, for some, he invoked iconic British Prime Minister Winston Churchill in the process.
"One of the greatest leaders of modern times, Sir Winston Churchill said, 'in victory, magnanimity.' I guess those days are over," Kelly tweeted Sunday.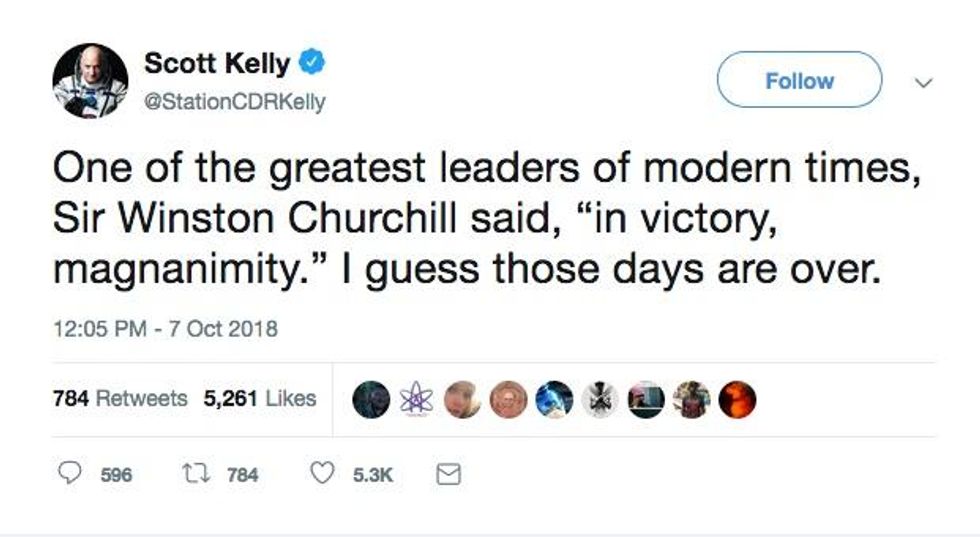 Image source: Twitter
Well, a bunch of folks didn't appreciate Kelly quoting Churchill — who while having been lauded for standing against the Nazis in World War II also has been criticized for being "a racist and white supremacist."
The BBC noted that Churchill in 1937 said, "I do not admit for instance, that a great wrong has been done to the Red Indians of America or the black people of Australia. I do not admit that a wrong has been done to these people by the fact that a stronger race, a higher-grade race, a more worldly wise race to put it that way, has come in and taken their place."
Churchill also has taken hits for a Bengal famine as well as backing the use of chemical weapons against Kurds and Afghans, the BBC added, noting he said in a memo he's "strongly in favour of using poisoned gas against uncivilised tribes."
What did Twitter users say?
So Twitter users let Kelly have it:
"A mass murderer can never be a great leader."
"Churchill was a mass murderer. His actions led to the death of millions due to famine in bengal state of erstwhile india during WW2. He compared indians to beasts. He myt be a hero for a lot of u, not for indians like me."
"Ahhh. Winston Churchill. A guy who participated in an actual genocide of the Boer/Dutch South Africans in 1902."
"One of he greatest leaders of modern times??? More like one of the biggest terrorists of the past couple centuries. Clueless..."
"Scotty you are digging your way to the bottom. Wish there was help for you but I don't know where to start. Are you seeking relevance or something?"
How did Kelly respond?
So that same day, Kelly — a former fighter pilot who commanded the International Space Station on three expeditions — offered a follow-up tweet, this time apologizing for quoting the British leader: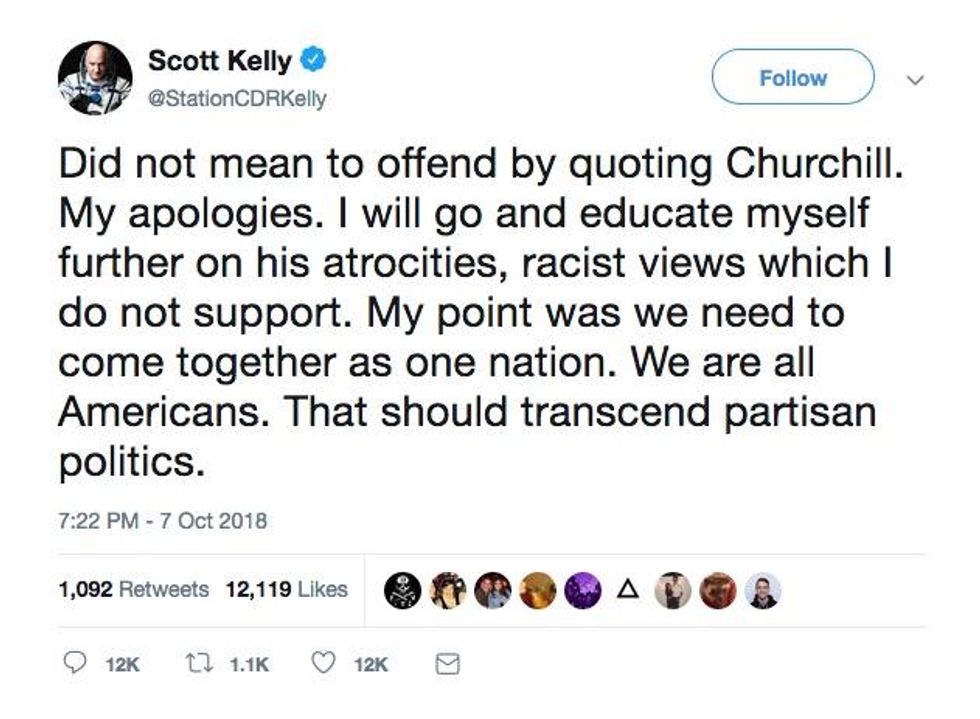 Image source: Twitter
"Did not mean to offend by quoting Churchill," Kelly wrote. "My apologies. I will go and educate myself further on his atrocities, racist views which I do not support."
How did folks react to Kelly's apology?
Believe it or not, his apology tweet got way more attention — about 12,000 comments to his first tweet's roughly 600 — and a good bit of it highly critical of him apologizing.
Conservative commentator and feminist critic Christina Hoff Sommers offered a prominent but even-handed reply: "Please don't apologize. Winston Churchill, like all of us, had serious human failings. But unlike most of us—he possessed genuine greatness. And that greatness may have saved freedom & democracy. Ask the Twitter scolds to name a hero or heroine who didn't have serious flaws."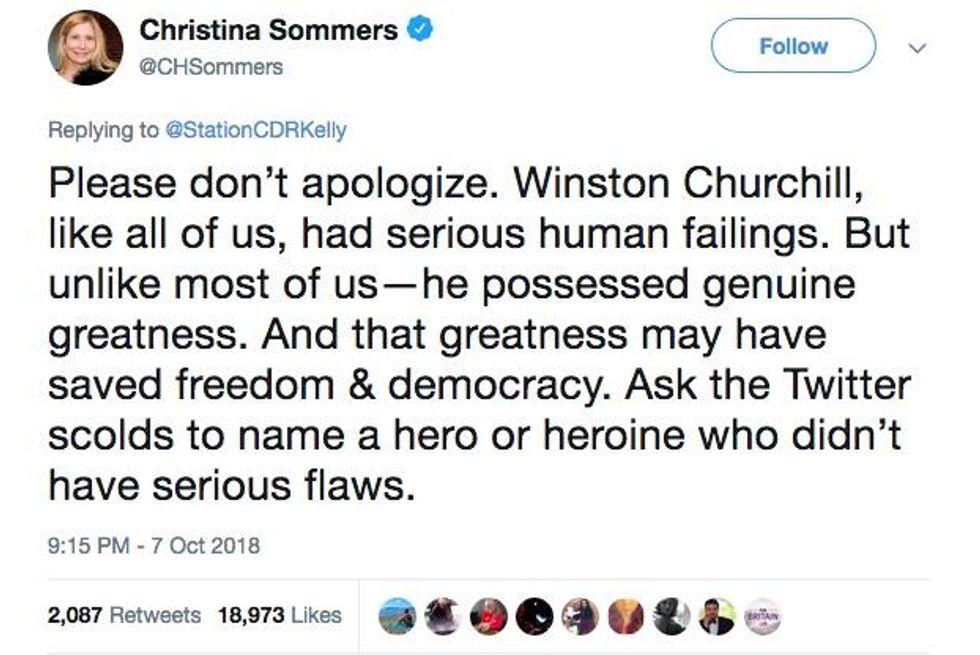 Image source: Twitter
Others weren't so kind.
One commenter told Kelly to "please read a good biography of Churchill before making pronouncements on his 'atrocities' and 'racist views.' He committed no atrocities and his views on race 100-years ago cannot be judged by today's standards — generational chauvinism. Are you lost...in space?"
Another said, "The only atrocity is this apology you've written. This is exactly what's wrong with America, people like you who apologize and compromise principles to fit in and [appease] the insane and irrational. Remember Obama anyone? Dude, check your oxigine [sic] levels!"
"NASA wishes they had solar panels that folded this easily," another commenter said.
Also taking up the cause was this Twitter user: "Oh good lord Scott, no one is perfect. Churchill was a giant of the 20th century in protecting freedom. The very fact that people criticize you for quoting Churchill provides the teaching moment that the quote represented."