President Donald Trump came to Pennsylvania for a "Make America Great Again" rally Wednesday to campaign for U.S. Rep. Lou Barletta, the state's Republican nominee for U.S. Senate.
And with Trump standing by his side, Barletta lauded the president's accomplishments in front of an enthusiastic Erie crowd — particularly the "soaring economy."
What did Barletta say?
"Each time that you come, the list of 'promises made, promises kept' gets longer and longer, and that's OK with us because now you're overseeing the greatest economy in American history," he told Trump as the audience cheered.
Barletta — one of the early supporters of Trump during his presidential campaign — noted the gross domestic product is at 4.2 percent, unemployment is at 3.7 percent, that 4 million new jobs were created, that black and Hispanic unemployment is at an "all-time low," and female unemployment is at a "64-year low."
"And this is the stat I love the most: 4 million Americans came off of food stamps," the congressman said, adding that "there are more jobs than people who are unemployed."
Colin Kaepernick
Then Barletta let loose with a zinger.
"I'll tell you how good the economy is," he said. "This economy is so good that even Colin Kaepernick found a job."
Kaepernick is a former NFL quarterback who in the 2016 season launched the movement of players kneeling for the national anthem to protest police brutality and oppression of people of color. He hasn't played since the end of that season but has become a left-wing icon and landed a spot on Nike's 30th anniversary "Just Do It" campaign.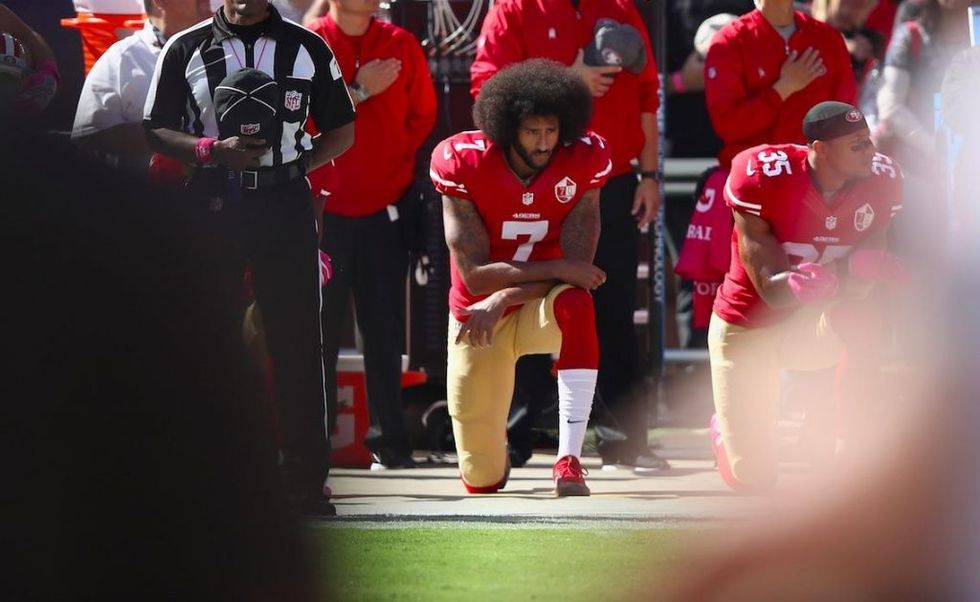 Colin Kaepernick #7 of the San Francisco 49ers kneels for the national anthem before their game against the Tampa Bay Buccaneers at Levi's Stadium on October 23, 2016, in Santa Clara, California. (Photo by Ezra Shaw/Getty Images)
Barletta blasts Casey
Barletta is running against Sen. Bob Casey Jr. in November's midterm election and said the incumbent Democrat "wants to stop" the progress Trump has made and "became one of the most liberal senators in Washington."
"He no longer represents Pennsylvania values," Barletta said of Casey. "I'll tell you how radical he has become. He is so radical that he said he will vote 'no' no matter who the president nominates for the next Supreme Court pick ... if you don't like the way Justice [Brett] Kavanaugh has been treated, then you can't reward Bob Casey by sending him back to Washington ever again."
At the tail end of his Supreme Court confirmation process, Kavanaugh was accused of sexual assault by Christine Blasey Ford, who said the alleged incident occurred when they were teenagers over 35 years ago. The charge led to wall-to-wall media coverage and contentious hearings in front of the Senate Judiciary Committee. Kavanaugh was confirmed to the high court Saturday.
'We are going to kneel when we pray and stand for the flag'
"We're gonna take care of our seniors, we're gonna protect the unborn, we're gonna put an end to illegal immigration, we're gonna build the wall ... and we are going to kneel when we pray and stand for the flag," Barletta concluded as the cheering hit a fever pitch. "No, Mr. President, we're not tired of winning in Pennsylvania; we're gonna win again in November."