A Texas college student is being harassed and receiving death threats for the name of her online shop that sells western clothing and accessories.
Brooke Adams opened her Instagram boutique, The Spunky Squaw, last winter, which she describes as a "trendsetting boutique with a love for western flair." But earlier this week, she started receiving messages on social media that claimed the name of her business was a racial slur.
It literally means, "a lively Native American woman," Adams explained to TheBlaze.
The 21-year-old entrepreneur, who's a senior at Tarleton State University in Stephenville, said she loves the Native American culture, which was partly why she chose the name for her clothing store. Her boutique had nearly 6,500 followers on Instagram.
What happened?
On Monday, everything was business as usual for Adams until around lunchtime when she began receiving Facebook messages from a woman who called her expletive-laden names and charged her with being a racist.
"I came across your stupid boutique name on Instagram & thought how awful it is for this white person to be unaware of what they are doing," Rhiannon Babyn wrote in a private message to Adams on Facebook.
"I am sorry you do not see a problem with a dumb-ass white b***h like yourself, culturally appropriating a name that you are not," the message continued.
"I don't have a store called 'the wild muslim' & I'm not Muslim, but I'm sure Muslim people would probably have a problem with culturally appropriating their name. Your business will not go far with the way social economics are going with the awareness of indigenous cultures," Babyn wrote.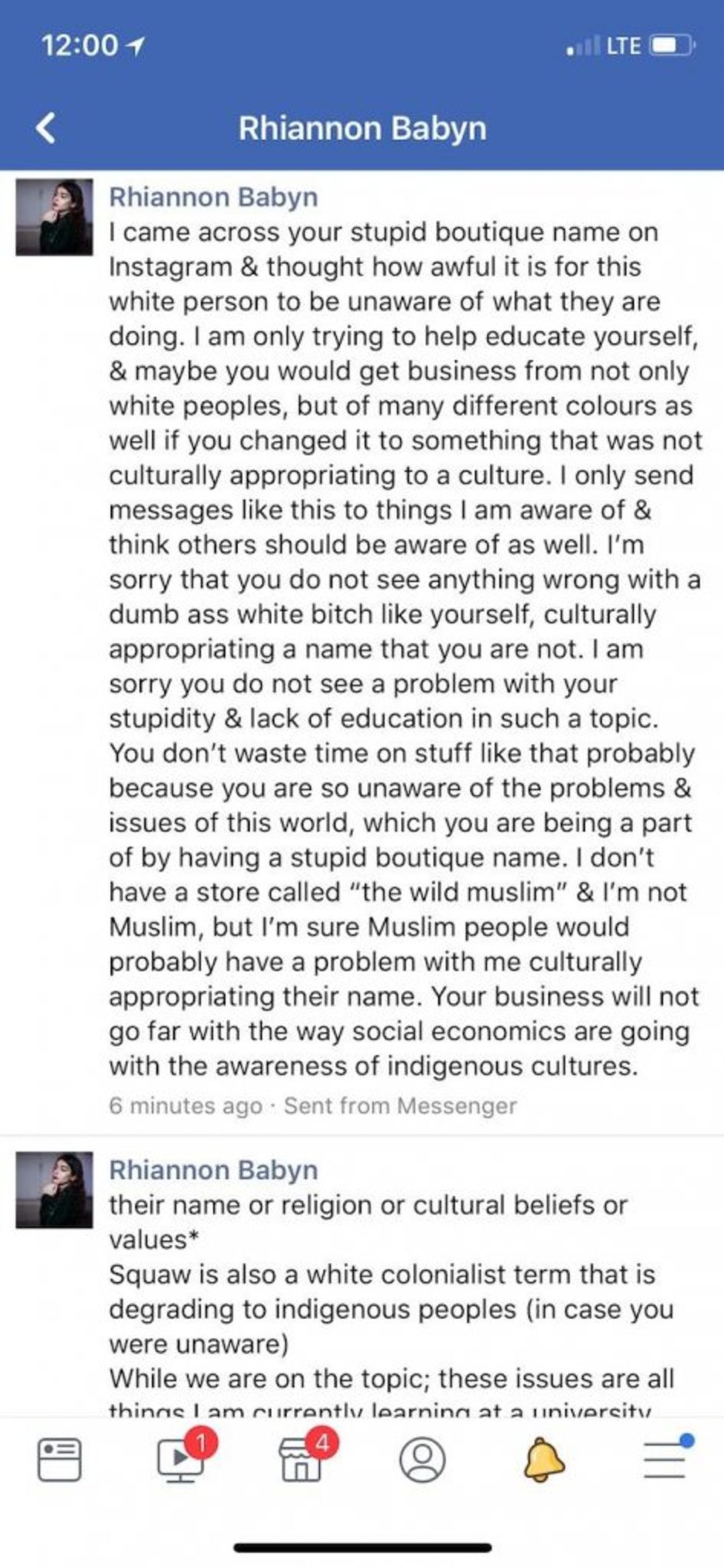 (Facebook message screenshot)
Babyn's social media accounts describe her as an art student at the Alberta College of Art and Design in Calgary, Alberta, Canada.
Adams said she was shocked by the woman's message.
"People are so closed-minded and sensitive," she said.
Then, it all "blew up" after that.
Adams said she and other family members have received "thousands of threats" through social media, email, and text messages.
Hate groups have called for her to shut down her boutique. Some have sent messages to Adams that say she should have her head blown off or be shot with arrows, she said.
Les Jones, Adams' stepfather, has also received hundreds of threats against his stepdaughter.
"The mere fact that you encourage her racist and insulting behaviour makes you a participant of genocide as well," one message said. "Honestly, from the bottom of my Annishinabe heart I hope some one [sic] scalps your squaw, leaves it on your pillow for you to wake to and then rapes you like a dirty little Squaw and then you would be living out the meaning. Basic white privileged behaviour.....gets some class white trash."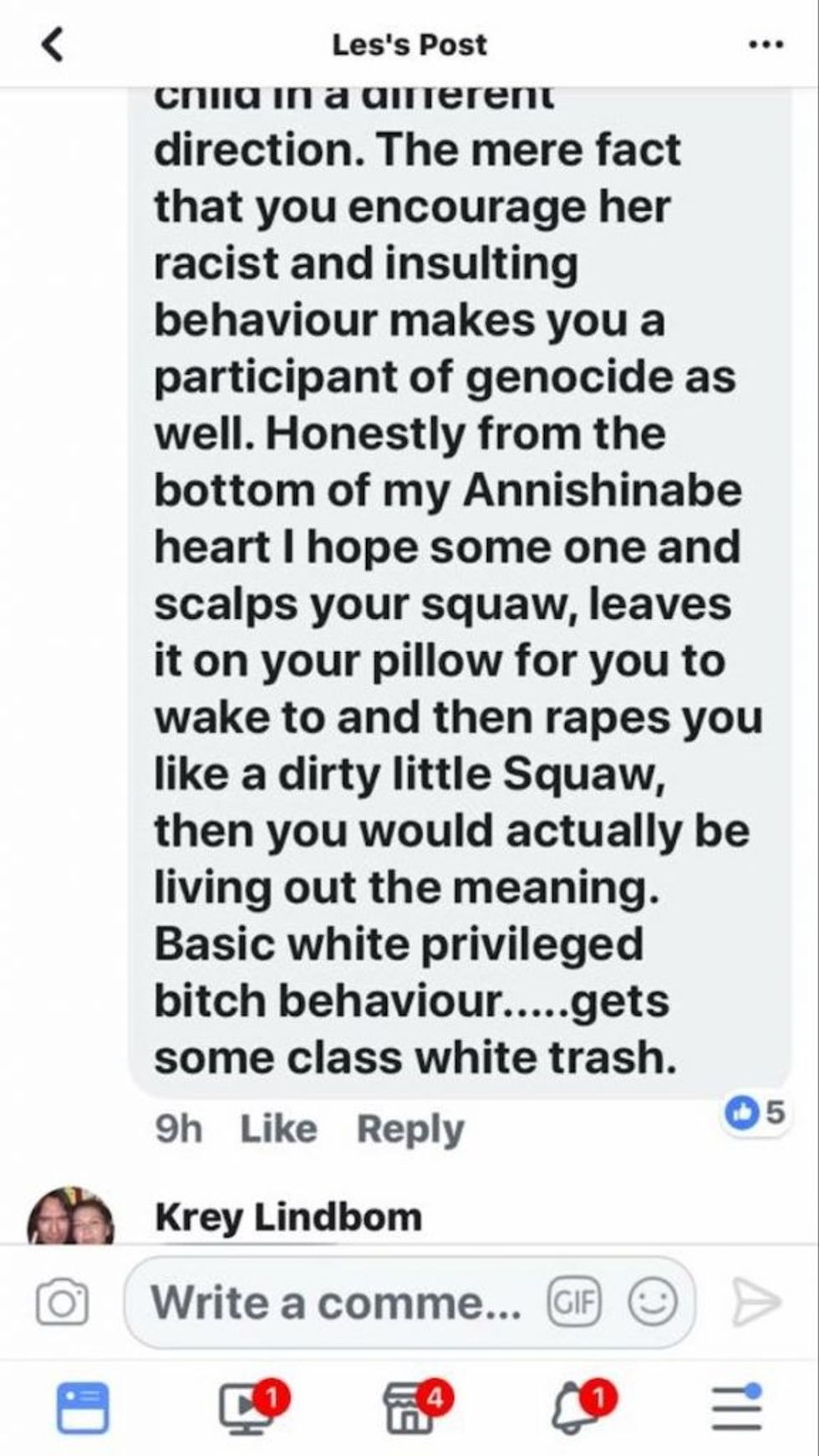 (Facebook image screenshot)
Is Adams planning to change the name of her store?
Adams said she had considered changing the name of her store because some people seemed sincerely offended by the name, which was never her intention.
She said the name has a positive meaning to her and she's received a lot of support from her customers.
"This is America," Adams said. "We live in a country where we can decide what we believe."
After the continued harassment, she has no intention of allowing a group of bullies to force her into renaming her business.
"It's ironic that this is happening during anti-bullying awareness month," Adams added.
As of Thursday, her social media accounts are no longer active. She said they were hacked and taken down by someone.
Did she contact the police?
Adams contacted the Erath County Sheriff's Department about the death threats she has received, but law enforcement hasn't taken action against the perpetrators.
What else?
Adams, who is working three jobs while she attends college, said the harassment has extended to her workplace. She fears she may soon lose her jobs.
Jones told TheBlaze that he would like to meet every single person who has harassed his daughter and explain to each of them "why you don't threaten a man's daughter."
Adams said she will make it through this challenge because she's a "strong and secure woman."