A federal lawsuit alleging Harvard discriminates against Asian-American applicants is getting hashed out in a Boston courtroom this week — and one expert told Yahoo News it may become a landmark case and affect higher education diversity as well as affirmative action policies.
What's the background?
Students for Fair Admissions sued Harvard in 2014, saying that although Asian-American applicants tend to have stronger academic and extracurricular credentials, they're "rated down" in subjective categories pertaining to personality traits.
And Harvard's own 2013 study showed Asian-Americans would have encompassed over 43 percent of the school's admitted class if applicants are judged solely on academics. But instead Asian-Americans in an admitted class stood at 23 percent.
SFFA further claimed that an Asian-American male applicant to Harvard has a 25 percent chance of admission compared to a 35 percent chance if he were Caucasian, 75 percent if he were Hispanic, and 95 percent chance if he were black.
According to left-leaning Slate, Harvard sends application invitations to high school students who score well on the PSAT standardized test — and internal documents showed the invitation cutoff score for white students was 1310 while the cutoff was 1350 for Asian women and 1380 for Asian men.
Harvard denied discrimination charges and defended its "holistic" admissions process, Yahoo News said.
More from the outlet:
The case has fueled a longstanding debate over affirmative action policies that traditionally benefit African-American and Latino students in an effort to offset centuries of racial discrimination. While previous high-profile affirmative action cases have featured white students, this challenge positions minority students as the plaintiffs.
Students for Fair Admissions was founded by Edward Blum, whom Yahoo News characterizes as a "conservative activist who opposes all race-based admissions policies" and who brought other cases challenging affirmative action.
Critics have accused Blum of "exploiting" Asian-Americans in his battle against anti-affirmative action, which, if altered or stamped out, could end up harming black and Latino applicants and students, the outlet said. Interestingly, Yahoo News said surveys show most Asian-Americans support affirmative action.
And on Sunday opposing groups rallied in Boston and Cambridge for and against the Harvard lawsuit, the outlet said, carrying signs that said: "I Am Asian-American. I Have a Dream Too," and "Asians Will Not Be Tools for Your White Supremacy."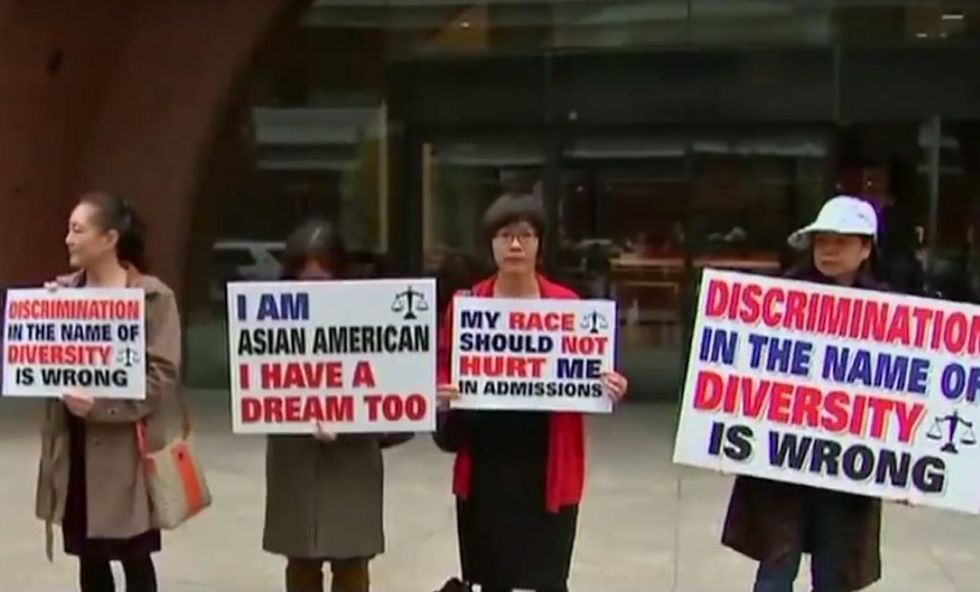 Image source: YouTube screenshot
More from Yahoo News:
While Adam Mortara, a lawyer representing Students for Fair Admissions, said in opening arguments Monday that "the future of affirmative action is not on trial here," Blum has been explicit that the group's goal is "to end racial classifications and preferences in college admissions" — something proponents of affirmative action warn would "deepen racial inequity in higher education." [...]

An attorney representing Harvard countered that student diversity, which he described as key to the school's mission, is not possible without affirmative action, and he said race is never considered negatively in applications. "Harvard cannot achieve its educational goals without considering race," attorney Bill Lee said, according to the Boston Globe.
What does one expert say?
If the case makes it to the Supreme Court, which now holds a 5-4 conservative majority, one expert told Yahoo News there's a chance that previous rulings for affirmative action could be overturned.
"The current composition strongly suggests that affirmative action's days are numbered," Justin Driver, a University of Chicago law professor — who wrote about how court cases have shaped public education in his new book, The Schoolhouse Gate" — told Yahoo News.
The outlet added that the Harvard suit is the first high-profile case to involve Asian-American plaintiffs and the first to target arguably the top college in America.
"We're dealing here with perhaps the most elite academic institution in the country, and that raises the temperature," Driver added to Yahoo News.