Comedian Jon Stewart just dumped a pitcher of cold water on journalists who've been "personally wounded and offended" by President Donald Trump's anti-media barbs, criticizing them for battling back against the commander in chief and revealing their "own narcissism" and their "own ego" in the process.
CNN's Christiane Amanpour sat across from Stewart and comedian Dave Chappelle in an interview posted Tuesday in which she said she members of the media believe their job "is to navigate the truth and do the fact-checking and all the rest of it."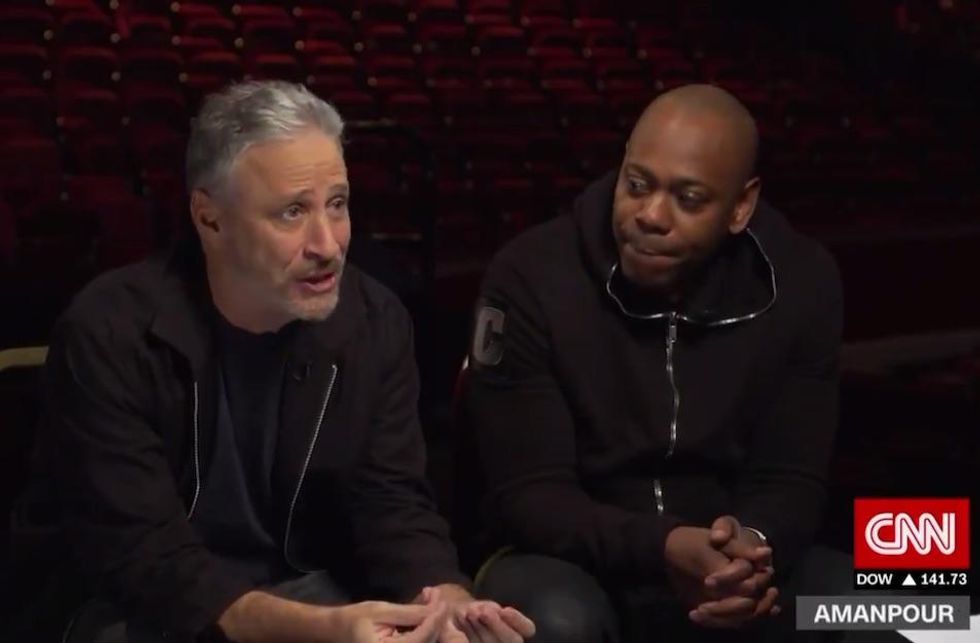 Image source: Twitter video screenshot
But Stewart wasn't having it, bluntly telling Amanpour that Trump has successfully managed to offend journalists — primarily with insults like "fake news" — and as a result, those who supposedly get paid to remain objective and simply get the story have taken their eyes off the ball and have become the story in a desire to get their pound of flesh.
"I think that journalists have taken it personally," Stewart said. "They are personally wounded and offended by this man. He baits them, and they dive in. And what he's done well, I thought, is appeal to their own narcissism, to their own ego. … And the journalists stand up and say, 'We are noble, we are honorable, how dare you, sir!' And they take it personally."
The former host of "The Daily Show" added that Trump has "changed the conversation to not that his policies are silly or not working or any of those other things. It's all about the fight. He's able to tune out everything else and get people just focused on the fight, and he's gonna win that fight."
Amanpour, defending her colleagues, responded that it's "hard for us to be dispassionate when words from the White House are aggressive against us and, you know, raise the specter of violence against us."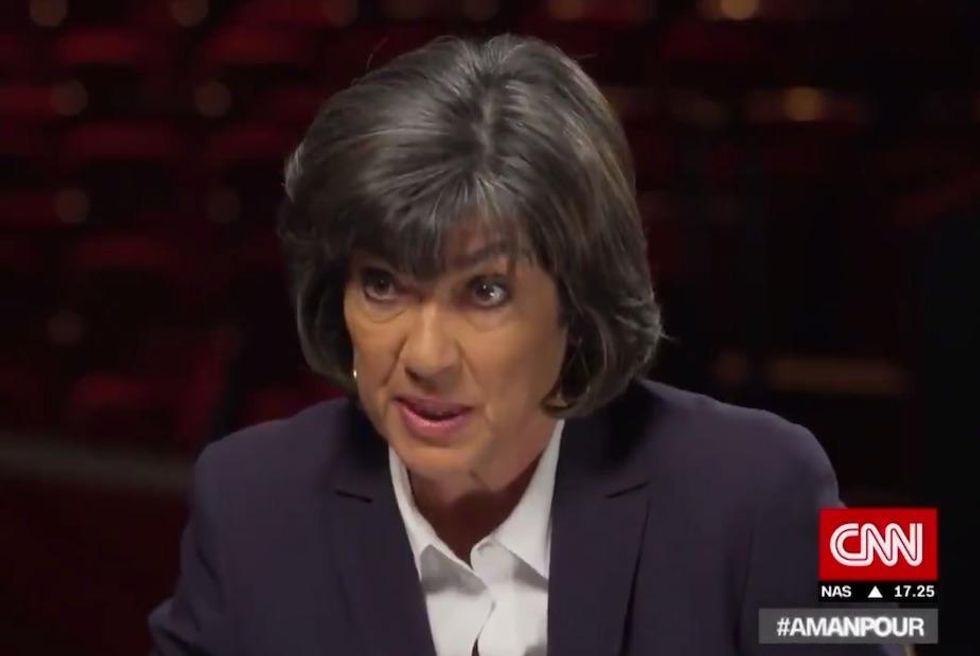 Image source: Twitter video screenshot
"But you're not used to it," Stewart shot back.
Amanpour bristled immediately and seemed to get a tad smug. "No, no, we're used to it, believe me," she said. "We've been out there in the field."
"But think of the communities of color, think of Muslims, think of the black community," Stewart explained. "When journalists rise to this outrage of 'how dare you say that about us,' think of the lives that they've been leading under this and what they've been put under."
Here's the clip:
President Trump has been able to appeal to journalists' "own narcissism" by attacking them, says Jon Stewart. "They… https://t.co/xNHrD1a6Fz

— Christiane Amanpour (@Christiane Amanpour)1540923728.0
This story has been updated.