Outspoken leftist and documentary filmmaker Michael Moore told "angry, white, American guys" that they should step aside from power and let women "run the show" as midterm elections approach.
Moore — who made his comments Thursday on "Late Night with Seth Meyers" — said he counted himself as a member of that constituency.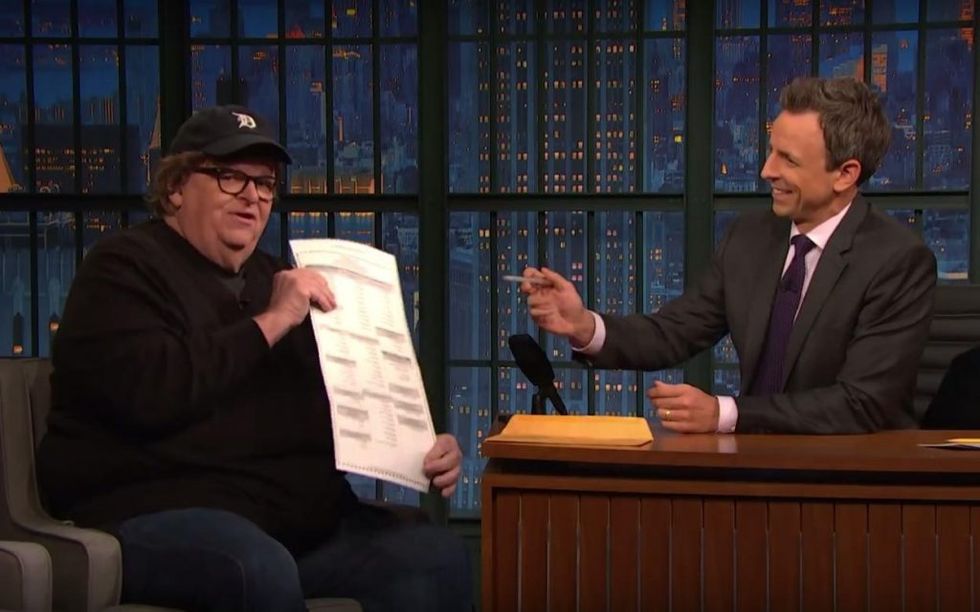 Michael Moore holds up his absentee ballot during an interview Thursday on "Late Night with Seth Meyers." (Image source: YouTube screenshot)
"I'm really [President Donald] Trump's demographic," Moore told Meyers. "I'm an angry white guy over 50 with a high school education."
With that he turned in his seat to face white men directly: "So if I could just speak to my fellow angry white American guys who are semi-uneducated like me: Dudes, give it up! We've been running the show for 10,000 years ... we've had a long run as men ... so why don't we just take a break, let the majority gender run the show. What are you scared of?" The audience cheered.
What else did Moore say?
In addition, Moore threw some shade at House Minority Leader Nancy Pelosi, albeit without speaking her name.
"Well, I'm not going to make the mistake that someone else made on a late night show a couple nights ago," Moore told Meyers. "A Democrat, who just automatically announced, 'We're gonna win.' And it's like, 'My God, that's what happened in 2016.' Everybody was throwing the party for Hillary before the election. And I think some people stayed home ... even The New York Times on Election Day in 2016 — in that box where they predict — said that there was only a 15% chance today of Trump winning the presidency, OK?"
Moore told the audience, presumably fellow liberals, that "you gotta throw all that out. You gotta quit this kind of predicting nonsense, and you just gotta do your job as a citizen. Everybody's gotta get off the bench this time. We might not get another time."
He cautioned that if anyone believes Democrats have the midterms locked up to remember that Trump "outsmarted us in 2016 and won the White House by losing the election" — winning the Electoral College and losing the popular vote — and "that take a certain kind of evil genius to figure that out."
In the end, though, Moore said he believes "the majority" of Americans "believe in the liberal agenda" and that he hopes that will be enough to "throw all the bastards out."
Here's the clip. The relevant portion of the interview starts at the 3:30 mark: