New Jersey Democrat Bob Menendez kept his U.S. Senate seat in Tuesday's election, according to the Associated Press and the New York Times.
But it wasn't easy for the incumbent.
Menendez — plagued by scandal and legal problems — had to hold off a late surge by Republican challenger Bob Hugin, a retired pharmaceutical executive and former Marine who managed to whittle down Menendez's lead to just 5 points among likely voters late in the campaign — a surprising number given the Garden State is historically blue.
How blue is New Jersey? President Donald Trump lost the state by 14 points to Hillary Clinton in 2016, and residents haven't elected a Republican senator since 1972. In addition, Democratic voters outnumber Republican voters by roughly 900,000 in the New Jersey.
Yet the Cook Political Report moved the race from "leans Democrat" to the "toss up" category in late October.
The latest numbers showed Menendez with 49.8 percent of the votes and Hugin with 46.9 percent with 25 percent of precincts reporting, the Times noted just after 9 p.m. ET.
Menendez's victory keeps Democratic numbers in the U.S. Senate closer to what most are predicting will continue to be a Republican majority.
The cash flow
As a result of Menendez's dwindling numbers in the polls, Democrats were forced to direct significant campaign money to help out the incumbent. The super PAC affiliated with Senate Minority Leader Chuck Schumer (D-New York) spent more money in New Jersey than on pickup opportunities in Tennessee or Arizona and defending vulnerable red-state incumbents in North Dakota, West Virginia, and Montana, the Washington Examiner reported.
The paper added that the Senate Majority PAC reportedly was planning to funnel another $2.8 million into the Menendez race after having already spent $6 million on the Democrat's re-election bid.
The issues
Hugin had been campaigning as a moderate Republican and is pro-choice, for universal background checks on gun purchasers, in favor of marijuana decriminalization, and for "comprehensive immigration reform." He's also against sanctuary cities and for lower taxes.
Hugin noted in a political ad last week that he can stand up to Trump — and Menendez countered in an ad of his own that Hugin will "never stand up to Trump."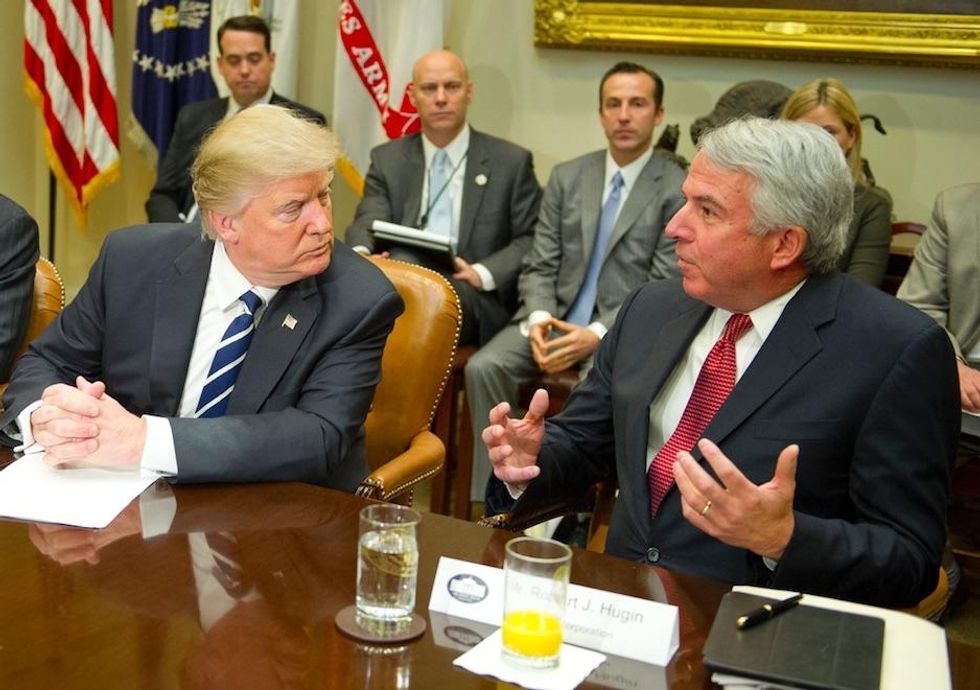 U.S. President Donald Trump listens to Robert J. Hugin, then-executive chairman of the Celgene Corporation, during a meeting with representatives from PhRMA, the Pharmaceutical Research and Manufacturers of America in the Roosevelt Room of the White House on Jan. 31, 2017, in Washington, D.C. (Photo by Ron Sachs - Pool/Getty Images)
Scandal-plagued Menendez
Republicans had hoped Menendez's recent corruption and bribery scandal would cast enough doubt about the incumbent — but it apparently was not to be.
In 2017, Menendez was charged with accepting $60,000 from a friend named Salomon Melgen in return for political favors. These gifts allegedly started in 2006, the year Menendez was first elected, and included helping Melgen's mistresses obtain visas.
The case eventually ended in a mistrial, and while Menendez was never convicted of these charges, the mistrial meant he wasn't declared not guilty, either.
Even Obama balked
Former President Barack Obama recorded a robocall to remind New Jersey Democrats to get to the polls, but Obama didn't mention Menendez on the call, the Washington Examiner reported.
Menendez did, however, get some love from controversial Democratic U.S. Sen. Cory Booker, also from New Jersey: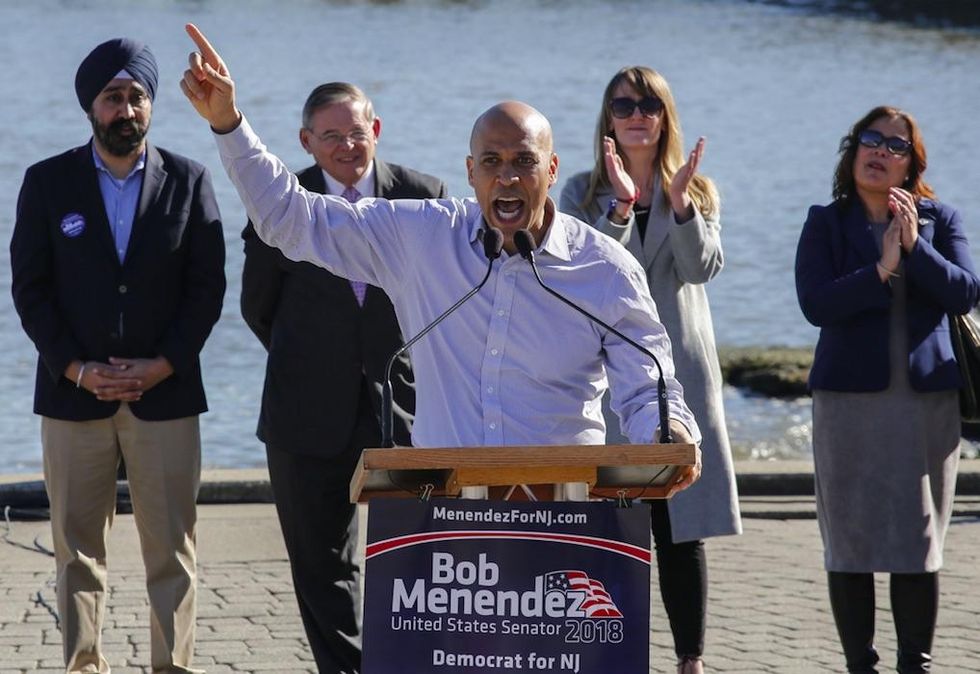 U.S. Sen. Cory Booker (D-NJ) speaks during a rally organized by Hoboken Mayor Ravinder Bhalla (left) in support of U.S. Sen. Bob Menendez (2nd-left) on Sunday in Hoboken, New Jersey. (KENA BETANCUR/AFP/Getty Images)
'Choke it down'
Several news outlets — such as Philly.com — endorsed Menendez while holding their nose in the process. In fact, the Star-Ledger's editorial endorsing the Democrat was titled, "Choke it down, and vote for Menendez."
Trump endorsed Hugin Tuesday — an an 11th-hour attempt to get Republicans to the polls:
Bob Hugin, successful all of his life, would be a Great Senator from New Jersey. He has my complete and total Endor… https://t.co/RBrSwuNZsh

— Donald J. Trump (@Donald J. Trump) 1541527709.0
"Bob Hugin, successful all of his life, would be a Great Senator from New Jersey," Trump tweeted. "He has my complete and total Endorsement! Get out and Vote for Bob."
Both candidates had been scheduled Tuesday to campaign throughout the state in last-minute pushes to get their messages across to voters in such a tight contest.
Weather even appeared to factor into things, as Hugin was quoted Monday at GOP rally, "It's raining out, right? That's Republican weather," WABC-TV reported.
Menendez countered that Hugin "hopes it pours so people don't come out. I hope it pours with votes. There's only one way to create a blue wave, and that's to get in the water and come out to vote," the station said.
This is a developing story and will be updated.