A 17-year-old female was caught on video punching a chemistry teacher in the face inside a classroom at Frederick Douglass High School in Baltimore last week, WBAL-TV reported.
It appeared two female students were tussling near the classroom door Wednesday while the teacher was speaking to other students out of frame. Suddenly one of the tussling students pushed the other one away and then punched the teacher on the left side of her face; the teacher turned away in apparent pain and covered part of her face with her hand.
"What the f*** you talkin' 'bout?" the student could be heard saying. "Don't f***in' get smart with me. Straight up." The student then walked out the classroom door.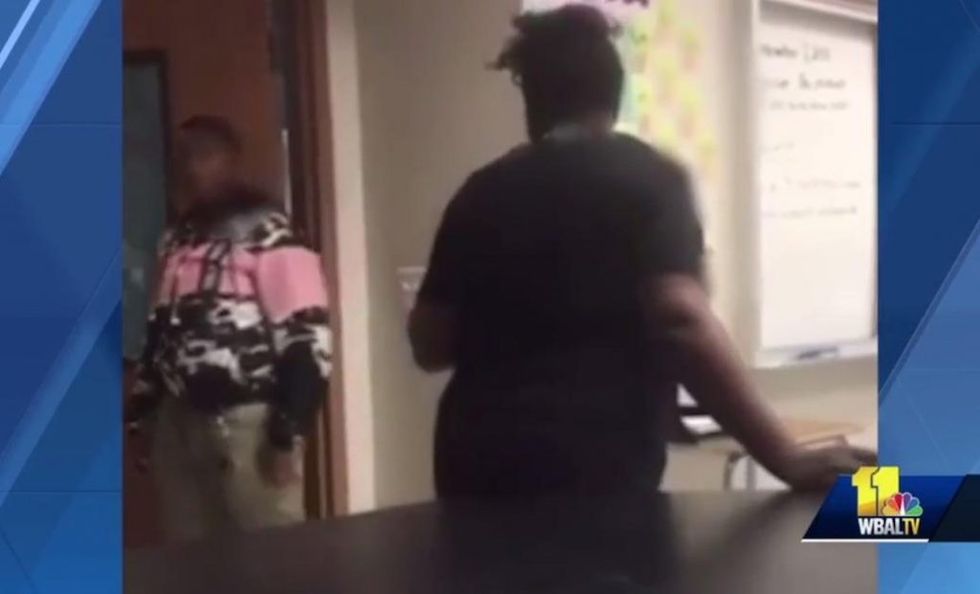 Image source: WBAL-TV video screenshot
The teacher responded, "I didn't get smart with you," and then followed the student out the door and appeared to be speaking to someone else about the incident before the video ended.
Who is the teacher?
The teacher's name wasn't reported, but WBAL said she's "a highly regarded state science educator and a respected elder at a local church." She wasn't seriously injured, the station said, adding that the teacher wasn't in class Thursday.
What are school officials saying?
"Baltimore City Public Schools leaders are working closely with the Frederick Douglass High School leadership team to support students and staff following Wednesday's altercation between a teacher and student," a district statement said, WBAL reported. "Our focus is on ensuring a safe teaching and learning environment for students and staff. We understand that an incident like this one can be difficult to process. School counselors and social workers will be available at the school for students and staff to address any questions and concerns they may have. District leaders have also reached out to the teacher to provide any additional support that may be needed."
Marietta English, president of the Baltimore Teachers Union, told the station she was "angry" about the incident.
"Of course, I was very angry when I saw that because we've asked that there be some kind of support for our teachers, and something needs to happen," she added to WBAL.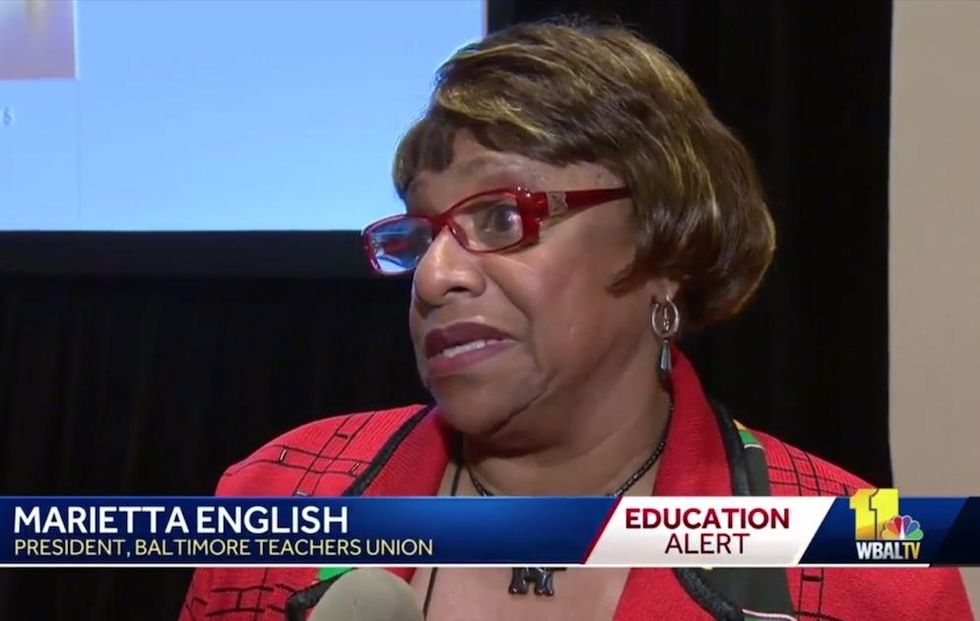 Image source: WBAL-TV video screenshot
What are local people saying?
"I think the children out here are losing lack of consideration and love," Jamal Talib, a Baltimore resident, told the station. "They're not being taught a conscience of how to treat others how they want to be treated."
Marvin McDowell, another city resident, added to WBAL that "if there's a situation going on at home and they go out into the public, they're going to carry that same attitude, and the same situation is going to happen on the outside."

Other incidents
(H/T: Blue Lives Matter)