A high school music teacher who was caught on video repeatedly punching a 14-year-old student inside a classroom got a GoFundMe page set up for him by a fellow school district employee to assist with legal fees — and as of Friday morning the funds topped $170,000.
"This is Marston Riley, and I'm letting you know that this GoFundMe page is legit," Riley, the teacher in question, said in a video posted on the GoFundMe page. "I want to thank Cecilia Diaz for setting it up for me, and I want to thank you for supporting me."

What happened?
Riley, 64, was arrested Nov. 2 on suspicion of child abuse and causing great bodily injury on a child, KTLA-TV reported, after the incident at Maywood Academy High School, which is in the Los Angeles County school district.
He was released Saturday morning after posting $50,000 bail, the Los Angeles Times reported, citing Sheriff's Department inmate records, and is scheduled for a Nov. 30 arraignment.
What are students saying?
All the students who spoke to KTLA Friday night were sympathetic to Riley and said the student in the video pushed him too far. In fact, one student told the station it was a setup.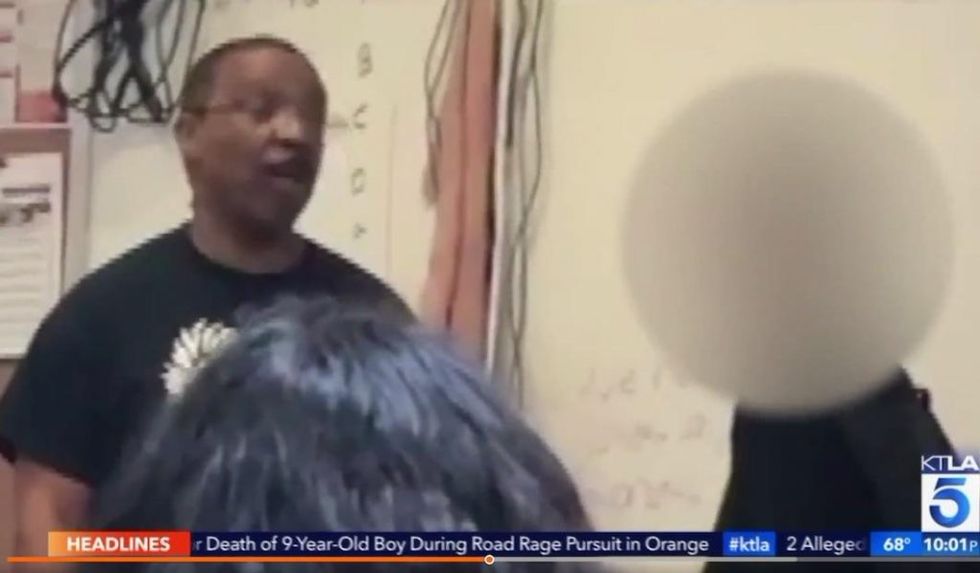 Image source: KTLA-TV video screenshot
"Everything was planned out," the student told KTLA. "There were students there who were already taking out their phones to record the incident. I don't think it's completely fair that they're just putting the blame all on [Riley], when I personally know that he's a good guy."
The blow-by-blow account
Students told the station the confrontation started after Riley asked the boy to leave the classroom for not wearing a proper uniform. The student in question allegedly refused, KTLA said. Cellphone video shows the boy swearing at the teacher and repeatedly calling Riley, who is black, the N-word.
The student is also seen throwing a basketball at Riley, after which the station said Riley pulled out his cellphone to call for backup.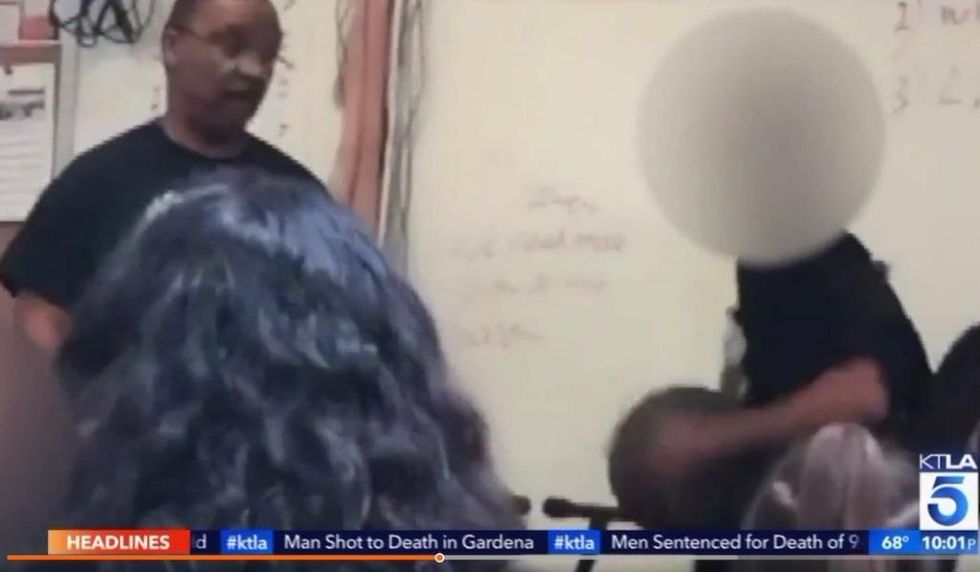 Image source: KTLA-TV video screenshot
"C'mon, bro," the student is heard saying. "Walk the f*** back [N-word]." Riley does walk back, and video showed the student continue the verbal barrage, including calling Riley a "bitch" and challenging him: "I'm right here, bro. Everybody watching, my [N-word]. What's up?"
Riley warns the student several times, "You better leave" — and a minute and a half after the video of the confrontation started the teacher is seen suddenly punching the boy in the face.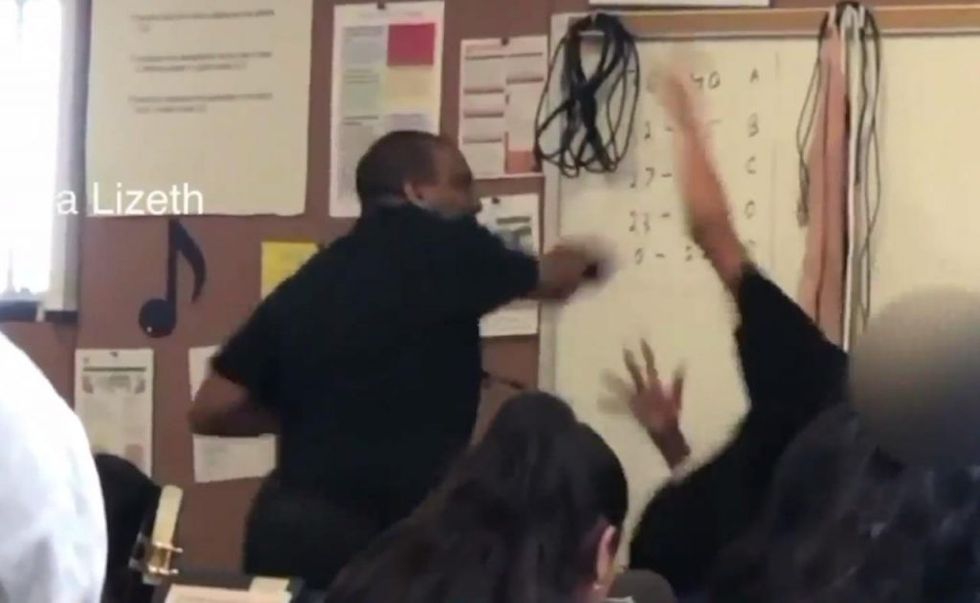 Image source: KTLA-TV video screenshot
The student attempts to defend himself and moves backward to far edge of the classroom as Riley delivers another blow and knocks him down.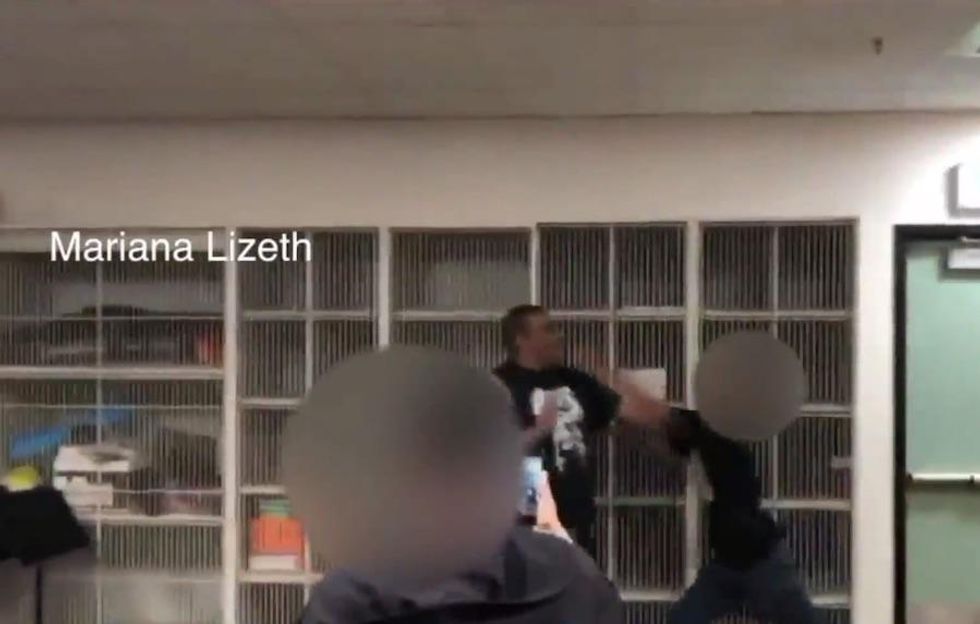 Image source: KTLA-TV video screenshot
The student gets up, drops his backpack, and squares off.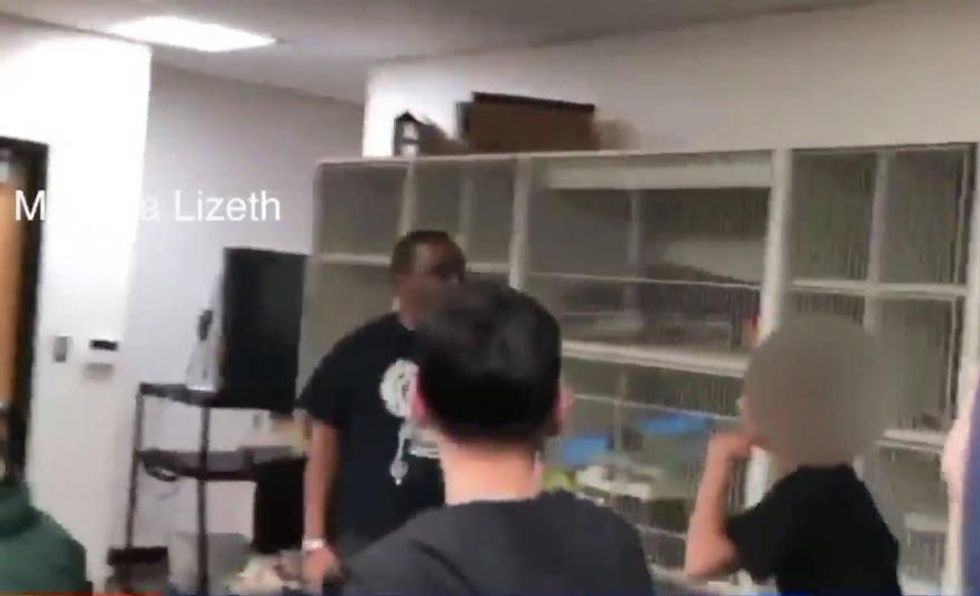 Image source: KTLA-TV video screenshot
Riley then delivers what appear to be at least another dozen or so blows and goes after the kid again after others attempt to intervene.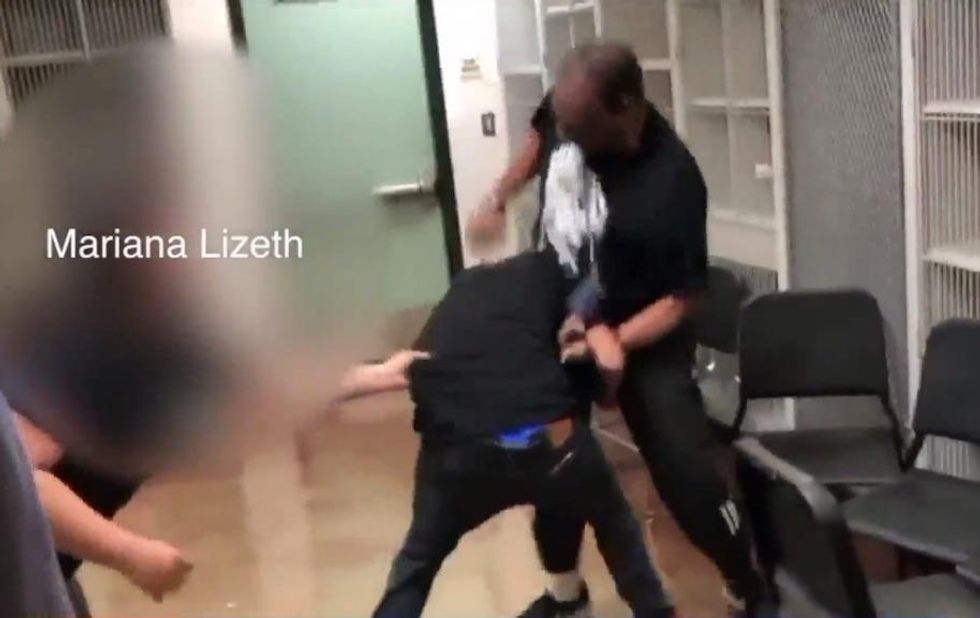 Image source: KTLA-TV video screenshot
Another student appears to punch Riley as well.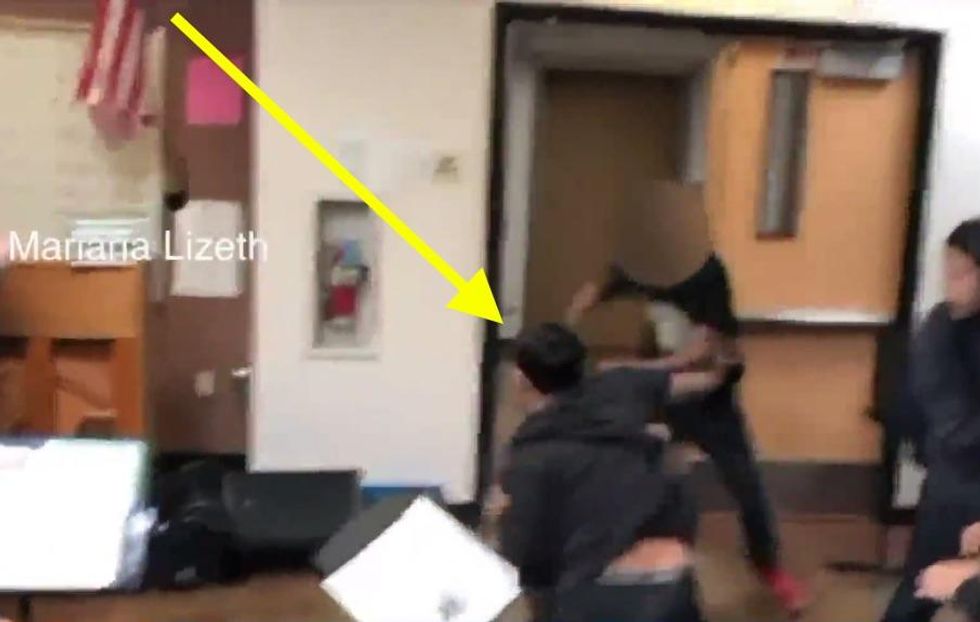 Image source: KTLA-TV video screenshot
The boy who started the confrontation is dragged away by staff, hollering at Riley unintelligibly. He was taken to a hospital where he was treated for moderate injuries and released, the Times reported, citing the Sheriff's Department.
At the end of the clip Riley is seen asking other students who hit him, presumably in reference to the second student seen apparently punching the teacher.
What did the school have to say?
School district officials said they were "extremely disturbed" by reports of the fight, telling the paper in a statement: "We take this matter very seriously and do not condone violence or intolerance of any kind. Los Angeles Unified is cooperating with law enforcement in investigating this incident."
What did another student have to say about Riley?
"I had this teacher before, and I had no problem with him," the student told KTLA. "He was a really nice teacher, I always respected him. He always had a really good relationship with every student."
The Times added that many on social media defended Riley, saying that he was pushed too far and that student was out of line for using racial slurs.
(H/T: EAGNews)