Both the New York Times and CNN have deliberately misled readers about two sexual harassment-related formal rebukes issued by the House Ethics Committee on Friday.
In the case of the Times, the newspaper hid the fact that the rebukes addressed one Republican and one Democrat (guess which part they hid), and in the case of CNN, the network attempted to smear the Republican as being charged with sexual harassment himself (he wasn't.)
Alyssa Farah, press secretary to Vice President Mike Pence, caught it, and said so on her personal Twitter account.
THIS IS CNN
Staring with CNN, which committed an arguably lesser offense, here are screenshots of the tweet and the article.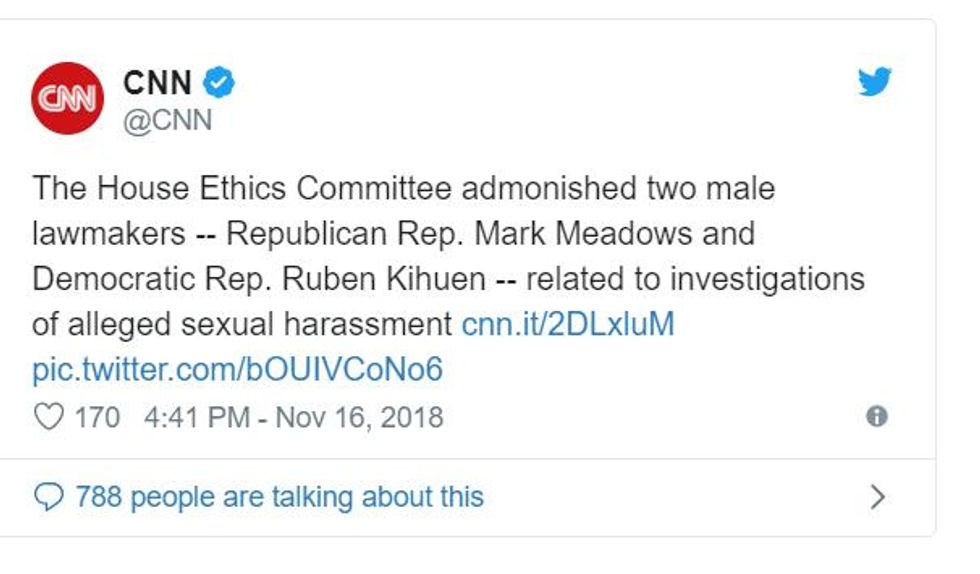 WHAT'S THE PROBLEM?
This obviously implies to sexual harassment offenses committed by two men. That is not, however, the case. This is from the second paragraph of the article (which placement is why it's arguably a lesser offense):
Republican Rep. Mark Meadows of North Carolina was cited for "failure to take prompt and decisive action to deal with the alleged sexual harassment in his congressional office" and Democratic Rep. Ruben Kihuen of Nevada for making "persistent and unwanted advances towards women who were required to interact with him as part of their professional responsibilities."
Republican Meadows was reprimanded for failing to take prompt and decisive action over someone else's offense; Democrat Kihuen for making advances and committed offenses himself. And although we here are aware of the circumstance, even that explantory paragraph is less than clear. Although it says "failure to take prompt and decisive action" it does not actually spell out that it wasn't his behavior that required action.
Alyssa Farah clarified.
This headline is misleading - so let me clear it up: Meadows never sexually harassed anyone. His former staffer did. I know, I am 1 of the women in the report. I respect the Ethics Cmte but my experience was that Meadows had my back, took me at my word, & respected & protected me https://t.co/domQmTsohf

— Alyssa Farah (@Alyssafarah) November 17, 2018
Farah is one of the women in the report that was issued. So to be clear, one of the complainants had to now complain about the coverage of her complaint, because CNN.
ALL THE NEWS THAT'S FIT TO NOT PRINT
The New York Times decided to bypass being misleading and opt instead for just missing and leaving out. Here are their screenshots: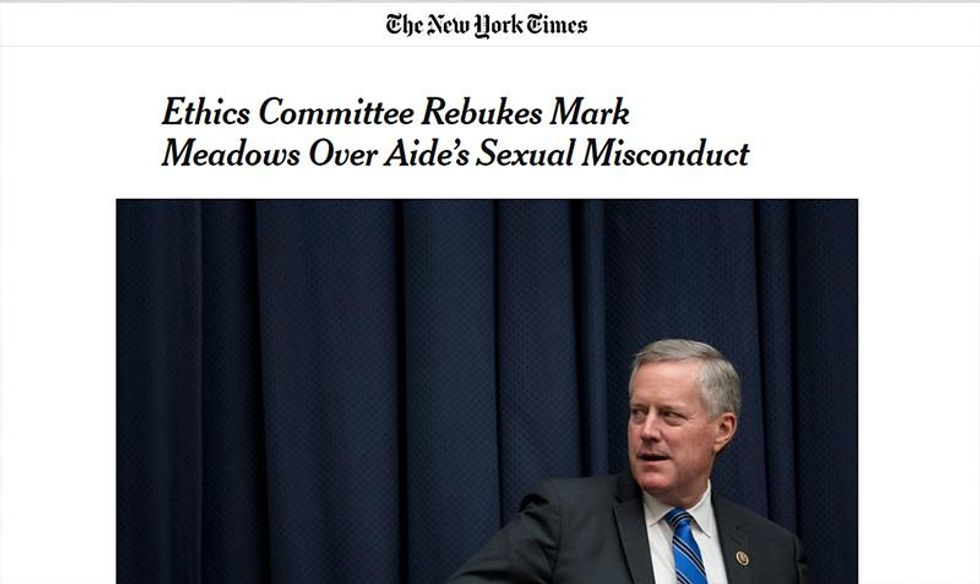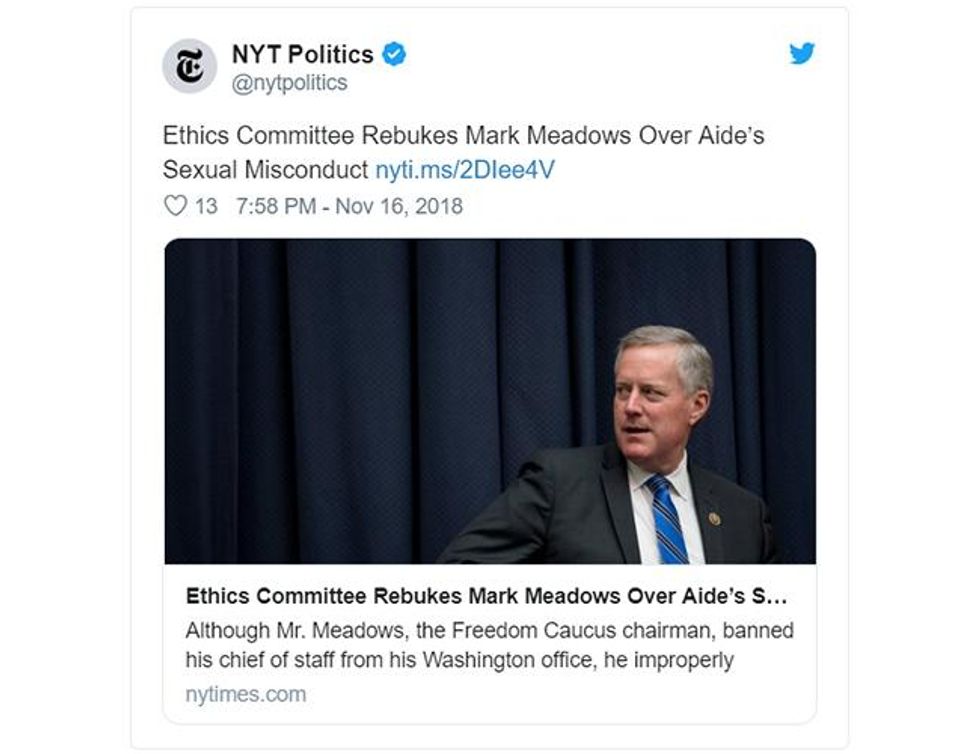 WHAT'S THE PROBLEM?
You may notice the distinct lack of the words "Democrat", "two", and "Democratic Rep. Ruben Kihuen of Nevada." You have to go pretty far into the article to find any of them. In fact, as Newbusters counted out, you have to go to the 10th paragraph to find any mention of the Democrat who actually sexually harassed someone.
The committee also released a report on Friday reproving Representative Ruben Kihuen, Democrat of Nevada. Mr. Kihuen, a freshman lawmaker, did not seek re-election after Buzzfeed News reported that he had repeatedly harassed and made sexual advances toward his finance director. Two other women, one an aide, the other a lobbyist, testified before the committee that Mr. Kihuen made repeated unwanted physical and verbal advances toward them and, in one case, suggested "through the use of emojis" that they make a sex tape together.
There really is no excuse for this.