Left-wing actress Alyssa Milano had a tense on-camera chat with a Georgia state lawmaker Tuesday amid her campaign to prevent the state's "heartbeat" abortion bill from getting signed into law.
Republican state Rep. Dominic LaRiccia confronted Milano outside Gov. Brian Kemp's office and more or less trolled her, inquiring which Georgia district she lives in and votes in. Milano — who's filming a Netflix show in Georgia — replied that she works in the state but doesn't vote in it.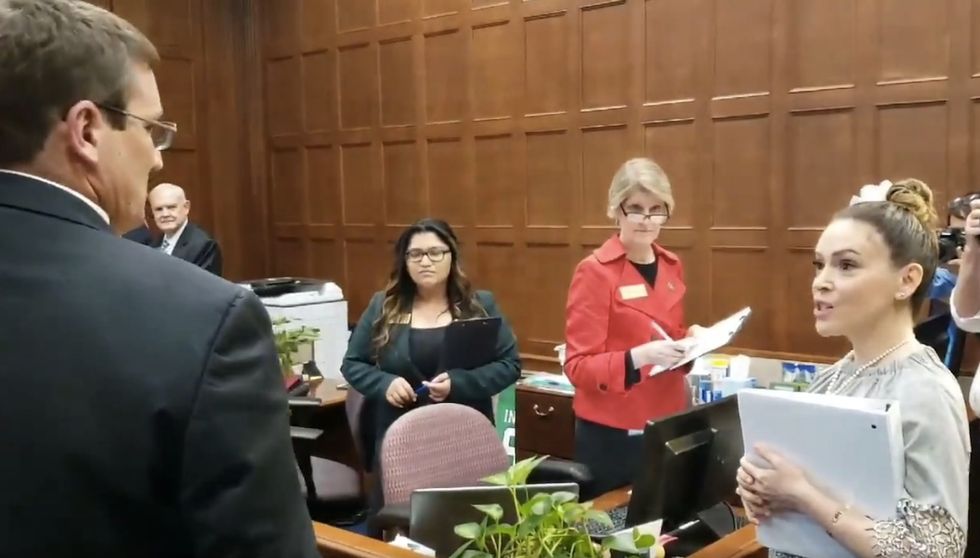 Image source: Twitter video screenshot
"I'm just wondering what district you are from," LaRiccia pressed.
Milano replied that she was with 30 people who do vote in Georgia, and then LaRiccia repeated, "But you don't vote in Georgia?"
"Excuse me, don't interrupt me," Milano shot back before explaining she wasn't allowed to escort in the 30 Georgia voters.
"So, that's a 'no,'" LaRiccia continued. "You don't vote in Georgia."
Milano replied, "No, but the people that work on my crew — the 90.000 people that the entertainment industry actually employs — do."
After a mutual introduction and terse handshake, LaRiccia kept forging ahead: "So? District 1? Nothing?"
Milano replied that she just answered the lawmaker's question, and then she turned away from LaRiccia to talk to reporters: "These are the men that are voting on what goes on inside my uterus."
Then pointing backward at LaRiccia, she added, "This guy right here is them."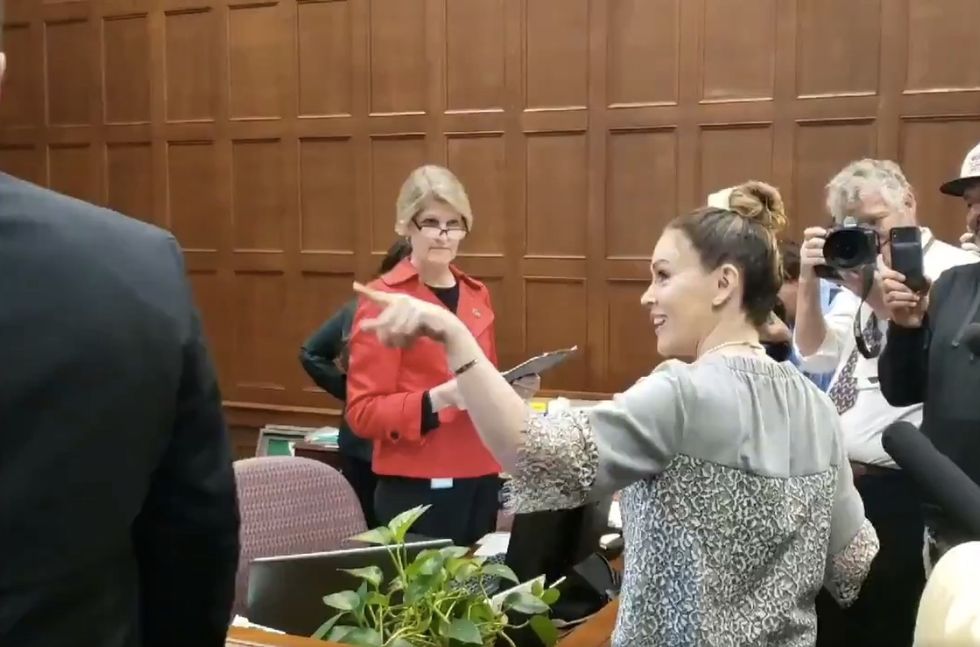 Image source: Twitter video screenshot
Milano than turned back toward LaRicca and said "have a great day."

One person was heard exclaiming, "Yay, Alyssa!"
Here's the clip:
Full video of the interaction between @Alyssa_Milano and @DominicLariccia #gapol #HB481 https://t.co/Zlyvl9noNV

— Maya T. Prabhu (@Maya T. Prabhu) 1554242057.0
What else?
The Georgia House of Representatives on Friday voted 92 to 78 to approve the "heartbeat" abortion bill, which awaits Kemp's signature before becoming law. Kemp has said he will sign the bill, which would prohibit most abortions as early as six weeks from conception — the point at which most fetal heartbeats can be detected.
Milano has led Hollywood's charge against the bill, and she delivered a letter to Kemp's office Tuesday urging him to veto it, the Atlanta Journal-Constitution reported.
In addition, Milano — along with Alec Baldwin, Amy Schumer, and more than 40 other Hollywood luminaries — signed a letter last week threatening to push TV and film production out of Georgia if the bill becomes law. The number of signers now has reached more than 100:
.@brielarson, @PattyArquette, @1SpencerGarrett, @amysmart26, @MelissaJPeltier @GraceParra360, @halfadams,… https://t.co/NwExu5KnaY

— Alyssa Milano (@Alyssa Milano) 1554134478.0
What is Gov. Kemp saying?
Kemp, a Republican, told the Journal-Constitution he won't be influenced by Milano.
"I can't govern because I'm worried about what someone in Hollywood thinks about me," Kemp told the paper. "I ran the last two years on these issues, and I got elected with the largest number of votes in the history of the state of Georgia, and I'm doing what I told people I would do."
Anything else?

Ashley Bratcher, star of the recently released anti-abortion movie "Unplanned," penned a scathing response to Milano's push to boycott Georgia over the "heartbeat" abortion bill, saying "we will no longer sit idly by as innocent lives are taken by the thousands each day."
Milano also caught backlash after claiming to love God and then using a Bible verse to justify abortion.
The liberal actress also stepped up to defend former Vice President Joe Biden after he was accused by two women of inappropriate touching and kissing. Milano's stance rang somewhat hollow given that she waged a headline-grabbing "believe all women" campaign to prevent Supreme Court Justice Brett Kavanaugh's nomination after he was accused of committing a sexual assault over 30 years ago.