Actress Alyssa Milano has been a vocal #MeToo advocate, but some are claiming that the Democratic activist's morals appear to waver when it comes to the Georgia Senate runoffs.
During Supreme Court Justice Brett Kavanaugh's confirmation hearings in 2018, Milano was extremely critical of Kavanaugh, and welcomed all of the allegations against him without questioning them. She wore a sash with the words "BELIEVE WOMEN" on it during Kavanaugh's hearing. She also sat behind Kavanaugh and held up a booklet that read: "I BELIEVE SURVIVORS."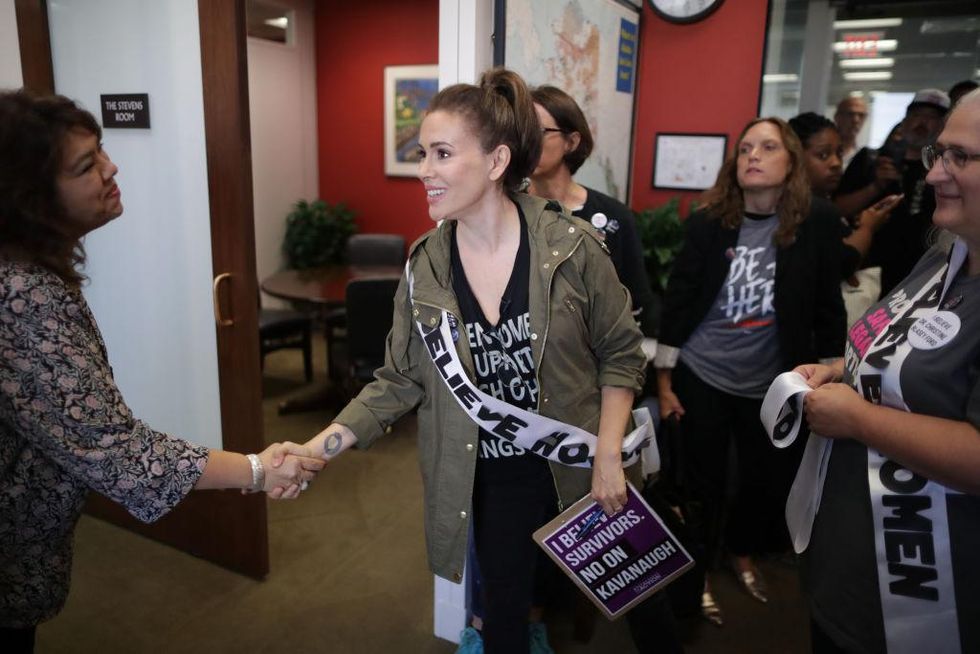 Chip Somodevilla/Getty Images
"I wasn't there with any political agenda. I was there to support a survivor of sexual assault," Milano told The Hollywood Reporter in 2018. "As a survivor, it literally is all of our worst nightmares come true. This is exactly the reason why we don't come forward, or we don't report. Because of the scrutiny. Because a man's word will always mean more than our word. And it's disgusting."
But now, people are pointing out that Milano has a much different approach when it comes to the broad strokes of "I believe survivors" and "believe women." Milano is raising money for Democratic Senate candidate Raphael Warnock, who was allegedly involved in a domestic dispute.
Warnock is alleged to have run over the foot of his ex-wife Oulèye Ndoye during an altercation that police responded to. Police bodycam footage shows the aftermath of a verbal altercation between the couple, who got divorced in November 2019.
"This man's running for the United States Senate and all he cares about right now is his reputation," Ndoye told police. "I work at the mayor's office and this is a big problem. I've been trying to be very quiet about the way he is for the sake of my kids and his reputation."
"I've tried to keep the way that he acts under wraps for a long time and today he crossed the line," she continued. "So that is what is going on here and he's a great actor. He is phenomenal at putting on a really good show."
The wife claimed that Warnock ran over her foot with a car, but medical examiners found no physical damage.
In an incident from 2002, Warnock "repeatedly disrupted a 2002 police investigation into child abuse at a church-affiliated summer camp, interfering with interviews and discouraging counselors from speaking with investigators," according to two Maryland State Police reports obtained by the Washington Free Beacon.
Despite the problematic allegations, #MeToo champion Milano is proudly supporting Warnock. Milano has been working the phone banks for Warnock and fellow Georgia Democratic Senate candidate Jon Ossoff.
🚨ALL HANDS ON DECK🚨 We need to win those 2 senate seats in Georgia! Phone bank with me next Wed! You can do this… https://t.co/9cBgu9rn0F

— Alyssa Milano (@Alyssa Milano) 1607108113.0
On Dec. 16, Milano asked Warnock on Twitter, "How's our fundraising goal looking?"
Some online commentators pointed out the hypocrisy of Milano raising money for someone who has accusations against him by his ex-wife.
One Twitter used asked, "Where's the Me too movement now?"
Another user responded, "#MeToo is an exclusive club now? To only woman you agree with."
Someone said, "#MeToo was a complete lie."
Another person wrote, "Do you see a hypocrite when you look in the mirror @Alyssa_Milano Asking for a friend #metoo #timesup." The reply included a Rose McGowan tweet, where the actress torched Milano and called her a "fraud" for her silence about the sexual accusations against Joe Biden by former Senate staffer Tara Reade.
"You are a fraud. This is about holding the media accountable. You go after Trump & [Supreme Court Justice Brett] Kavanaugh saying Believe Victims, you are a lie. You have always been a lie. The corrupt DNC is in on the smear job of Tara Reade, so are you. SHAME," McGowan wrote in April.
Georgia's two runoff elections for U.S. Senate take place on Jan. 5.