A visibly angry Chicago Mayor Rahm Emanuel on Tuesday blasted the decision to drop all charges against "Empire" actor Jussie Smollett, who was accused by police of orchestrating a fake hate crime attack against himself to advance his career.
"From top to bottom, this is not on the level," Emanuel told reporters, adding "there needs to be a level of accountability throughout the system, and this sends an unambiguous message that there is no accountability, and that is wrong."
The mayor also called the dropped charges a "whitewash of justice" and that the grand jury, which handed down 16 charges against Smollett, "could not have been clearer."
Police Superintendent Eddie Johnson — who tore into Smollett after the actor's arrest in a fiery news conference last month — also ripped the dropped charges: "Do I think justice was served? No. I stand behind the detectives' investigation."
"At the end of the day, it is Mr. Smollett who committed this hoax, period," Johnson said. "If he wanted to clear his name, the way to do that was in a court of law so everyone can see the evidence."
What's the background?
Chicago police arrested Smollett last month and accused him of staging a racist, homophobic attack against himself.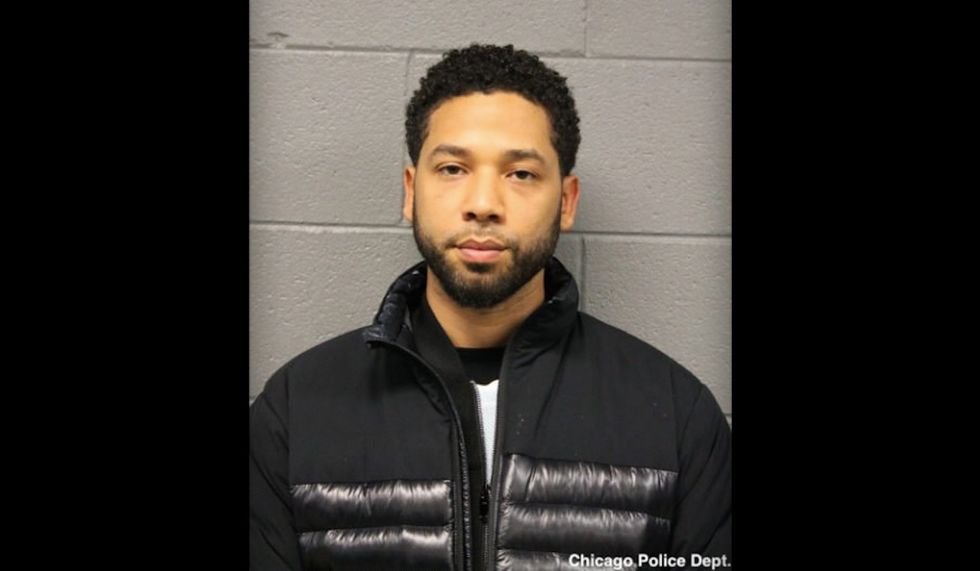 Image source: Chicago Police Department
The actor claimed that masked men beat him up and yelled "This is MAGA country" — a reference to Trump's 2016 campaign slogan, "Make America Great Again" — on a Chicago street amid sub-freezing temperatures around 2 a.m. Jan. 29. But no video of the alleged attack against the openly gay actor has been found.
Eventually, brothers Olabinjo and Abimbola Osundairo told police Smollett paid them to stage the attack.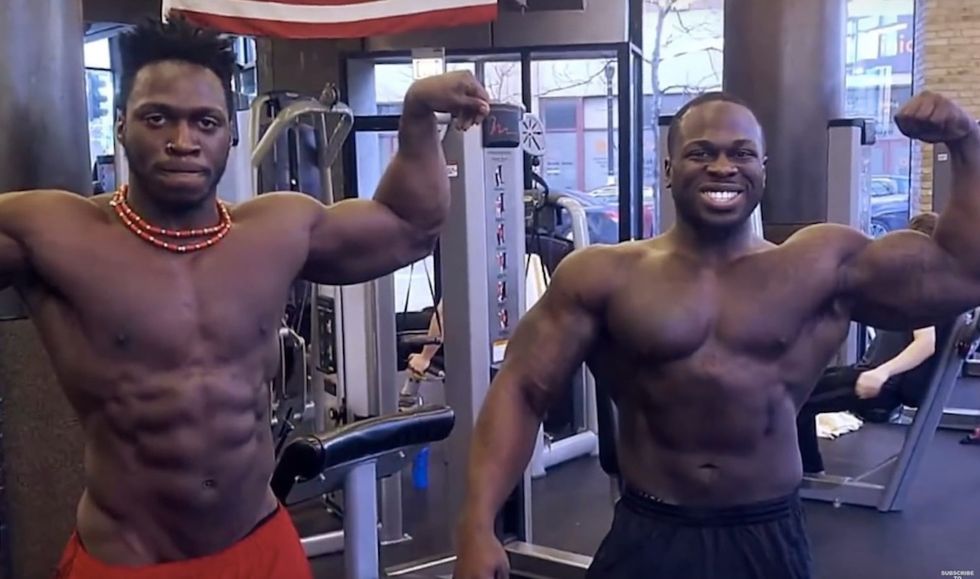 Image source: YouTube screenshot
Smollett pleaded not guilty to 16 counts of disorderly conduct for filing a false police report in regard to the incident earlier this month.
Case dropped
But on Tuesday the judge in the case "granted a nolle pros, which essentially means that the case has been dropped and that he will no longer be prosecuted for the alleged crime," Fox News said.
"After reviewing all of the facts and circumstances of the case, including Mr. Smollett's volunteer service in the community and agreement to forfeit his bond to the City of Chicago, we believe this outcome is a just disposition and appropriate resolution to this case," the Cook County State's Attorney's office stated in an email, WBBM reported.
Curious twist
Just last week Chicago Fraternal Order of Police President Kevin Graham said Cook County State's Attorney Kim Foxx interfered in the Smollett investigation before she recused herself, WMAQ-TV reported.
The station, citing several media outlets, said Graham wrote the Justice Department following reports that Foxx asked Police Superintendent Johnson to let the FBI investigate Smollett's allegations after the former chief of staff to former first lady Michelle Obama told Foxx that Smollett's family was concerned about the police probe.
The police continued its investigation, and Foxx recused herself, WMAQ said, adding that Foxx's office charged Smollett with lying to police. Foxx's office last week didn't immediately respond to WMAQ's request for comment.
What else did Emanuel and Johnson say?
"Mr. Smollett is still saying that he is innocent, still running down the Chicago Police Department," Emanuel also said during Tuesday's news conference. "How dare him? How dare him?"
The mayor added that a grand jury went ahead with charges after only seeing a "sliver of the evidence" and that "even after this whitewash, still no sense of ownership of what [Smollett]'s done. ... this is a person now who has been let off scot-free with no sense of accountability of the moral and ethical wrong of his actions ... is there no decency in this man?"
Emanuel also was angry that the judge granted a motion to seal Smollett's case, noting that "because of that none of that evidence will ever be made public."
"[This case] sends a clear message that if you're in a position of influence and power you'll be treated one way, and if you're not you'll be treated another way," he added.
A Smollett spokesman said the actor's "record will be fully expunged."
Johnson noted that "if someone accused me of doing anything, I would want my day in court to clear my name. I've heard that they wanted their day in court with TV cameras so America could know the truth, but now they chose to hide behind secrecy and broker a deal to circumvent the judicial system."
He added that "if someone ever falsely accused me, I would never hide behind a brokered deal and secrecy."
What did Smollett have to say?
After charges against him were dropped, Smollett told reporters he'd been telling the truth all along.
"I've been truthful and consistent on every single level since day one," Smollett said. "I would not be my mother's son if I was capable of one drop of what I have been accused of. This has been an incredibly difficult time, honestly one of the worst of my entire life. But I am a man of faith, and I am a man that has knowledge of my history, and I would not bring my family, our lives, or the movement through a fire like this. I just wouldn't."
Jussie Smollett: "I've been truthful and consistent on every single level since day one...This has been an incredib… https://t.co/5ZJP8PCZly

— CBS News (@CBS News) 1553616838.0
A spokesman for Fox TV — which runs the "Empire" series — on Tuesday told TheBlaze the studio had no comment on "today's developments in the Jussie Smollett case."