Allan Goedecke was as surprised as anybody when his sculpture of a man with a bare chest was rejected by an exhibition in Melbourne, Australia, the Sydney Morning Herald reported.
Goedecke recently submitted his bust to the Victorian sculptors association's annual exhibition, which will take place at Melbourne's Collins Square complex — but the owner of the space nixed his sculpture, the paper said.
'Wide variety of cultures and religious beliefs'
"With more than 20,000 workers and families from a wide variety of cultures and religious beliefs working in and visiting Collins Square every day, the [sculptors] association agreed to the following parameters before the space was made available to it: No nudity, no political statements, no racism or material that expresses extreme hate," a spokesman from Collins Square's owner, Walker Corporation, noted to the Morning Herald.
The paper added that other artists' works also were rejected due to nudity and for being too political.

What did the sculptor have to say?
Given his sculpture is only of a man's head, shoulders, and chest, Goedecke told the Morning Herald the decision is "unbelievable."
"Male chests are not taboo," he added to the paper. "Everyone I've told about this has just laughed uproariously. They thought I was joking. A couple of people have called it 'nipplegate' to express the kind of absurdity of the situation."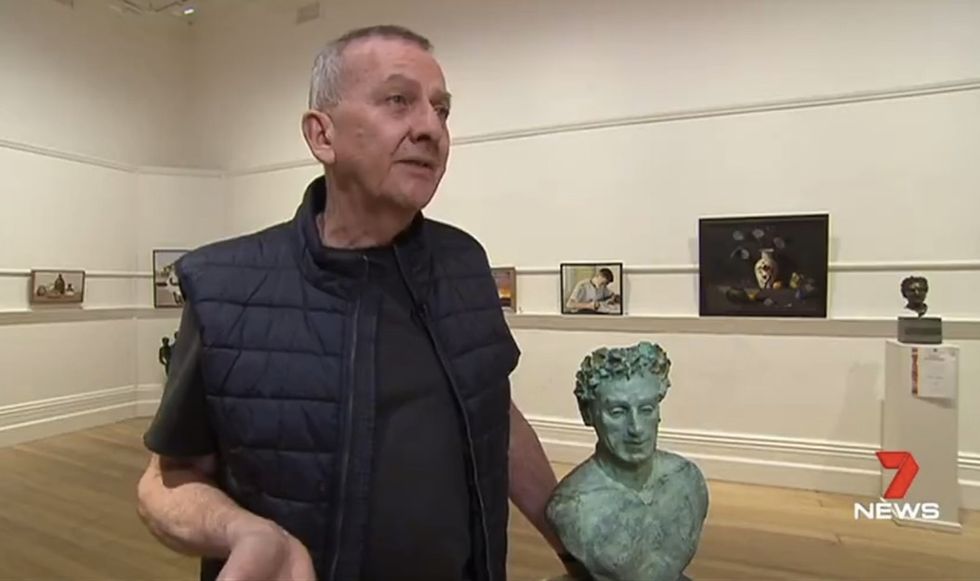 Image source: Twitter video screenshot
Goedecke also told the Morning Herald the whole thing could prove a slippery slope.

"What worries me is when corporations or when someone bans something from display in the public arena, really what they're doing is imposing their subjective value system on all of us," he added to the paper. "Other organizations could adopt these sorts of bans. That would be very worrying."
A sculpture featuring a man's bare chest has been banned from a city exhibition. @EstelleGriepink #7NEWS https://t.co/SQ0bbGiRy2

— 7NEWS Melbourne (@7NEWS Melbourne) 1564474811.0