A white protester in Brooklyn Center, Minnesota, must have been scratching his head extra hard Thursday night after he was caught on video getting verbally taken apart by a group of irate black protesters who ordered him to leave the area.
What are the details?
The clip posted by the Washington Examiner's Nic Rowan shows at least four black protesters — three men and one woman — cursing out the lone white protester.
"If we f***ed you up, that would be wrong, right?" one man holding a water bottle asks the white protester.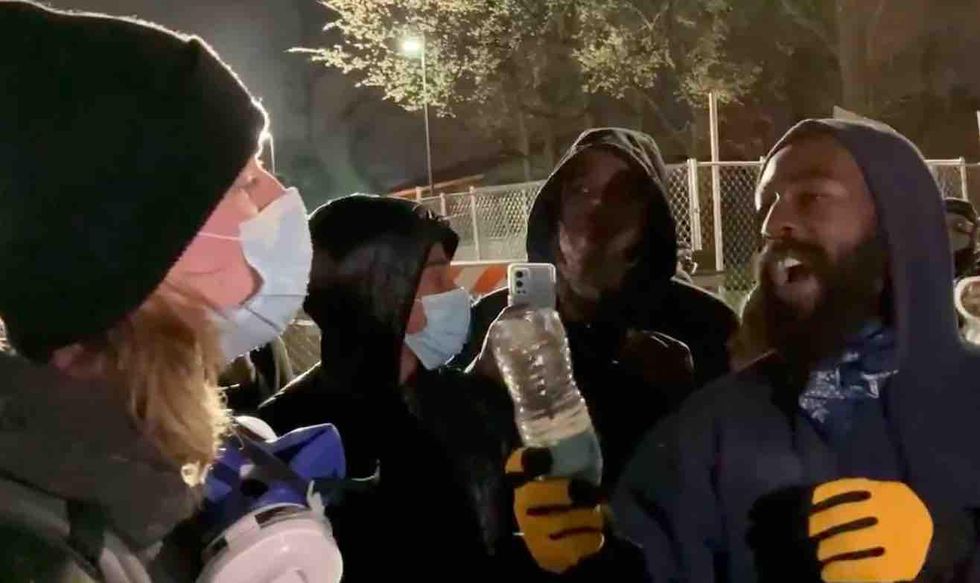 Image source: Twitter video screenshot via @NicXTempore
"That would be wrong," the white protester responds.

Soon a voice from side bellows out, "Alright then shut the f*** up and protest, bitch!"
The man then tells the white protester, "If y'all like that s**t, go that way." Presumably from the text accompanying the video, some protesters were upset at their comrades who were throwing water bottles at police.
Suddenly a woman — who delivered the most stinging rebukes — tells the white protester, "You're a guest in a black space, remember that! You're white; you already don't belong! if you can't be a guest in a black space, get the f*** out!"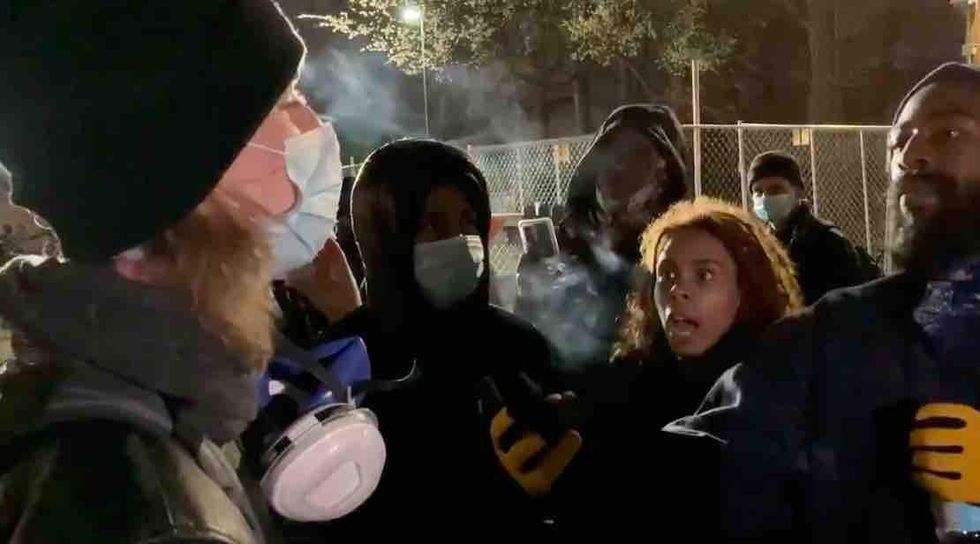 Image source: Twitter video screenshot via @NicXTempore
After a pause, the white protester tries to explain himself, "I'm not trying to—"

Then the woman interrupts him, "But you are! So get the f*** out!"
The man then issues a warning to the white protester, who still isn't leaving: "You're still arguing, so I'm gonna tell you one more time, and then I'm not gonna talk to you. Go that way."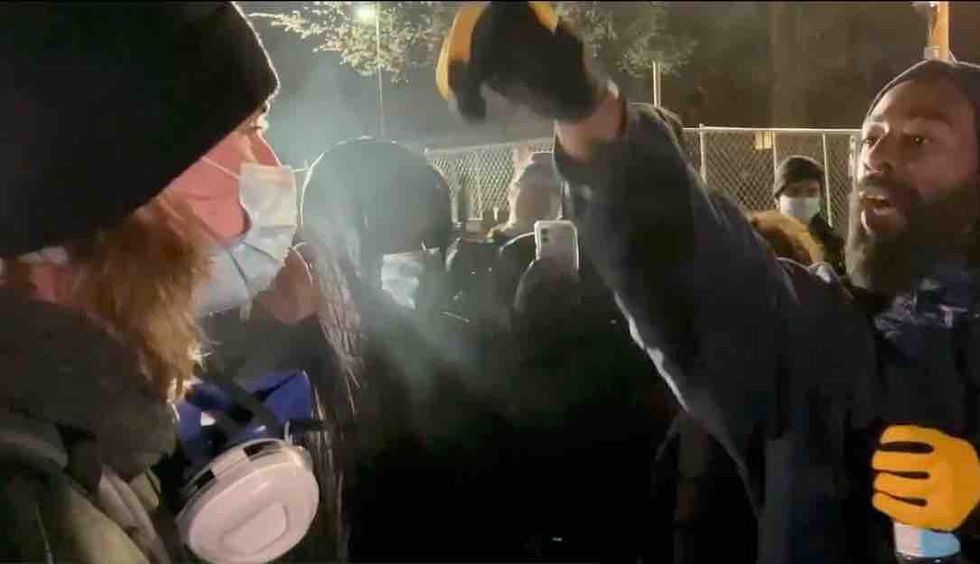 Image source: Twitter video screenshot via @NicXTempore
The woman then orders the white protester that he and his "compadres" need to "go find y'all some other f***ing business, 'cause you're clearly here for the wrong motherf***ing reasons. Get the f*** out!"

With that, the white protester finally takes the hint and walks away, and the clip ends. (Content warning: Language):
A group of white protesters tell people to stop throwing water bottles at the police. A woman curses them out: "If… https://t.co/VRoDFQeXiK

— Nic Rowan (@Nic Rowan) 1618538999.0
But there appears to be a problem
Rowan noted in his above tweet that white protesters had been telling other protesters to not throw water bottles at police — and one might assume by the riot act the white protester was read that he was a guilty party.
However, another clip appeared to show that same white protester confronting another white protester for throwing a water bottle at cops.
(Content warning: Language):
This happened after these kids tried to get other protesters to stop throwing water bottles at the police. https://t.co/9RvOANmGyS

— Nic Rowan (@Nic Rowan) 1618545456.0
The second clip shows a white protester in a beige jacket looking from side to side before launching what appears to be a water bottle over a fence toward police.
With that it appears the white protester who soon would get eviscerated by the black protesters confronted the guy for chucking the bottle. "Don't throw s**t," he tells him.
So it's not clear why the black protesters were so angry with the white protester who apparently was attempting to keep things peaceful.
Some Twitter users found the cognitive dissonance of whole thing rather telling:
"They are realizing it's stupid-ass white liberals instigating s**t and ruining the message," one commenter said. "Finally."
"Just recently they caught on that BLM was mostly comprised of white left-wing trust-fund babies," another user wrote. "Notice how they are campaigning lately in the news showing it is completely a black movement now?"
"Antifa is going to have a hard time with this one," another commenter observed. "They are all over Twitter cursing out 'action policing' but now they have POC protestors telling white protestors how to protest. Wonder how they will demonize the POC 'action policing.' F*** Antifa. Stop hijacking peaceful protests."
What's the background?
Thursday marked the fifth straight night of protests in Brooklyn Center following the fatal shooting of Daunte Wright, a 20-year-old black man, by a police officer during a traffic stop Sunday.
Wright resisted arrest and was fatally shot by Officer Kim Potter, who said she intended to use her Taser but mistakenly grabbed her service weapon instead.
Authorities said Wright had expired vehicle tags — and it was reported that at the time of the traffic stop he had an outstanding warrant on an attempted robbery charge over an incident during which he allegedly choked a woman and held her at gunpoint.
Potter resigned Tuesday, along with Police Chief Tim Gannon, who was ordered by news conference attendees the previous day to refrain from referring to the post-shooting riot as a "riot." Just after the fatal shooting, a protester on a bullhorn urged a growing crowd to dox police, post photos of their families on social media, and "start doin' pull ups to their house."
In response to the fatal shooting, U.S. Rep. Rashida Tlaib (D-Mich.) called for the end of policing and incarceration, claiming law enforcement systems are so broken they "can't be reformed." President Joe Biden backed away from Tlaib's declaration.