Centers for Disease Control and Prevention Director Rochelle Walensky is "scared" by what she's seeing on the coronavirus horizon — and she seems to want all Americans to be, too, urging people to "sound the alarm" to everyone.
In fact, she is so worried that she said that she warned the nation first thing this week of her feeling of "impending doom."
What is she claiming?
During a White House coronavirus briefing Monday morning, Walensky said she was going to "lose the script" and share the truth that might not be news the people want to hear, adding, "I have to hope and trust you will listen."
"I'm gonna lose the script and I'm going to reflect on the recurring feeling I have of impending doom," she told reporters. "We have so much to look forward to, so much promise and potential of where we are, and so much reason for hope."
"But right now I'm scared," she said.
The comments came in the wake of recent reports of upticks in COVID-19 cases in many states. The New York Times reported Monday that there has been an average of 63,199 cases per day over the last week. The new numbers represent a 10% increase from a week ago, Walensky said, according to the Hill.

The biggest jumps in COVID cases are coming in Michigan, New Jersey, New York, and a number of other northeastern states.
At the same time, the Times estimates that 28% of Americans have received at a least one dose of a COVID vaccine and that the nation is currently on pace to see that percentage rise to 50% by early May and 70% by mid-June.
"I'm speaking today not only as your CDC director, but as a wife, as a mother, as a daughter to ask you to just please hold on a little while longer," Walensky said. "I so badly want to be done. I know you all so badly want to be done. We are just almost there, but not quite yet."
She continued, "I'm asking you to just hold on a little longer, to get vaccinated when you can, so that all of those people that we all love will still be here when this pandemic ends."
The global COVID track is significantly more problematic than what the U.S. is currently seeing. Cases worldwide are up 30% over the last two weeks, the Times reported.
Cases are up significantly across Europe, as reported by the European Centre for Disease Prevention and Control: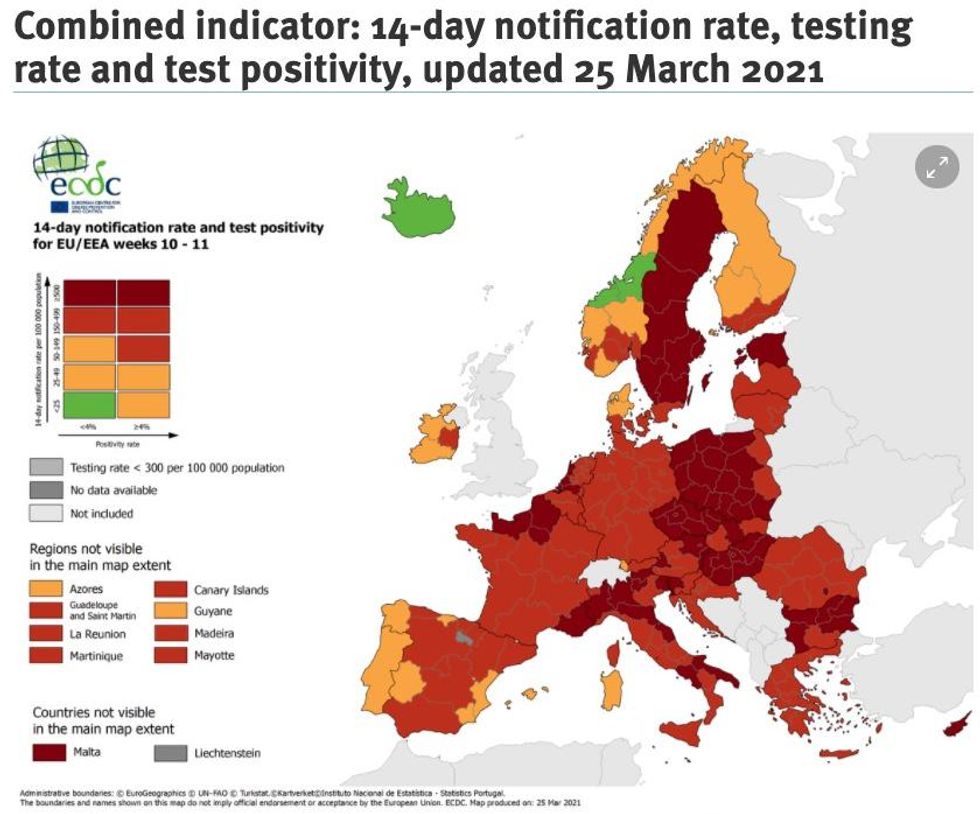 Image source: European Centre for Disease Prevention and Control website screenshot
"The trajectory of the pandemic in the United States looks similar to many other countries in Europe, including Germany, Italy, and France looked like just a few weeks ago and since that time those countries have experienced a consistent and worrying spike in cases," Walensky said. "We are not powerless. We can change this trajectory of the pandemic, but it will take all of us recommitting to following the public health prevention strategies consistently, while we work to get the American public vaccinated."

Now she wants Americans to share her message of "impending doom" to their neighbors.
"I'm calling on our elected officials, our faith-based communities, our civic leaders, and our other influencers in communities across the nation — and I'm calling on every single one of you — to sound the alarm, to carry these messages into your community and your spheres of influence. We do not have the luxury of inaction."