A videographer tried filming Portland Antifa militants who'd gathered Saturday to protest a Ku Klux Klan rally — which turned out to be canceled — and was soon chased by the threatening Antifa mob himself.
"They had concealed objects or weapons in their hands," Nate Millsap — who runs the Stumptown Matters YouTube page and documents Portland rallies and protests — wrote in the description of the clip he recorded. He added that one of the masked Antifa militants was "approaching me while shaking a can of pepper spray. I wanted no part of whatever intentions they had for me so I immediately abandoned my camera duties and sprinted to safety."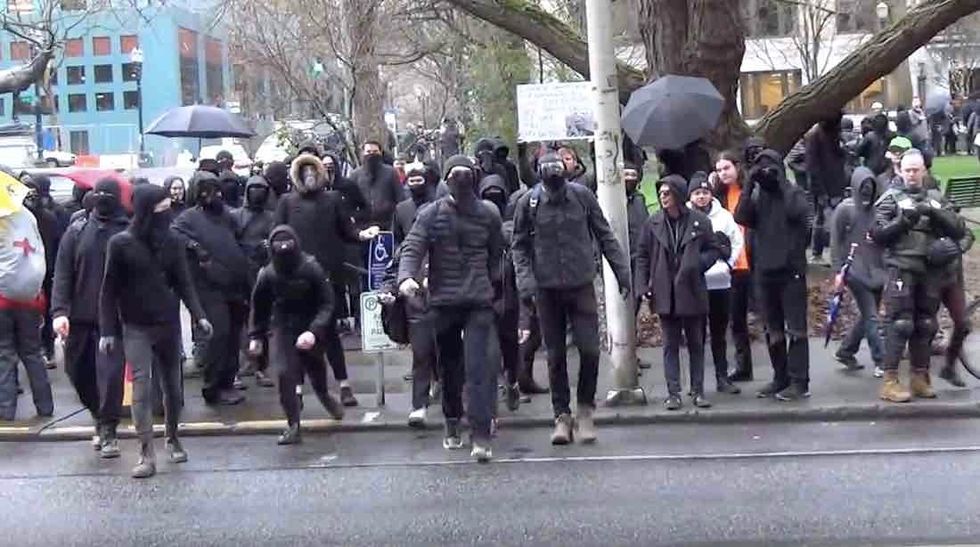 Image source: YouTube screenshot
Ahh, safely in the arms of the police

Millsap quickly encountered police decked out in riot gear at the city's Justice Center — and one might assume that would've taken care of his worries, as members of the brave Antifa mob stopped chasing him at that point but continued to yell at him, calling him a "b***h."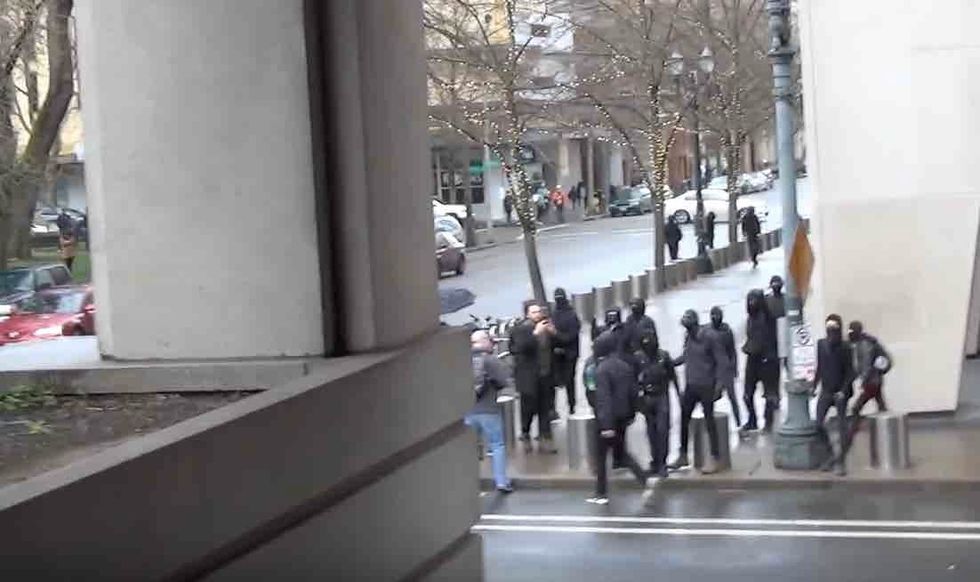 Image source: YouTube screenshot
But the cops had little sympathy for the video journalist, telling him if he goes back toward the Antifa mob, "we're not gonna come out and save you" adding that "you better come up with a different plan, like maybe go somewhere else, dude."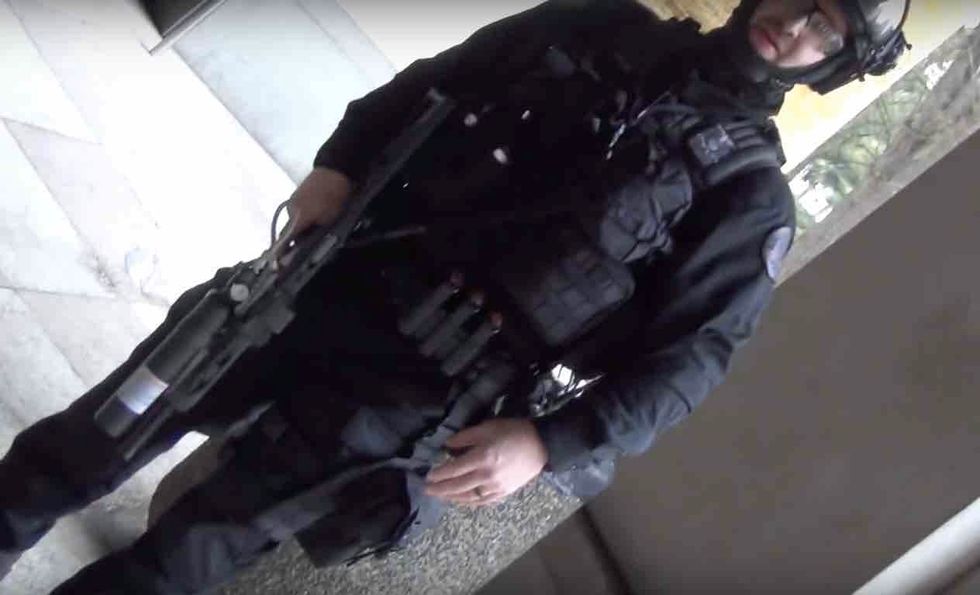 Image source: YouTube screenshot
Police at least let Millsap get away from the Antifa mob by using a different route to the street — and the officer even suggested he "skirt along the building so they don't see you."

Here's the video. (Content warning: Language):
What did Portland police have to say?
When conservative journalist Andy Ngo picked up on the video, he asked Portland police to comment on the officer's declaration that he wouldn't help Millsap, who was simply doing his job and exercising his right to shoot video of a public event.
Ngo said police wrote back to him, not answering his inquiry but saying "just because an arrest is not made on the spot, it does not mean that an arrest won't be made in the future."
Portland Police responded to my inquiry about the video showing one of its officers telling a videographer that no… https://t.co/VaQoboTVwK

— Andy Ngo (@Andy Ngo) 1581301804.0
'Masked thugs run the streets of Portland, Oregon'
Concluding his video description, Millsap noted that cops' non-action on his behalf said loudly and clearly that "masked thugs run the streets of Portland, Oregon, and if you are targeted by them, then you are the problem, according to Portland police."
Anything else?
Amid the large Antifa gathering, police tweeted around 1 p.m. that "lit flares" were being thrown in the street and that "several subjects" were seen spray painting a monument within the park, KOIN-TV reported.
More from the station:
Some of the protesters used "metal-tipped umbrellas" to jab "people and chase them down the street," PPB said in a release.

Earlier, a group of protesters pushed police while throwing oranges, a glass bottle, tennis balls, rock, concrete, batons, cans, and mud at the officers and other people. Three people were treated after being pepper-sprayed by people in the crowd, police said, noting officers "did not use force against anyone during this event."
Three people were arrested, KOIN said: Brandon Farley, 31, was charged with misdemeanor disorderly conduct; Heaven Davis, 19, was charged with misdemeanor criminal mischief; and Willy Cannon, 25, was charged with a misdemeanor for abusing a memorial and a felony for criminal mischief.