Supreme Court Chief Justice John Roberts finally buried an attempt from NPR to tarnish Supreme Court Justice Neil Gorsuch.
In a statement released Wednesday afternoon, Roberts clarified that he did not, in fact, ask Gorsuch — or any Supreme Court justices for that matter — to wear a face mask in court.
"I did not request Justice Gorsuch or any other Justice to wear a mask on the bench," Roberts said.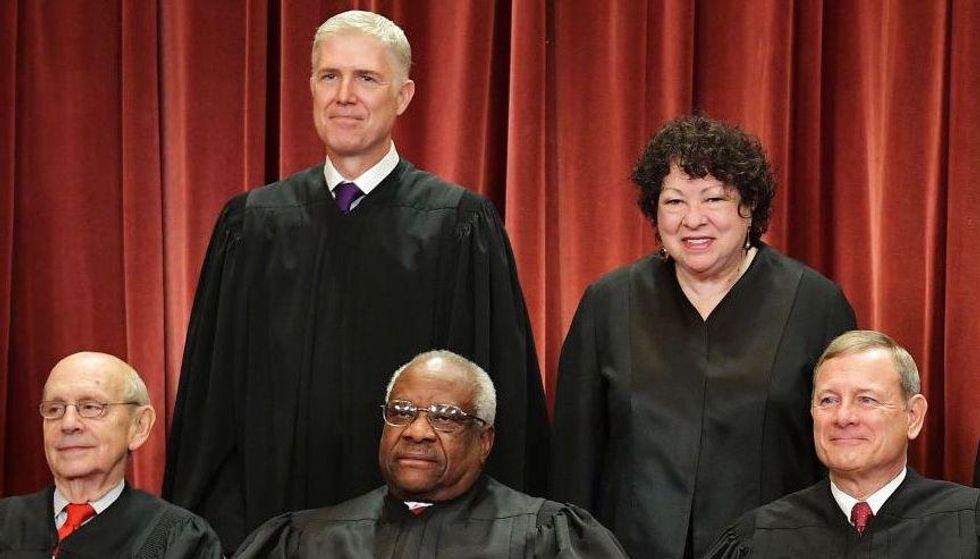 MANDEL NGAN/AFP via Getty Images
Roberts was forced to release a statement after NPR reported on Tuesday that Justice Sonia Sotomayor has been teleworking, and therefore hearing cases from her chambers, because Gorsuch refused to wear a mask on the bench after Roberts asked him to do so.
"Sotomayor did not feel safe in close proximity to people who were unmasked. Chief Justice John Roberts, understanding that, in some form asked the other justices to mask up," the story claimed. "They all did. Except Gorsuch, who, as it happens, sits next to Sotomayor on the bench. His continued refusal since then has also meant that Sotomayor has not attended the justices' weekly conference in person, joining instead by telephone."
The story immediately generated anger and backlash against Gorsuch.
Sotomayor and Gorsuch attempted to correct the record Wednesday by releasing a joint statement that clarified Gorsuch did not refuse a request from Sotomayor to mask up.
"Reporting that Justice Sotomayor asked Justice Gorsuch to wear a mask surprised us. It is false," the statement said. "While we may sometimes disagree about the law, we are warm colleagues and friends."
However, NPR did not budge, and stood by its reporting. The news outlet claimed its story was correct because the statement from Sotomayor and Gorsuch only denied that Gorsuch refused a mask-wearing request from Sotomayor — not Roberts.
"NPR stands by Nina Totenberg's reporting. Totenberg never reported that Justice Sotomayor asked Justice Gorsuch to wear a mask, nor did she report that anyone admonished him. She did report that Chief Justice John Roberts; 'in some form asked the other justices to mask up' — and Gorsuch was the only one who did not," the statement from NPR said.
NPR spokesman Ben Fishel added in a separate statement, "The statement released by Justices Sotomayor and Gorsuch does not contradict the reporting in Totenberg's piece."