CNN anchor Chris Cuomo on Tuesday told his Twitter followers he "should be better than the guys baiting me" after a viral video hit social media Monday night showing Cuomo in an expletive-filled rant threatening violence toward a man who called him "Fredo" — a reference to the weak brother portrayed in the gangster epics "The Godfather" and "The Godfather II."
Appreciate all the support but - truth is I should be better than the guys baiting me. This happens all the time th… https://t.co/T0p7VsHZTL

— Christopher C. Cuomo (@Christopher C. Cuomo) 1565708436.0
"Appreciate all the support but — truth is I should be better than the guys baiting me," Cuomo wrote. "This happens all the time these days. Often in front of my family. But there is a lesson: no need to add to the ugliness; I should be better than what I oppose."
What's happened?
"Punk a** b***hes from the right call me Fredo," Cuomo said during the confrontation. "My name is Chris Cuomo. I'm an anchor on CNN. Fredo is from 'The Godfather.' He was that weak brother, and they use it as an Italian aspersion."
As the tension rose, Cuomo suddenly shifted from his on-air voice to what might be described as a Sonny Corleone accent: "Any a you Italian? You Italian?" he challenged. "It's a f***in' insult to your people. It's an insult to your f***in' people."
He then claimed the use of "Fredo" is "like the N-word for us. Is that a cool f***in' thing?"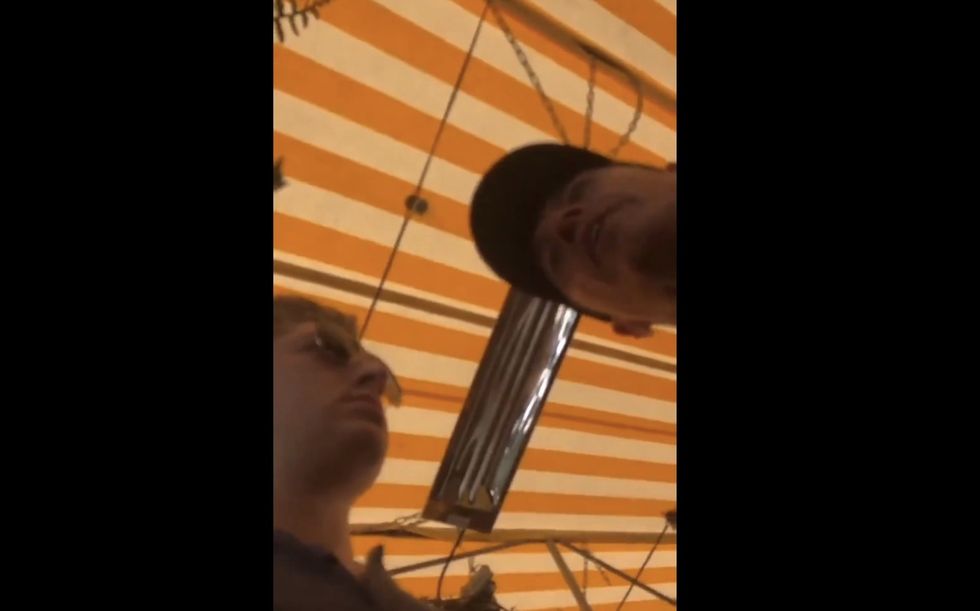 Image source: Twitter video screenshot
Then when the man who called him "Fredo" shot back with a wisecrack, Cuomo doubled down on his streetwise accent: "If you wanna play then we'll f***in' play. If you've got something to say about what I do on television then say it ... you're gonna have a big f***in' problem. Don't insult me like that."
Cuomo then called the man a "punk b***h" and asked, "You like that?"
Soon the man who called him "Fredo" took off his glasses and challenged Cuomo to put his money where his mouth is — and Cuomo said, "I'll f***in' ruin your s**t" and "I'll f***in' throw you down these stairs like a f***in' punk."
But when the man shot back, "Why don't you do it then?" Cuomo instead kept promising to hurt the guy until other individuals stepped in between the pair.
Here's the clip. ( Content warning: Language and a bit of James Caan channeling):
CNN host Chris Cuomo has little to no chill when someone calls him "Fredo". https://t.co/w8pYFfq1Q9

— Matt Bevan 🎙 (@Matt Bevan 🎙) 1565662385.0
How did CNN react to Cuomo's rant?
CNN immediately backed Cuomo's actions, saying he "defended himself when he was verbally attacked with the use of an ethnic slur in an orchestrated setup. We completely support him."
What did others have to say?
President Donald Trump offered a stinging tweet: "I thought Chris was Fredo also. The truth hurts. Totally lost it! Low ratings @CNN."
"Hey @ChrisCuomo, take it from me, 'Fredo' isn't the N word for Italians, it just means you're the dumb brother," Donald Trump Jr. wrote.
But Fox News' Sean Hannity defended Cuomo in a tweet, saying, "He's out with his 9-year-old daughter, and his wife, and this guy is being a jackass in front of his family. Imho Chris Cuomo has zero to apologize for. He deserves the apology."
And Meghan McCain, co-host of "The View," noted the following on Twitter: "However you feel about Chris Cuomo's behavior today, there's not one woman in ALL of media who could be filmed in public on an obscenity filled tirade and be supported by their network and public the way he is right now. Men get to be tough and swear, women are 'unhinged.'"
How did folks react to Cuomo's 'I should be better' tweet?
Cuomo's Tuesday tweet was met with mixed reactions. While UnitedDemocrats told Cuomo "you did absolutely nothing wrong," others weren't as forgiving:
"Will you resign like you would force others to do?"
"I don't understand why Fredo set you off. It was perfectly fine with you to call Donald Trump Junior Fredo. We all watched it on your show."
"Whatever, Fredo."
"Threatening physical violence is not an appropriate response to someone calling you a mean name. You need to take an anger management course."
"You should spread that around to your other progressive friends who apparently think it's fine to approach conservative personalities when they're at dinner etc.....remember who started this s**t.....Fredo."
"Can you imagine if you've seen such a behavior from any high profile person on the right, how you'd react? Your show wouldn't stop talking about it for a week at least."
Anything else?
Oh, and about Cuomo's assertion that "Fredo" is an Italian slur? He once jokingly asked during a radio interview if he's "Fredo."
The New York Post said Cuomo was interviewed by Curtis Sliwa on radio in January 2010 regarding if his brother Andrew might seek the Democratic nomination for governor.
"There is a group of people — politicos — who always hint that they might run, but don't necessarily plunge all the way, and they are members of la Cuomo Nostra," Sliwa quipped.
"So who am I then, Fredo?" Cuomo answered.

"Yes, exactly," Sliwa replied. "So you better be careful that your brother Andrew doesn't kiss you on both cheeks and then all of a sudden they take you out into the middle of the lake and then, 'Where's Chris?'"
CNN's Chris Cuomo refers to himself as "Fredo" in 2010 interview with Curtis Sliwayoutu.be
This story has been updated