© 2023 Blaze Media LLC. All rights reserved.
Christian arrested after trying to quote Bible to Pride rally attendees sues city for violating his constitutional rights
A Christian who was arrested after trying to quote the Bible to Pride rally attendees last month is suing officials of Reading, Pennsylvania, for violating his constitutional rights.
What are the details?
Plaintiff Damon Atkins claims in his lawsuit filed Tuesday that his June 3 arrest — caught on video — amounted to an attack on his religious beliefs and violated his First and Fourth Amendment rights, WFMZ-TV reported.
The civil complaint was filed by Joel A. Ready of Cornerstone Law Firm and lists the city of Reading, Mayor Eddie Moran, Chief of Police Richard Tornielli, and police officers Bradley T. McClure and Courtney Dupree as defendants, the Lancaster Patriot reported.
The suit seeks unspecified damages as well as court costs and fees, WFMZ said, adding that the City of Reading hadn't returned a request for comment on the lawsuit.
Just days after Atkins' arrest, the Berks County District Attorney's Office dropped disorderly conduct charges against him. Interestingly, the mayor issued a statement two days after the charges were dropped saying that free speech doesn't apply in Atkins' case.
The police chief said during a subsequent city council meeting that the police department was under attack since the viral incident, WFMZ reported in a separate story. In addition, city council members backed police despite widespread outrage over Atkins' arrest.
What is the background?
The arrest took place across the street from Reading City Hall, where the first annual Reading Pride March & Rally was under way. Reading is about 90 minutes northwest of Philadelphia.
The Lancaster Patriot covered details of the incident, reporting that the man who recorded video of the arrest is Matthew Wear and adding that it spoke to both Wear and Atkins.
Wear told the Patriot he'd been preaching to the Pride rally attendees prior to Atkins' arrival and was told to stop by the same police officer who later handcuffed Atkins. "A cop got in my face, laid hands on me, and threatened to arrest me if I didn't stop," Wear says on video.
The outlet said Atkins was standing on the public sidewalk holding signs just after 10 a.m. when trouble began for him, too. Wear's video camera was on, and he captured the interaction between Atkins and the officer.
The officer — identified by the Patriot as McClure — was seen standing in the street and speaking to Atkins, who was standing on the sidewalk.
"This is public property," Atkins told the officer, who agreed it is public property but still insisted that Atkins "let them have their event" and "respect it."
Atkins replied, "You know who's cheering for us? The people that are in hell."
Image source: YouTube screenshot
The Patriot said Atkins later explained that he was referring to the parable of the rich man and Lazarus in the Gospel of Luke, in which a rich man begs Father Abraham to send someone to warn his brothers about the place of torment he's in.
As the officer turned and walked away, Atkins told him, "So you do you, and I'm gonna do me."
With that, Atkins began speaking, hollering "You!" across the street and then uttering the words, "God is not ..." before the officer said, "That's it!" and turned back and arrested Atkins. The Pride rally attendees applauded.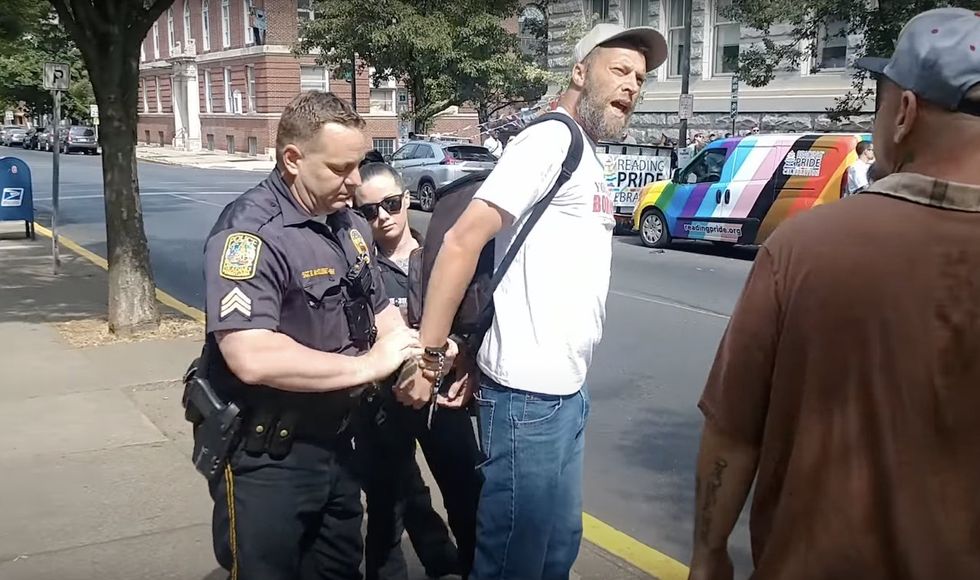 Image source: YouTube screenshot
Atkins added to the Patriot that he was going to quote a portion of 1 Corinthians 14:33 — "God is not the author of confusion" — but didn't finish speaking the verse as he was being arrested.
Moments later when a handcuffed Atkins continued trying to speak to the Pride rally attendees, the officer turned him around and walked him up against a building's outer wall.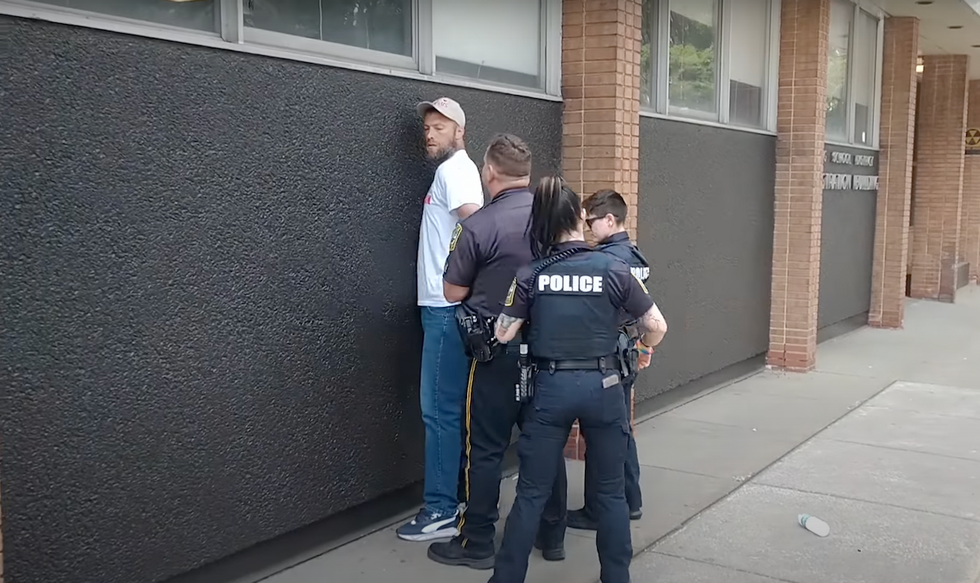 Image source: YouTube screenshot
Soon the officer walked Atkins away from the rally, as two other officers followed, and sat him on a curb while his backpack was emptied.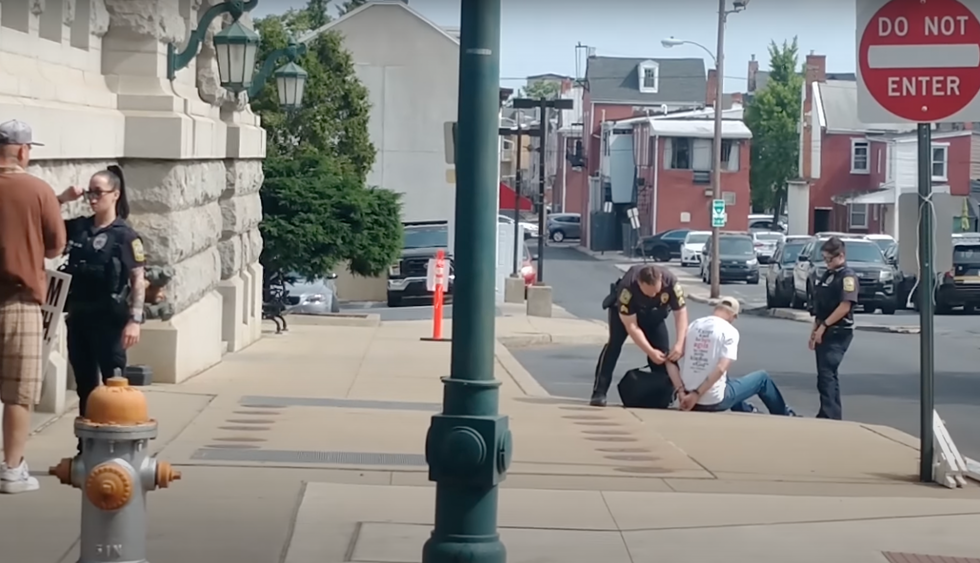 Image source: YouTube screenshot
Wear — who was still recording video of the incident — was heard calling what was going down in front of his eyes "sheer tyranny."
During this time, a Pride representative on a microphone mocked "protesters across the street" who managed to "get themselves in trouble with the police."
The crowd loved it and began cheering. The man on the mic then urged the protesters to get "some love into that heart of yours."
Here's the video of Atkins' arrest, which occurs just after the 1:50 mark:
Christian arrested in Reading Pennsylvania at a Pride March.youtu.be
Anything else?
Adam Steinbaugh — an attorney for the Foundation for Individual Rights and Expression — told Center Square that Atkins "should never have been in handcuffs in the first place, and the city needs to take measures to correct its officer's misconduct and ensure that its officers will not violate the First Amendment in the future."

Steinbaugh added to Center Square that the incident shows "a department out of touch with the First Amendment."
Like Blaze News? Bypass the censors, sign up for our newsletters, and get stories like this direct to your inbox. Sign up here!
Want to leave a tip?
We answer to you. Help keep our content free of advertisers and big tech censorship by leaving a tip today.
Sr. Editor, News
Dave Urbanski is a senior editor for Blaze News.
DaveVUrbanski
more stories
Sign up for the Blaze newsletter
By signing up, you agree to our
Privacy Policy
and
Terms of Use
, and agree to receive content that may sometimes include advertisements. You may opt out at any time.