The student government president at the University of North Texas bragged about covering the U.S. flag with a Black Lives Matter flag in the student government association office — and posted a before-and-after photo on Twitter to boot.
Yolian Ogbu, elected SGA president this spring, posted the pair of photos last Wednesday — one of which shows her standing on a desk next to the Black Lives Matter flag mirroring its fist with a raised one of her own: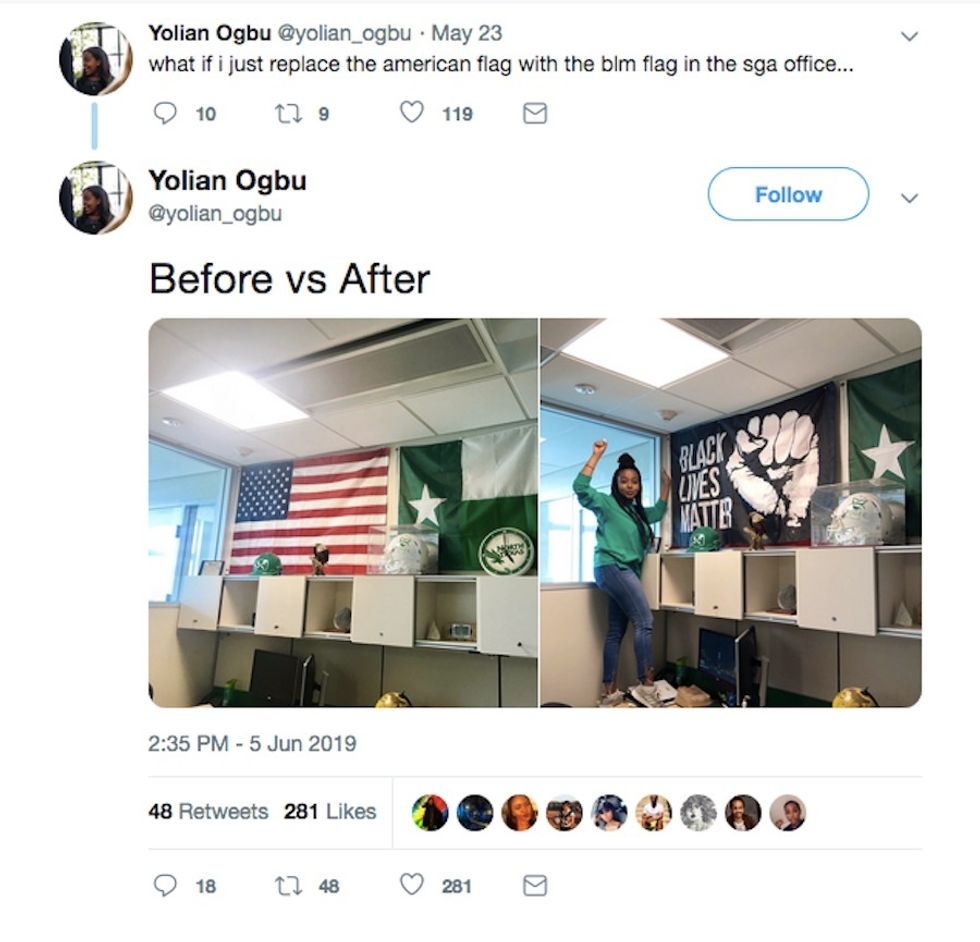 Image source: Twitter
The photos followed a May 23 tweet from Ogbu saying: "what if i just replace the American flag with the BLM flag in the SGA office…"
How did others react?

As you might expect, Ogbu got kudos in some comments:
"Oh my God your mind!!!! This is my SGA president"
"THAT'S MY PRESIDENT"
"Legend"
"Icons only!"
"Lmfaoooo she really did it..."
But others didn't take her gesture so well:
"Misguided"
"You had Obama and he failed. Under Trump more Black Americans are employed and off the street. Seems like you've lived the hard life to protest something you know s**t about."
"Racist. Anti-American. Blocked and reported."
"What do you think you accomplished?"
"I hope you never have to have the followers of your flag defend OUR country"
What does the US Flag Code have to say?

The U.S. flag code says "the flag should never have placed upon it, nor on any part of it, nor attached to it any mark, insignia, letter, word, figure, design, picture, or drawing of any nature."
Anything else?

Campus Reform reported that Ogbu, the SGA, and the University of North Texas media relations office didn't respond to its requests for comment in time for publication.